Almost 81,000 environmental complaints were received by local authorities last year, with 90% of them being about waste or litter.
Local authorities carried out more than 205,000 inspections, according to the Environmental Protection Agency annual report, an increase of 14% compared to 2020.
The report found good evidence of effective enforcement and collaboration by local authorities when illegal waste activities were detected.
However, it found there were some problems with the disposal of construction and demolition waste, which was not always properly segregated and is the largest waste stream in Ireland.
It also found a comprehensive "cradle to grave" waste inspection system was needed to deal with this.
Overall, the report found Ireland's water quality is in decline, with agriculture continuing to have a significant impact on this.
Despite this, it found inspections on farms by local authorities were low and that they were 43% below pre-Covid-19 levels.
Air and noise enforcement continued to have the lowest level of dedicated resources within local authorities, with many failing to implement plans, as is required under Environmental Noise Regulations.
The report found there should be a greater focus by local authorities on tackling air pollution issues that were negatively impacting the air we breathe.
It said better air monitoring data could help identify pollution hotspots where solid fuels might be being burned. The EPA found only six local authorities had carried out inspections under Solid Fuel Regulations.
The report found there was a significant geographical variation in how local authorities met their targets when it comes to the enforcement of environmental outcomes relating to governance, waste, water and air and noise.
Offaly, Mayo, Sligo, Wexford and Waterford were among the five lowest performing authorities when it comes to meeting these targets, which are described in the report as National Enforcement Priorities (NEPs).
However, almost half (46%) of the 620 assessments by the EPA were "strong" or "excellent" with Kildare, Dublin city, Leitrim, Monaghan and Fingal among the highest performing local authorities.
EPA Environmental Enforcement Programme Manager David Pollard said the vast majority of the inspections tend to be in the waste sector.
Where there are air quality issues, he said, they tend to be localised, so it is really important that the local authorities get involved.
"Obviously, the solid fuel regulations are new and we're seeing that they're a critical priority for local authorities going forward."
Speaking on RTÉ's Morning Ireland, Mr Pollard said local authorities play a vital role in the protection of the environment and are "the boots on the ground", but inspections being carried out are not always being backed up with changes.
He also said that construction and demolition waste is not being segregated properly and that if waste is segregated properly, it can be reused and stops being a cost and becomes of value.
Mr Pollard said run-off and slurry seeping into water sources is also a problem.
He added: "The water quality in our rivers and lakes is generally not in good place and it continues to decline.
"A key factor on this is the runoff of fertilisers and slurries from agriculture, and again, local authorities play a key role here because they're responsible for enforcing the relevant regulations."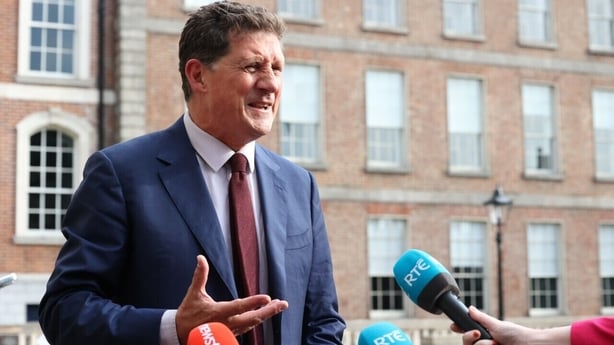 Ireland ranked 37th out of 60 countries
Meanwhile, Minister for Communications, Climate Action and Environment Eamon Ryan has said Ireland has the right policies in place to cut carbon emissions but that we now need to deliver on those commitments.
The latest report on Ireland's climate change credentials, published by the Climate Change Performance Index, ranked Ireland 37 out of 60 countries.
Minister Ryan said the next climate plan update will be published before Christmas.
'We cannot opt out. We cannot say Ireland, a green country is not going to go in this direction'

Ahead of his #COP27 address, @EamonRyan says Ireland needs to deliver on its climate targets, and is putting the 'right policies in place' | More: https://t.co/7UsMbb27xQ pic.twitter.com/pcVRJk1l8e

— RTÉ News (@rtenews) November 15, 2022
He pointed out that the scheme to retro fit homes is on target, but added that areas that are likely to be difficult to reform are transport and agriculture.
Mr Ryan said a transport system that reduces dependency on cars and works must be developed.
He told Morning Ireland that new targets for electric vehicles will be published in the coming weeks.
However, replacing one type of vehicle with another will not reduce gridlock, he said.