The young son of James O'Flaherty, who died in Friday's explosion at a service station in Creeslough, told mourners at his father's funeral that "we should be grateful for our families, cherish them, they won't be there forever".
"Be grateful for your lives, our families, our friends and our homes," 12-year-old Hamish O'Flaherty said.
He told the congregation that his father had been a "great man" who worked hard and said that people should enjoy their time together and the gift of life.
A second funeral for Catherine O'Donnell and her 13-year-old son James Monaghan, "who were always side by side" took place in Creeslough this afternoon.
Ten people, aged from five to 59, were killed in the tragedy in the Co Donegal village.
Hamish said: "I am grateful for all the people who have come here today. I would just like to say a few words about my dad.
"He was a great man. He worked very hard and very long each day. Whether it was around the house or at work.
"He wore a jacket with a huge paint stain on the side of it everywhere.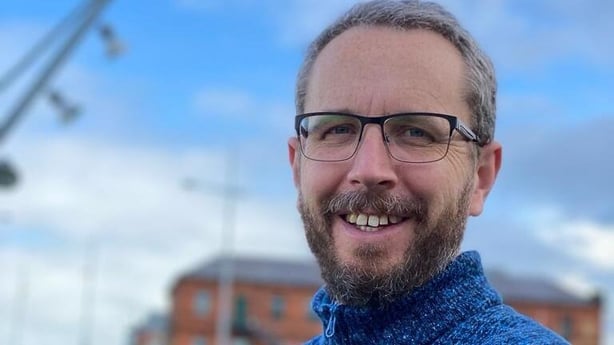 "He managed this by leaning on a wall, which was still wet with paint. He wore the jacket everywhere. To the shops, to the movies, to the beach.
"I would like to say thank you to all of the people who have given and offered so many things.
"The emergency services too, who were there within 15 minutes and also came to the wake."
Hamish also told the congregation: "I would also like to say something I have learnt in the past week or so.
"We should be grateful. For your families, cherish them, be grateful for they won't be there forever.
"Use the time you have wisely. Also, be grateful for your life because that too will not last forever.
"Be grateful, for you will be able to rest after your hard work."
As he stepped down from the altar there was a standing ovation from those in the church.
The requiem mass for Mr O'Flaherty took place at Teach Pobail Mhuire in the Gaeltacht village of Na Doirí Beaga.
The 48-year-old engineer, originally from Sydney, had been living in Dunfanaghy with his wife and son.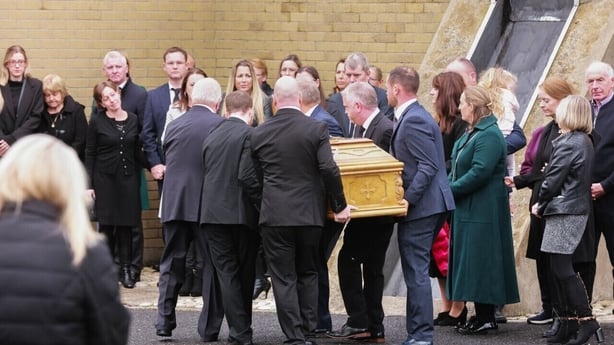 When the cortège arrived, pupils of Faugher National School, which Hamish attends, provided a guard of honour as his remains were brought into the church.
Gifts were brought up at the beginning of the mass to reflect his life.
They included a Roald Dahl book 'Going Solo', which he and his son had been reading together.
A box of chocolates was also brought up to reflect Mr O'Flaherty's sweet tooth and placed alongside a framed family photograph.
Parish priest of Gaoth Dobhair An t-Athair Brian Ó Fearraigh told mourners that Mr O'Flaherty was "a truly amazing father, a loving husband, a committed work colleague and a dear friend to many".
He said Mr O'Flaherty "showered his lovely son Hamish with kisses and hugs every day.
"He was so proud of Hamish and he had every reason to be."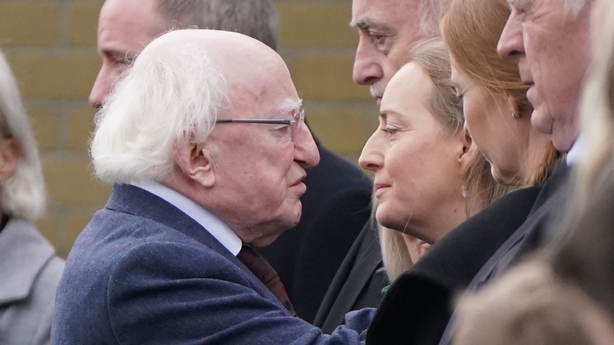 Speaking to Tracey and Hamish, An t-Athair Ó Fearraigh said the things that bring us to "our knees" can also be the things that bring us close to one another and to God.
At the end of his homily, he gave a set of rosary beads to Hamish. Mr O'Flaherty was buried at Magheragallon Cemetery.
Speaking after the funeral, President Michael Higgins praised those who responded to the tragedy both at the time and in subsequent days.
Mother and son always 'side by side'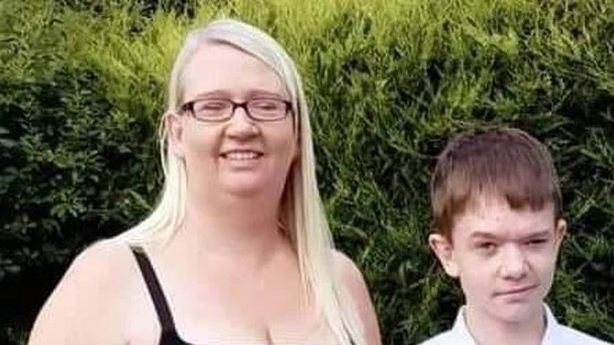 President Higgins also attended the funeral mass for Catherine O'Donnell and her 13-year-old son James Monaghan, "who were always side by side".
Taoiseach Micheál Martin was represented by his aide de camp.
Mourners heard how the strength of the community in Creeslough "has set a template for the world".
"Even amidst the greatest pain and grief we are stronger when we rely on one another and are there for one another," said Fr John Duffy, parish priest of Creeslough.
Students from Mulroy College in Milford, where James was a student, were among those gathered.
At the beginning of the mass, Fr Duffy expressed his sympathies to the family.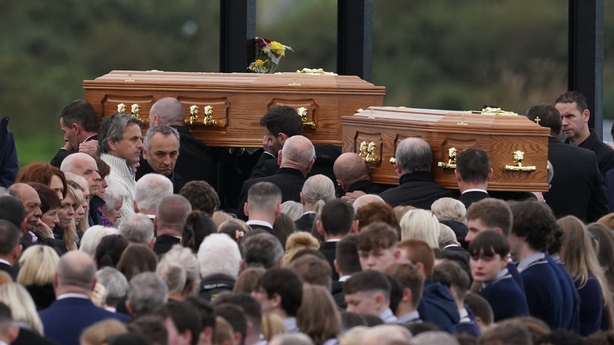 Addressing the congregation, Fr Duffy urged people to make use of the supports and services that are there to help people through this difficult time.
"This afternoon words are inadequate. Words do not come to us in how we should offer sympathy," said Fr Duffy.
"We are doing what we know best, and that is, we are standing with you, we are walking with you, we are praying for you.
"When we think about James, we think of a plane slowly taxiing down the runway about to take off into his teenage years.
"Sometimes friends we do not need words, what we need most of all is God and we one another. We need prayer and we need community."
Fr Duffy said James was "full of devilment, full of life and full of joy". He never stopped talking, laughed Fr Duffy. He described Catherine as "bubbly, glam, intelligent".
She loved to organise parties, she was a shopaholic and she reckoned she was the "only sensible one in her family," said Fr Duffy.
We need your consent to load this rte-player contentWe use rte-player to manage extra content that can set cookies on your device and collect data about your activity. Please review their details and accept them to load the content.Manage Preferences
Fr Duffy also told the young people present to look around them today at the people in uniform and he said one day they too could be one of them.
"People who help in the community," he said.
In a post on Facebook, Mulroy College paid tribute to James and his mother.
"Today we say a final farewell to our beautiful student James Monaghan and his devoted mother Catherine O'Donnell."
It added: As a school community we are heartbroken and will remember James in a very special way. As he skipped our corridors every day, James brought great joy, happiness and fun to our lives. He lived life with great excitement, great openness and wore his heart on his sleeve. James could express himself through his eyes and his smile and when we think of him, we embrace that smile and share the most cherished memories of a young life taken all too quickly.
"Catherine's kindness and generosity of heart shone through every day in her son. She will be remembered by us for her love of family, her kindness to others and her devotion as a mother, partner, sister and friend.
"James and his devoted mother, Catherine, will be missed by us all in Mulroy College each and every day".
Over the coming days, President Higgins will meet relatives of those killed in the tragedy, as well as members of the emergency services.
Yesterday, hundreds of people turned out to pay their respects at the funerals of 24-year-old Jessica Gallagher and 49-year-old Martin McGill.
Funerals will continue to take place for the rest of the week in communities across northwest Donegal.
Additional reporting: Sinéad Hussey, PA