Crowds gathered at a number of vigils in memory of the ten people who lost their lives in the explosion at a service station in Creeslough, Co Donegal.
Ten people, including three children, died in the explosion at the Applegreen Service Station and apartment block on Friday afternoon.
They have been named as Catherine O'Donnell, 39, and her 13-year-old son James Monaghan; Robert Garwe, 50, and his five-year-old daughter Shauna Flanagan Garwe; 14-year-old Leona Harper; Jessica Gallagher, 24; James O'Flaherty, 48; Martin McGill, 49; Martina Martin, 49, and 59-year-old Hugh Kelly.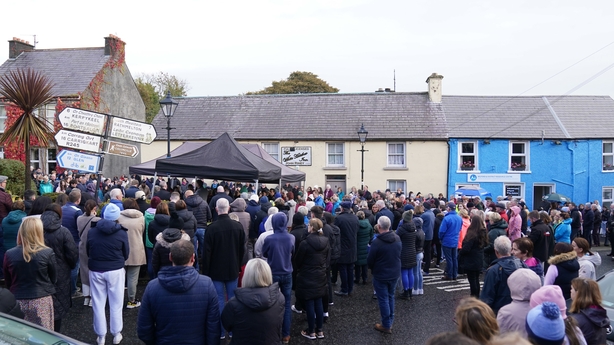 The first of almost 20 vigils due to be held across Donegal took place in the town of Milford, half an hour's drive from the scene of the tragedy.
Prayers were said and music was played, including a song called Creeslough, written and played by a local musician. Parents hugged their children and people carried candles for those affected by the explosion.
The vigil ended with the crowd singing Irish language hymn A Mhuire Mhathair.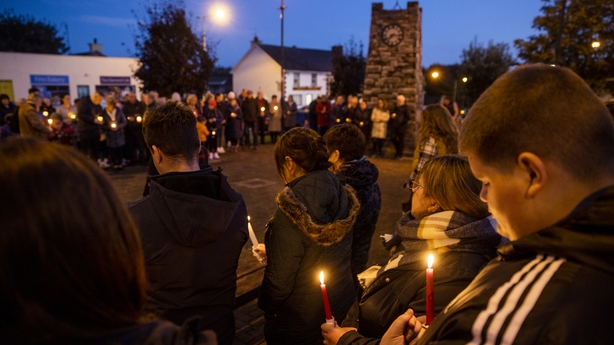 There were similar scenes in the town of Castlefinn.
Local cleric Ciaran Hegarty led a moment of prayer before those gathered held a two-minute silence.
Musician Marian Harper-Coleman played the song Cutting The Corn In Creeslough on the button accordion.
Hundreds of people were in attendance at another held at the GAA club in the village of Na Dúnaibh, 15 minutes away from Creeslough, where Hugh Kelly was from.
Many of the people in attendance were personally affected by the tragedy. Two of the sons of Martina Martin were also in attendance.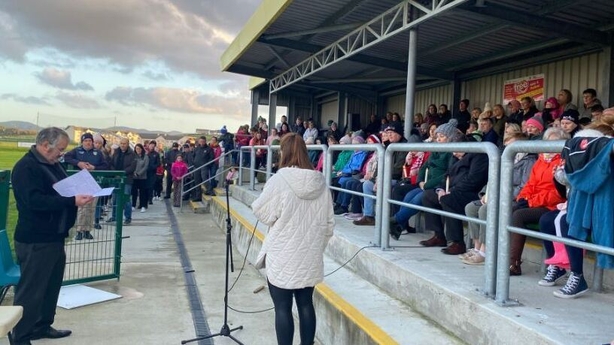 Prayers were said in Irish and English, and people carried candles for those affected by the explosion. Some of the emergency service workers who responded to the incident attended in uniform.
Brian Boyce, a member of the local community who led the vigil, said everyone's heart went out to the families of those who died, and thanked the people there who had assisted in the rescue effort.
"The whole community just dropped tools once they heard the news," he said, adding that locals brought diggers and tractors to Creeslough to try to clear the rubble.
"They worked through the night and never asked for a break."
Mr Boyce also asked people to pray for the eight injured people who remain in hospital, and asked people to remember the Lafferty family, who owned the service station at Creeslough.
Eoin Byrne, chairperson of Na Dúnaibh GAA club also spoke at the vigil, saying locals are finding it very difficult to put anything into words.
"Something that everyone is saying is that it doesn't feel real," he said, adding that it will take many years for the community to come to terms with what happened on Friday.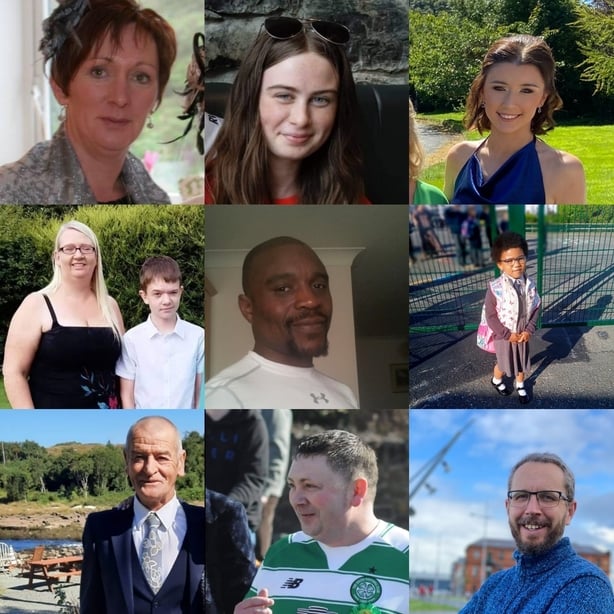 Earlier the Bishop of Raphoe said the people of Creeslough are "living through a nightmare of shock and horror".
Addressing the congregation during mass this morning at St Michael's Church, Bishop Alan McGuckian said: "At this time, you the people of Creeslough are living through a nightmare of shock and horror since the very heart of the community was deeply wounded on Friday afternoon.
"It's an experience that we are living through together. But we recognise that the trauma is different for every single individual. We hold in our hearts most especially those for whom this is most acute.
"We think firstly of the ten who have lost their lives and gone to God, and then of those nearest to them who are most cruelly bereaved.
"And then we think of the injured, struggling to recover in body and spirit. We think of everyone, both from the community and the first responders in the public services who have carried the burden of being close to the tragedy as it has unfolded.
Eight people were taken to hospital following the explosion. A man in his 20s remains in a critical condition in St James's Hospital in Dublin. The seven other people are being treated at Letterkenny University Hospital and are said to be in stable condition.
Post-mortem examinations are being carried out at LUH on those who died under the direction of Assistant State Pathologist Dr Heidi Okkers, and are expected to continue over the next few days.
Gardaí are continuing to investigate the cause of the blast but the evidence so far, they say, is pointing towards a tragic accident.
---
Read More:
Ten people killed in Creeslough explosion named
Emergency services praised for Donegal response
Local lives turned upside-down in an instant
---
Bishop McGuckian told the congregation: "Over the last couple of days as people gathered in groups to talk about what has happened here these last days, the one word that stands out for me in relation to the explosion is something somebody said.
"It is so random, they said. And what she was referring to was, anybody could have been caught up in that. There's something deeply shocking and upsetting about what life throws up, can throw up.
"We ask why did it have to happen here, to this person, that person, why did they have to be there at that awful moment?
"The bereaved and the injured have to carry the awful insecurity of that question. Others of us could easily carry a certain sense of guilt.
"Why was it them and not me who was hit by the randomness of this tragedy? There is fundamentally a terrible realisation that we are not masters of our own destiny.
"We are very fragile, all of us, fragile and vulnerable."
The Taoiseach and Tánaiste have met those who were injured in the explosion during a visit to Letterkenny University Hospital.
Micheál Martin and Leo Varadkar were accompanied by Minister for Agriculture and Donegal TD Charlie McConalogue.
Visited staff at Letterkenny University Hospital and Donegal Fire Service today with @LeoVaradkar and @McConalogue

We thanked them for their incredible work responding to the terrible tragedy at Creeslough.

Their dedicated work and service is an inspiration to all. pic.twitter.com/wXaxzr5Ka0

— Micheál Martin (@MichealMartinTD) October 9, 2022
Tragedy a 'terrible blow' - President Michael D Higgins
Last night Mr Martin, Mr Varadkar and Sinn Féin leader Mary Lou McDonald were among the congregation at a special service of remembrance for the ten people who died in the explosion.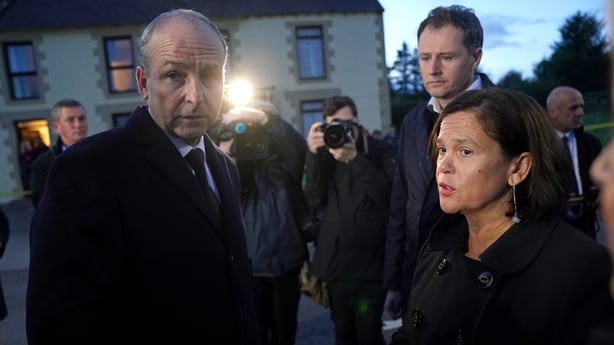 Ten red candles were lit in the chapel at Creeslough representing each person who died, and they will remain lit for the next seven days.
The gathering in St Michael's church came at the close of an emotional day for the community as the full scale of the tragedy emerged.
'Our hearts are indeed broken'
Parish priest Fr John Joe Duffy said: "Our hearts are indeed broken, we all sense a numbness, a disbelief that we are really experiencing this tragedy, that it is real.
"The grief we see in the young and in the old shows that this is a family that cares for each other, a genuine community. We suffer the loss, we all sense the pain.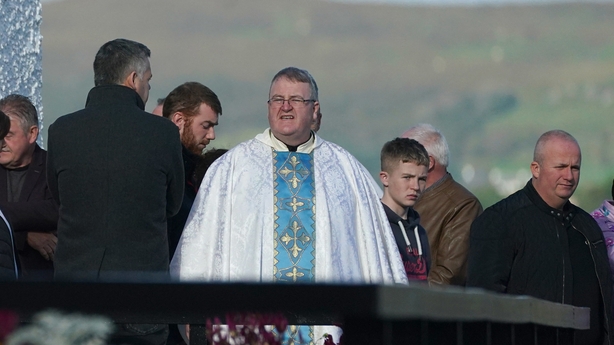 "The days ahead will be difficult days. I wish there was some easier way, but unfortunately there is not.
"However, the strength of our community will carry us."
---
Read more:
Strength of Creeslough hailed in service to remember victims
---
Speaking on RTÉ's Sunday with Miriam, Fr Duffy said the prayers and good wishes of the nation and beyond "are a source of strength" to the community, adding that Creeslough is a heartbroken but strong community and everyone is "trying to carry each other".
He praised the "heartfelt sympathy" and support that has been offered and said he has "no doubt" that the strength of the people will help the community through this.
"So many people came out to pray here last night ... it was a very nice moment," he said.
"The very youngest to the very oldest in our community and people coming from other communities to join us."
Gardaí said yesterday that emergency services do not expect any more casualties at the scene and that no one else is unaccounted for.
Meanwhile from tomorrow, An Post has invited the public to donate to a support fund at its 902 offices nationwide to help those impacted by the explosion.
An Post said the funds raised would be channelled through the Irish Red Cross to provide help to those bereaved, injured or made homeless by the blast.
"An Post and the Irish Red Cross will work with State service providers and local groups to ensure that supports are available to all those who need them in the weeks and months ahead."
Additional reporting: PA, Una Kelly