A teacher has made a passionate plea for proper relationship and sexuality education in schools and has given a vivid and shocking account of how pornography is warping the sexuality of teens across the country.
At a Dublin Rape Crisis Centre event, Eoghan Cleary of Temple Carrig Secondary School in Wicklow, described how an RSE programme he introduced has transformed how students view their own sexuality and how feel they are expected to behave.
Mr Cleary has appealed for programmes like his to be embedded in the national curriculum and delivered by teachers trained to support students.
He said that students had been "universally" learning what was expected of them in terms of sexual activity from pornography that they are viewing online, and that they were hugely grateful and relieved when they learned that they did not have to behave in such ways.
Urging schools and the authorities not to turn a blind eye to the problem, the Greystones teacher said more than half of students at his school had reported actively using porn, with a quarter of male students using it more than once a day. He said female students were most likely to view pornography for "education".
"All those who use it report that they rely on it to know what they are expected to do in a sexual interaction and how they are expected to do it," Mr Cleary said.
He said that teenage boys had been learning that they were expected to demonstrate dominance, and girls were learning that they should behave in a submissive and compliant manner, and he warned that students were learning attitudes and behaviours that were "unhealthy, extremely violent, and toxic".
On a positive note, Mr Cleary described a transformation that had taken place in the school as a result of a programme he devised five years ago for Transition Year students.
He said the programme, which continues to run at the school, means students from Third Year up are now fluent in their understanding of all aspects of consent.
He said the culture created by the programme had fed into a culture across the school.
"When it comes to the porn literacy module, as soon as the students realise they can openly talk about sex and their expectations of it, which they openly report being almost entirely based on their consumption of porn or sexually explicit online content, there is absolutely no stopping them."
He said that over four years delivering the programme, the response of students was always the same;
"It is generally one of shock and anger. They are shocked that this is the first time they are being taught about something so vitally important to their wellbeing and they are angry that no one has protected them and their sexual conditioning throughout their childhood."
He said all of his students said the same thing; "deliver the programmes earlier".
"And when I explain to them that the content of the programmes is not deemed to be appropriate for younger students, they get even angrier, pointing out that if the people who made those decisions really cared about access to age-appropriate content, children would not be allowed to own smartphones."
Rape Crisis Centre programmes
Temple Carrig school is under the patronage of the Church of Ireland.
Mr Cleary and the school have incorporated two programmes developed by the Dublin Rape Crisis Centre – Bodyright, and Let's Get Real – into their teaching.
The latter programme specifically addresses pornography and critical awareness.
The Dublin Rape Crisis Centre has said it is inundated with requests from teachers for support and help in how to teach teenagers about consent and about how to be critical consumers when it comes to things like explicit sexual content online.
The organisation runs training for teachers in its two programmes and says that demand for places on training programmes is "huge".
It says young people are looking to their schools to teach them about issues such as consent and that it is vitally important that schools are equipped to provide a comprehensive education in the area.
We need your consent to load this rte-player contentWe use rte-player to manage extra content that can set cookies on your device and collect data about your activity. Please review their details and accept them to load the content.Manage Preferences
The centre published its annual report yesterday afternoon and in an unusual move invited Minister for Education Norma Foley to speak.
The minister said she absolutely understood the urgent need for modern curriculums in the area of RSE.
She said she was giving it "absolute priority".
She said she was very keen to ensure that teachers were properly trained and that tendering was advanced for a new upskilling programme that would be made available to post primary teachers free of charge from next year.
Asked did she think it appropriate that an agency run by the Catholic bishops - ACCORD - delivers RSE in a large proportion of Irish schools Ms Foley said all schools were obliged to follow the State curriculum.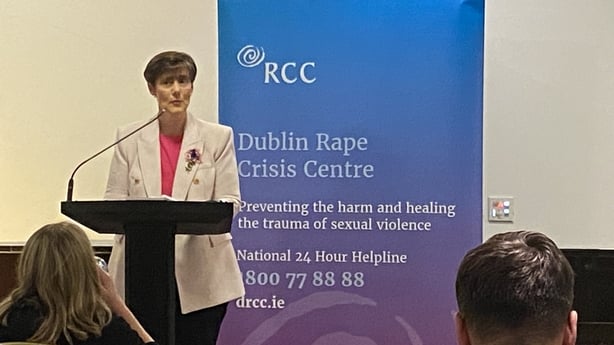 Relationships and sexuality education
Current guidelines governing RSE in schools are now more than 25 years old and are widely acknowledged as inadequate in terms of meeting the needs of today's students.
The guidelines do not address the issue of consent. They also allow the religious ethos of the school to influence how the programme is delivered.
A paper published this week by the National Council for Curriculum and Assessment quotes from a review published three years ago which found "clear evidence of the need for an up-to-date, inclusive and comprehensive curriculum that is age and developmentally appropriate across all levels of education".
In 2017 the Citizens' Assembly recommended reform of RSE in schools.
But reforms have yet to be introduced.
The NCCA is in the process of developing a new programme for junior cycle level which is due to be in place by September of next year.
Moves are also under way towards developing new programmes at senior cycle and at primary level.
Norma Foley appealed to people to engage in a public consultation process on junior cycle reforms that is currently being run by the NCCA and which closes on 18 October.
RSE in schools
In seeking to educate students so comprehensively on issues such as consent and pornography Temple Carrig secondary school would appear to be in a very small minority.
Despite the fact that RSE is mandatory in schools, the minimum requirement is limited to just six lessons annually.
This can amount to as little as two and-a-half hours over the course of a full academic year for young teens at the crucial stage of beginning to explore their sexuality.
However, the NCCA paper states that approximately half of all secondary schools are not even meeting this minimum requirement.
The report quotes from a survey in which more than a third of post primary school principals said they provided either no RSE lessons or just one or two class periods per year.