Hundreds of well-wishers turned out for the official homecoming of athlete Damian Browne after he completed his historic row from New York to Galway.
The former rugby player spent a gruelling 112 days at sea in what he described as the adventure of a lifetime.
His solo voyage across the Atlantic ended in the early hours of this morning, when he came ashore on the Galway coast.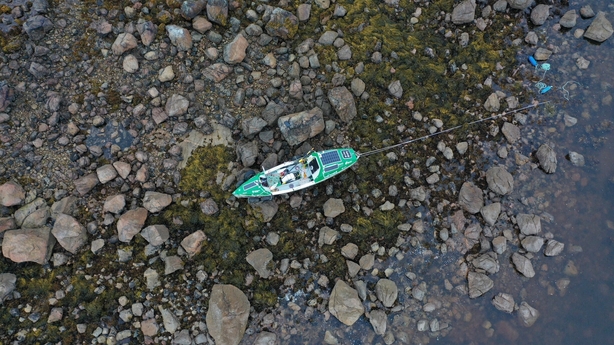 The rower got into difficulties as he neared Galway Port. His vessel, Cushlamachree, came ashore on rocks at Na Forbacha, shortly before 1am.
Emergency services were mobilised and gardaí from An Spidéal, Indreabhán and Carna helped bring Mr Browne to safety.
It marked the end of a 16-week journey, which began when Mr Browne and his friend Fergus Farrell embarked from New York on the voyage eastwards.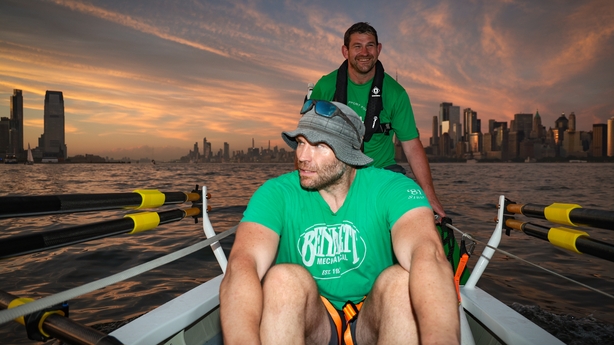 Health concerns led to Mr Farrell being airlifted from the vessel some weeks later, with his friend continuing the voyage on his own.
Mr Browne spent more than 100 days at sea, which saw him travel over 3,000 nautical miles since June.
He has become the first person to complete the row.
Damian Browne said it "feels good to have my feet on solid ground" again.
Speaking on RTÉ's News at One, he said he "can't explain" how challenging conditions at sea were.
"The North Atlantic is very changeable, and every change I seemed to get was negative," he said.
"Constantly head winds or counter currents or adverse currents, so it was incredibly stressful. You'd work so, so hard, you'd put so much into getting one or two miles, and then you could come off the oars for 15 minutes and you could have half of that mile wiped out and you'd have to put the head down again and try to regain it.
"For months it ended up like that. If it wasn't counter currents, it was head winds on the second half. I just got so much adverse conditions that it was just a fight basically the whole way along."
Describing the moment he first caught sight of land near the Skelligs, Mr Browne said he had been "waiting for the view of Ireland for a long time".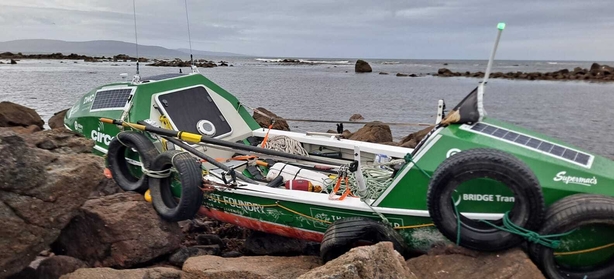 Speaking ahead of the journey, which began in New York on 14 June, the former Connacht and Leinster forward said that taking on this challenge was the adventure of a lifetime and a huge test of physical and mental strength and resilience.
MacDara Hosty is one of the organisers of the project and said: "Damian had spent almost 16 weeks at sea, fighting Mother Nature every step of the way and eventually in the last hours of this epic, unforgiving undertaking Mother Nature had her way and forced Damian ashore in precarious circumstances on the rocks at Furbo Beach, Galway.
"While gutted not to have made it to the Port Of Galway, Damian is now reunited with his family, is in good spirits and is very much looking forward to celebrating his amazing achievement with the people of Galway".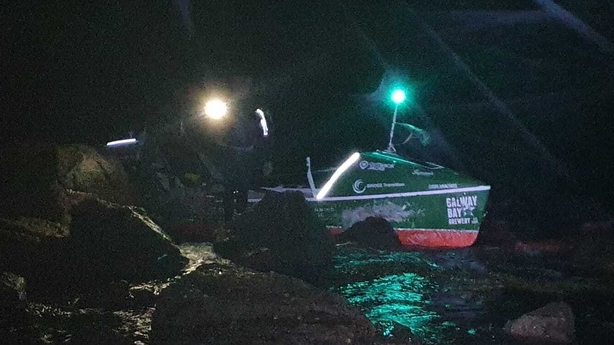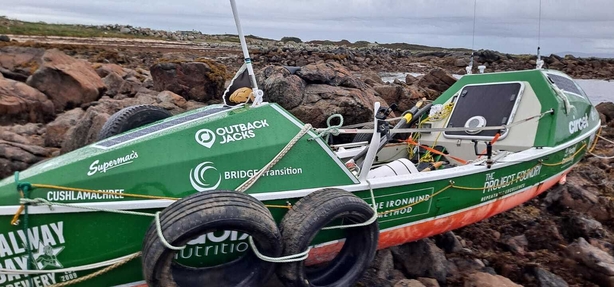 Mr Browne is one of only a few individuals to successfully row the Atlantic in both directions having crossed from San Sebastian to Antigua in 2018. He also climbed Mount Everest between the two rowing trips.
The journey, which was entitled Project Empower, is part of a fundraising effort for four charitable organisations: National Rehabilitation Hospital Foundation, Ability West, Madra animal rescue service and The Galway Simon Community.
Additional reporting Pat McGrath