The Ombudsman for Children has said there is not enough being done to facilitate and include children with disabilities.
Dr Niall Muldoon was speaking at an event in Co Sligo, which aims to highlight inclusion and showcase the skills and talents of people with disabilities.
Organisers say the Beyond Limits event is about showing how every child can reach their own potential.
"Many families we meet say they never gone to an event together because the able-bodied people could go to events that weren't catering for the disabled child," said Dr Muldoon.
"Here we provide everything you need to bring the whole family, able-bodied and disabled can come together to hear inspirational speakers who have disabilities or other challenges and inspire young people to say I can be more.
"We want to inspire other organisations to say 'if you do a little bit more you can invite these children to your events'.
"So, if you provide the quiet spaces, sensory rooms, the extra toilet facilities you can bring a whole new cohort of children to anything, and we want conference organisers to take that on board."
Among the speakers was double paralympic gold medalist Katie George Dunlevy, who said her role in life is to inspire other children with disabilities.
"It's really important for children with disabilities to see there's other children out there like them and to see adults with a disability that have gone through what they've gone through and have gone on to have a fantastic life," she said.
"I wish me and my family had this when I was a kid. There was nothing like this around, so I think it's really important."
The event included speakers, activities, workshops and performances. The GAA, IRFU, FAI and Gymnastics Ireland were all in attendance showing children how they can get involved in sport in their communities.
There was also a silent disco, sensory stories, arts and crafts, and yoga and mindfulness activities.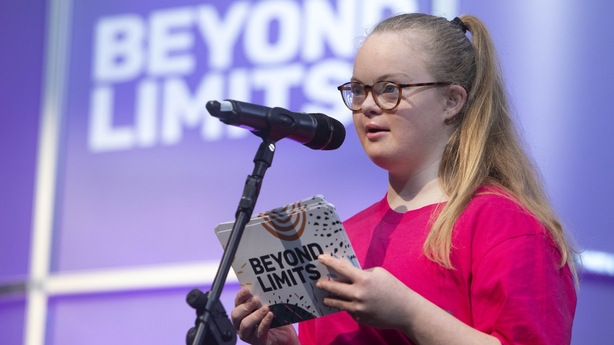 Sixteen-year-old James Casserly of Jimbo's Accessible Adventures was also at the event.
He is currently travelling to all 32 counties on public transport to illustrate the sector's challenges and opportunities.
"It's really important and it raises awareness, and it shows that if you can do anything if you want it bad enough," he said.
"You can still play sport, you can still travel, you can go on the news."
Ryan Brennan, 14, from Bundoran in Co Donegal, said he really enjoyed the event.
"I have autism and I want to hear about other people with autism and what their lives are like," he explained.
Teenager Eva Grace is one of the young people on the Beyond Limits Youth Advisory Panel.
The 16-year-old is also the Irish Second-Level Students' Union's Disability Officer and an activist from Co Meath.
"I think it's so important the young children with disabilities are represented because often times they can be pushed to the side," she said.
"I think it's so important to have days like today where you can meet people like yourself and see all the different things you can get involved in Ireland.
"Disability is not a dirty word and people need to start recognising how they can become more informed themselves and look for places they can improve and work with people with disabilities."
Another event is planned for Co Limerick later this month.