A new attendance record has been set at the National Ploughing Championships in Ratheniska in Co Laois.
115,500 people came through the gates today, according to the organisers. That is the highest attendance ever recorded on a single day in the history of the event.
Meanwhile, Government and Opposition leaders as well as other senior politicians attended day two of the event.
Taoiseach Micheál Martin, Tánaiste Leo Varadkar and Sinn Féin leader Mary Lou McDonald were all scheduled to attend. Also due to visit was Northern Ireland's First Minister Designate Michelle O'Neill.
All the main political parties have stands at the Ploughing Championships which also attracted large numbers yesterday.
Officials said 91,500 people attended yesterday, the first day of the event.
From first light this morning the many car parks surrounding the 900-acre site began to fill and traffic built on all approach roads.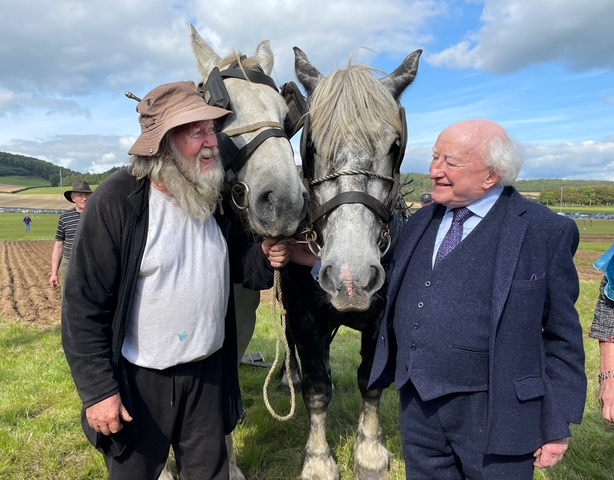 Around 1,700 trade stands are in place at the venue, along the site's 37km of trackway.
It is estimated 300,000 people will attend the event over three days.
Large crowds already on site bathed in morning sunshine #nationalploughingchampionships #day2 pic.twitter.com/6epYGrElBD

— Joe Mag Raollaigh (@joemagraollaigh) September 21, 2022
Speaking at the event, the Taoiseach defended the plan to retain the pension age at 66 and allow people to choose to work to 70.
He said others are deliberately trying to misinform and mislead on the plan but everyone can draw down their full pension at 66 with options being given to people to defer that.
Mr Martin said there will have to be some increases in PRSI and that it is important to have sustainability in pensions into the future.
He did not accept that only younger people will have to pay more PRSI, saying everyone will have to pay more as society is evolving, people are living longer and the world is changing.
Meanwhile, the Tánaiste has said that Budget measures to help small businesses should also apply to farmers.
After attending the Ploughing Championships today, Leo Varadkar told a meeting of the Fine Gael parliamentary party that farmers get energy bills as domestic customers.
But he said there will have to be an accommodation made to ensure farmers are treated similar to a small businesses in respect of energy costs.
He also said Fine Gael wants to reduce taxes and reduce costs like childcare and education, in next week's Budget.
Mr Varadkar also insisted that increasing rates of inheritance tax is not on the coalitions agenda.
Additional reporting Mary Regan