The Cabinet today approved an €0.80 rise to the minimum wage, bringing it to €11.30 per hour from the beginning of next year.
But the Mandate trade union, for one, has said that the increase is "concerning" as it does not go far enough.
Mandate Assistant General Secretary Jonathan Hogan said it is "a disgraceful attempt" at addressing low pay and said €11.30 per hour "simply doesn't go far enough".
Alisha Ivory, who is a junior barber at Sam's Barbers in Dublin city centre, is in receipt of the minimum wage and says the increase is not enough.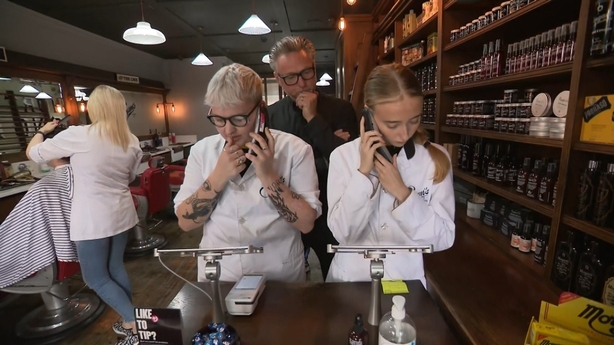 "With the cost of everything rising, the electricity, we're living in a housing crisis, the rent, what's 80 cent going to do?
"Am I even going to get it or are they just going to tax us out of it? I know they are trying to do something but what is 80 cent going to do?"
The Low Pay Commission, which recommended the increase in the minimum wage, has warned that the rise will not compensate workers for inflation and the increasing cost of living.
The owner of Sam's Barbers, Sam Donnelly, says the rise could be difficult for some businesses.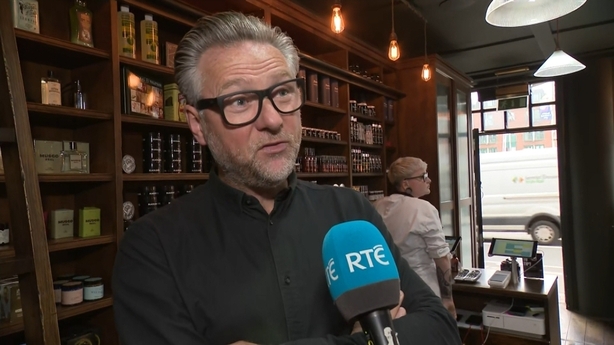 "My concern is for the legitimate businesses within the hair and beauty industry, they are going to find this quite tough.
"Because with the rise in energy costs and the cost of living and then in a business that's rife with cash in hand, it's going to be hard for them legitimate businesses that will play by the book and give the extra 80 cent."
Mandate Assistant General Secretary Jonathan Hogan had called for the minimum wage to be €14 as a living wage, which was a 9% increase of the €12.90 living wage, determined by the Living Wage Technical Group, and would take account of the cost-of-living increases.
Speaking on RTÉ's Morning Ireland, he said: "Most of our members are already only working between 27 or 29 hours per week. So, at €11.30 you will be earning just over €17,000. Which is just completely unacceptable."
ISME chief executive Neil McDonnell said he does not agree that the minimum wage should be increased, but does agree that something has to be done to offset the cost-of-living crisis.
He said very few employers are only paying the minimum wage, but it is "a benchmark" for wage setting throughout the economy and as the statutory minimum wage it puts added pressure on businesses "experiencing input cost pressures".
He said when the minimum wage goes up it results in employers reducing hours for workers, and calls to the ISME HR helpline are from employers asking questions about decreasing hours or short time working for their employees.
"So, there's an element to this that's actually counterproductive," Mr McDonnell said.
ICTU General Secretary Patricia King said her organisation believes the increase to €11.30 is "inadequate" because "it fails the test of protecting living standards of the lowest paid workers and also of providing a sustainable foundation to preparing for the living wage."
Speaking on RTÉ's Today with Claire Byrne, she said ICTU proposed that the minimum wage be €12, which would be on the way to transitioning to the living wage.
Ms King said that it is an accepted fact that no worker can live on the minimum wage, and said State has to step in and offer social transfer, which it does at the moment through the Working Family Payment (WFP).
However, she said, there there are eligibility issues with the WFP because it is confined to people with children, "so people who don't have children, for instance, get no subvention or supplement".
Speaking on the same programme, the director of employment relations at the Irish Business and Employers Confederation said Ibec has always supported minimum wages as a principle and that the wage floor does need to increase as economic circumstances change.
Maeve McElwee said: "It's really important that that's appropriate, competitive and affordable in the environment and actually currently, we know that businesses are really struggling with costs, we know that many of our domestic sectors, our experienced economy, are really struggling."
She said that in the broader environment there are "really significant costs that are coming down the line and this is just an addition."
Meanwhile, Tánaiste Leo Varadkar said that an 80 cent rise to the minimum wage was a step in eventually reaching the living wage threshold.
"What it translates to for somebody who is on the minimum wage and works full-time is an extra €30 or so a week and an extra €1,600 a year," he said. The 80 cent figure represents a 7.6% increase while inflation is currently at 9%.
"It is actually the biggest increase we've ever had to the national minimum wage and it isn't the only thing that we're going to do for people on low pay," Mr Varadkar said, adding that Budget 2023 will feature help with energy bills and increased welfare payments.
"What it is all about is making sure that work pays, making sure that we reward work and making sure that there's an incentive to work.
"What we plan to do is move towards a living wage. I'm a big advocate of increasing workers' rights but the most important right is the right to work.
"I'm conscious that a lot of businesses are dealing with very high costs and if you increase the cost of labour too quickly people could see jobs being lost."