The EU Energy Commissioner has said managing energy demand will be key to avoiding blackouts in Europe this winter and citizens will have to play their part.
Speaking exclusively to RTÉ News, Kadri Simson said a lot of work has been done to diversify the supply of energy, but that "now we also have to look into the demand side".
"There are some hours when it is very difficult to meet the demand, and this is that moment when each and every one of us can help, so that we will not have blackouts," Commissioner Simson said.
Commissioner Simson was in Dublin for a meeting of the North Seas Energy Cooperation group, which includes Ireland, Norway, Sweden, Denmark, Germany, Netherlands, Belgium and France.
It aims to promote offshore wind energy and the development of offshore grids. The Dublin meeting has agreed to a target of 260GW of offshore wind capacity by 2050 - this represents more than 85% of the EU target of 300GW for 2050.
We need your consent to load this rte-player contentWe use rte-player to manage extra content that can set cookies on your device and collect data about your activity. Please review their details and accept them to load the content.Manage Preferences
The commissioner suggested environmental restrictions on offshore development may have to be relaxed to meet this ambitious target.
"Offshore wind needs some permission that takes longer, but the commission presented a plan that we can shorten permission processes and we can regard renewables and offshore wind as an overriding public interest," she said.
"So, if governments will designate special areas where environmental restrictions are not so restrictive, we hope that offshore wind projects can be developed significantly faster."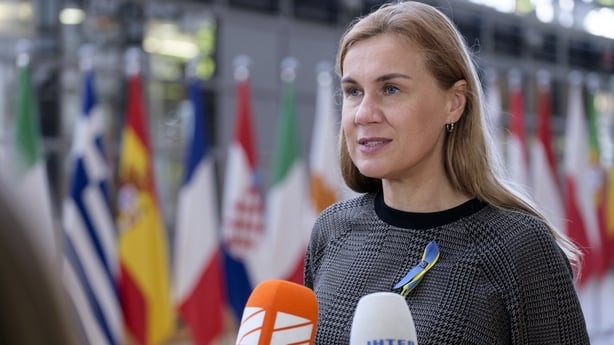 Ms Simson hosted EU energy ministers in Brussels on Friday and presented them with a plan to deal with energy security concerns this winter, but says the process is still ongoing.
"This council meeting with ministers was mainly to measure the temperature and to feel what kind of temporary emergency measures will find broader support," Ms Simson said.
She added that the design of the EU energy market has worked so far, in that it has helped to avoid blackouts.
"If we are comparing us to other regional markets across the globe, then it has been a very successful design so far."
There have been calls for changes to the way the EU energy market works, in particular to the linking of electricity prices to the price of gas, as the cost of that fuel has skyrocketed since the start of the war in Ukraine.
She said the commission will present a full winter energy security plan tomorrow and that will require the approval of the council of energy ministers, adding that it seems they will meet "very often".
The ministers did agree on Friday on several measures, including a windfall tax on profits of energy companies.
"We will need to grant governments additional revenues so that they can directly support their businesses and, of course, households," the commissioner said.
"This is a very challenging winter ahead and a very important part of the commission's proposal is that we can ask solidarity from fossil fuel producers because they have earned excess revenues."
When asked how this will be raised and if it will involve cross-border transfer of taxes, she said: "We are not talking about changing taxation, we talking about temporary emergency measures."