Thousands of Aer Lingus passengers are trying to rearrange their travel plans following the mass cancellation of flights yesterday due to an IT outage.
Jennifer Furphy and Kevin Kenny from Dublin should have been waking up in Las Vegas this morning.
Instead they were at home with their luggage still in the hallway trying to make new holiday plans.
The couple spent about eight hours waiting in Dublin Airport for their lunchtime flight to San Francisco before being told it was cancelled and to go home and rebook when the system came back.
They said they were unable to get online last night but when they were eventually able to access the Aer Lingus site this morning they found they could not rebook the flights because their flight had operated.
They described the experience as frustrating and disappointing.
"Since last night, on social media channels, I spent five to six hours trying to get through to somebody to get an answer," Mr Kenny said.
"Then a couple of hours this morning with the call centre and then again with the app to try and rebook but the message says the flight has flown."
We need your consent to load this rte-player contentWe use rte-player to manage extra content that can set cookies on your device and collect data about your activity. Please review their details and accept them to load the content.Manage Preferences
Ms Furphy said the situation in the airport yesterday left her in tears.
"I was really disappointed, really really upset," she said.
"I was looking forward to this holiday. I haven't stopped talking about it."
The couple said their employers have allowed them to postpone their annual leave by a week and the hotel in the US has also allowed them to defer their stay at no extra charge so they intend to book flights with another airline departing next week.
Aer Lingus said all but one transatlantic service operated yesterday, but they were significantly delayed and had reduced loads due to the IT outage preventing some passengers completing security requirements for their flight.
But several intending passengers who were in the airport yesterday said their flight numbers were called and they were told the service was cancelled and to return home.
They are now unsure about their entitlement to flight changes, refunds and compensation due to the fact that the flights departed without them.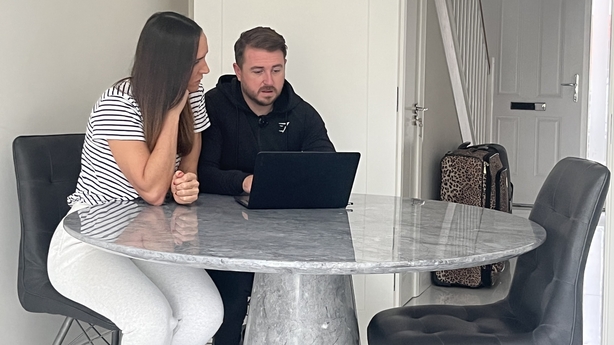 James Connors from Longford is currently stranded in Nice in the South of France after his flight was cancelled yesterday
He said Aer Lingus offered him flights for later this week but as they need to be in Ireland earlier he has booked alternative flights for his family but is worried he will be left out of pocket for the extra costs incurred.
He says the experience had ruined he and his wife's first trip abroad in more than two decades.
"I'd say in total I've spent five-six hours trying to get through to people," Mr Connors said.
"It's our first family holiday, 21 years since my wife and I last went abroad, the kids are grown up and we said we'd save up for this and go.
"It's just a disaster. The memories won't be of the beach and the sand and the sun it'll be of the time spent at the airport struggling to try and make our way back home to Ireland."
Aer Lingus has said the vast majority of its services are now operating as normal and it is communicating directly with its customers and working "assiduously" to re-accommodate passengers.
It acknowledged there were communications issues yesterday and in particular challenges and difficulties in explaining to passengers what was going on with US flights that operated, despite passengers being told they were cancelled.
Aer Lingus said it has made additional customer service agents available to deal with high call volumes and appealed to passengers to "bear with us" as they try to accommodate all customer queries.
Aer Lingus Chief Corporate Affairs Officer Donal Moriarty added that passengers would be entitled to a free change of flight or a refund and that they were entitled to apply for compensation for their flight delays and cancellations.