Aer Lingus has said the vast majority of its services are now operating as normal following the mass cancellations of flights yesterday due to an IT outage.
As thousands of passengers try to rearrange their travel plans there have been complaints about the airline's customer service and communications.
Aer Lingus said it is communicating directly its customers and working "assiduously" to re-accommodate passengers.
It acknowledged there were communications issues yesterday and in particular challenges and difficulties in explaining to passengers what was going on with US flights that operated, despite passengers being told they were cancelled.
The airline said four flights in and out of Dublin Airport to and from Lanzarote and Newark had to be cancelled this morning as a result of yesterday's disruption.
It said there are some delays to transatlantic flights later today, but that UK and European flights are departing on time.
It apologised again for the "severe disruption" caused yesterday.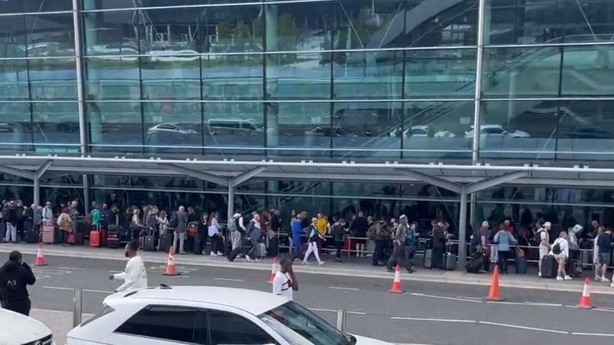 The disruption followed what Aer Lingus said was a "major incident with a network provider".
It said that the cloud-based system operated by a UK provider experienced a major break in connectivity.
Aer Lingus said it has made additional customer service agents available to deal with high call volumes and appealed to passengers to "bear with us" as they try to accommodate all customer queries.
Aer Lingus Chief Corporate Affairs Officer Donal Moriarty has advised passengers to go to the airport as normal today, but said there may be some disruption to services due to what he called the "hangover" from yesterday's cancellations.
Fifty-two flights, which were due to depart and arrive at Dublin Airport, were cancelled yesterday afternoon due to an IT outage that went on for almost ten hours.
Before the cancellations thousands of people were left queuing inside and outside Terminal 2 as Aer Lingus attempted to manually check in flights.
Despite being told systems were being restored last night, multiple people complained they could not check in online or rebook some cancelled flights and that there were waits of more than two hours to get through to Aer Lingus customer service.
Earlier, Mr Moriarty apologised to passengers and said that as the communications channels had been restored Aer Lingus would proactively reach out to people to help re-accommodate them on other services "as quickly and effectively as possible".
He said passengers would be entitled to a free change of flight or a refund and that they were entitled to apply for compensation for their flight delays and cancellations.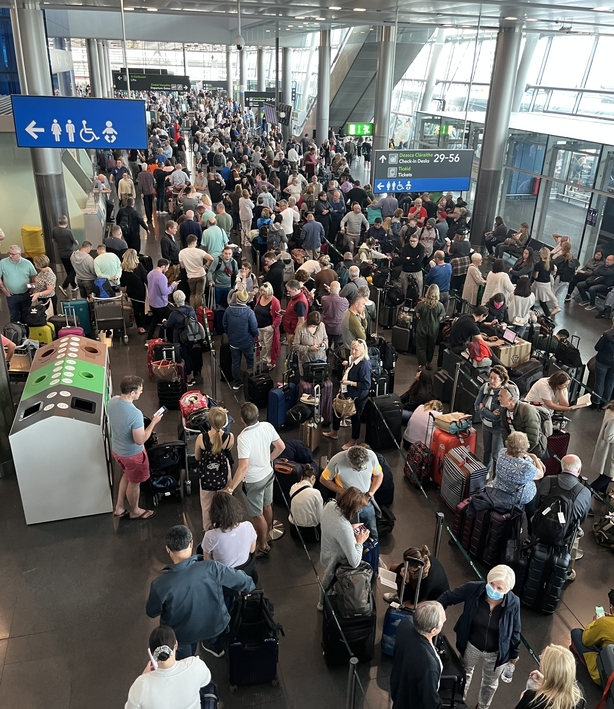 He said Aer Lingus had never experienced an IT problem like the one experienced yesterday, describing it as a "unique" experience, but he said there were other corporations also affected by the outage.
Mr Moriarty said that the airline was "not happy" about the systems failure and had taken steps to ensure it will not happen again, but said he could not guarantee that the incident would not be repeated.
Passengers who were due to fly on transatlantic services said they have been unable to rebook flights online after discovering their flights, which they had been told were cancelled, had in fact departed.
Aer Lingus said all but one transatlantic service operated yesterday, but they were significantly delayed and had reduced loads due to the IT outage preventing some passengers completing security requirements for their flight.
But several intending passengers who were in the airport yesterday said their flight numbers were called and they were told the service was cancelled and to return home.
They are now unsure about their entitlement to flight changes, refunds and compensation due to the fact that the flights departed without them.