President Michael D Higgins has said Britain's Queen Elizabeth had an "extraordinary gift" in combining her long service with a capacity for connecting with people.
President Higgins, Taoiseach Micheál Martin and Minister for Foreign Affairs Simon Coveney were among those to sign a book of condolence at the British Embassy in Dublin today.
The embassy said the book of condolence will be open between 10am and 4pm tomorrow and from Monday to Friday next week for any members of the public who wish to pay their respects.
A number of people signed the book today, while others left floral tributes at the entrance to the British Embassy on Merrion Road.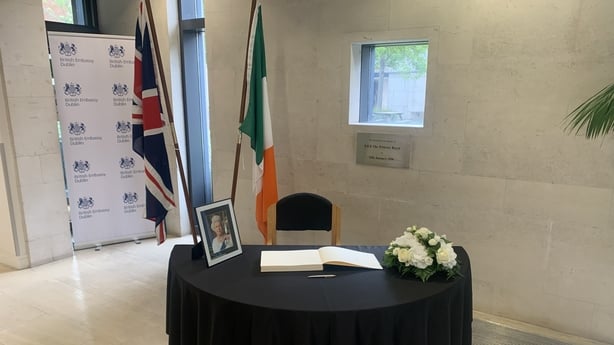 Speaking to RTÉ News in Galway this morning, the President said he would particularly remember her attention to detail over the course of his interactions with her.
Buckingham Palace yesterday announced the death of the 96-year-old monarch, who passed away "peacefully" at Balmoral.
The UK has begun a period of morning to mark her death.
President Higgins referenced his meeting with the queen at Belfast's Lyric Theatre in 2012, which was followed by his state visit to Britain two years later.
He said the queen had been enormously well informed about the contribution of the Irish community in Britain and wanted to ensure that was reflected over the course of the four-day visit to the UK in 2014.
He said the monarch had been able to bridge formal and informal roles with ease, and was able "to do what had to be done but also in a way that made just about everybody comfortable".
He said Queen Elizabeth had "never been stuck in a rut of history in a particular period".
We need your consent to load this rte-player contentWe use rte-player to manage extra content that can set cookies on your device and collect data about your activity. Please review their details and accept them to load the content.Manage Preferences
She was very conscious how Britain, Ireland and Northern Ireland had changed over the years, he said, and was keen to emphasise the possibility of improved economic, social and cultural relations.
The President said the queen had the necessary distances between the "day to day acrimonies of politics" and had a longer view as a result of the length of her reign.
He said she never stopped realising how the world was changing.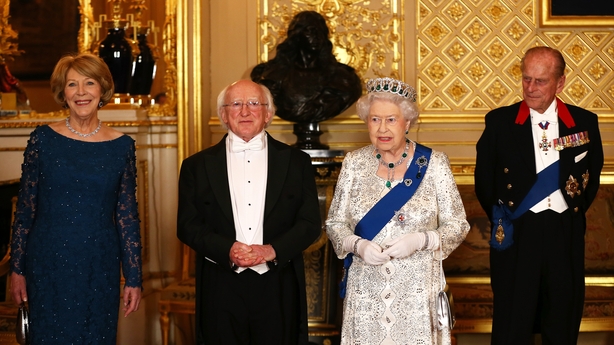 Also speaking on RTÉ's Morning Ireland, President Higgins recalled both the queen's visit to Ireland in 2011 and his visit to the UK in 2014.
He said she was "at pains to point out the contribution that the Irish had made in relation to building England" and paid tribute to the "hundreds of thousands of families" who worked in the English health services and built roads.
He said that during her visit to Ireland in 2011, she made "that extraordinary statement that if things would have been done again, they would be done differently or perhaps not at all".
"I found during those four days, very much not just a great deal of warmth, but an exceptional regard that Ireland and Britain were in a new place," he said, adding that her knowledge of history was fascinating.
"People mightn't know, but she was very conscious that the use of the Irish language in 2011 was not accidental," he said.
When asked how he would remember the queen, President Higgins said: "I think, above all else, it is the extraordinary achievement she had of giving such a long service in very, very significant conditions of change, being incredibly well informed, but also maybe I think the exceptional part of it all was combining this sense of formality in duty with a great capacity for connection with the people."
He said this was "very much evident" to both he and Sabina when they visited the queen in 2014.
"There was that capacity to bridge the formal and the informal," he said.
"I do think as well, maybe her sense of detail was very interesting, because the preparations that she was involved in between 2011 and 2014 were complex. They required some subtlety and very good diplomacy."
---
Watch in full: The queen's Dublin speech in 2011
We need your consent to load this comcast-player contentWe use comcast-player to manage extra content that can set cookies on your device and collect data about your activity. Please review their details and accept them to load the content.Manage Preferences
---
Taoiseach Micheál Martin said the queen's most enduring legacy in an Irish context would 'unquestionably be' the monarch's visit to Ireland in 2011.
"I think in the context of all that has gone on between Britain and Ireland over the centuries it definitely closed one chapter and opened up a new chapter," Mr Martin said.
"The head of state of the United Kingdom coming to Ireland represented really the crowning moment for all that had gone before in terms of peacebuilding and in terms of creating a new political order."
Tánaiste Leo Varadkar described the death of Britain's Queen Elizabeth as "the end of an era and the end of an extraordinary life."
The Fine Gael leader expressed his deepest condolences to the people of Britain and multiple other countries for whom she was their queen.
Speaking on the same programme, Mr Varadkar said she touched millions of people across many generations.
He said her "historic visit" to Ireland in 2011 was "deep in symbolism".
"I remember the impact that had ... and it was a high point in British Irish relations and she made that possible."
He said one word he would use to describe her would be "duty", referring to her dedication to both family and country.
He said she was extraordinary in her work and only earlier this week, in her last days, received the new Prime Minister Liz Truss, the 15th prime minister she appointed during her reign.
'If I was to sum her life up in one word, I think it would be a very short word, duty,' Tánaiste Leo Varadkar said as he marks the passing of Queen Elizabeth II | Read more: https://t.co/VSTXSgCHO0 pic.twitter.com/HiEJwM7W6C

— RTÉ News (@rtenews) September 9, 2022
Former President Mary Robinson said she remembers Queen Elizabeth as a "remarkable woman" with a strong sense of integrity and purpose to serve her people.
Speaking on RTÉ's Today with Claire Byrne, Mrs Robinson said the queen was relevant to everyone and had a great capacity to put people at ease.
She described her encounters with the queen in 1993 and 1996 as "significant" moments.
That was followed by a visit to Ireland in 2011, which Ms Robinson said there was some tension and apprehension ahead of.
The moment the queen "bowed her head" in the Garden of Remembrance "eased everything", she said.
Mrs Robinson said her 1993 visit with the queen came at a time when there was still conflict, and was not long before the Warrington bombing in England, which left two young boys dead.
"So that was the context of an invitation," she said.
"It became a huge event as I was photographed with the queen. Two heads of state side by side and it went all around the world at the time."
She said that in her view, this visit was an "extraordinary effort" by the queen to help reconciliation.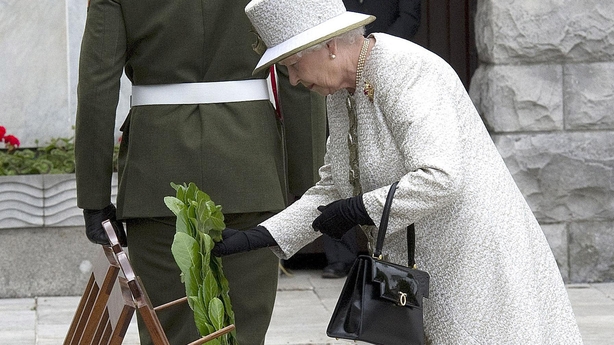 Speaking on RTÉ'S Six One, former President Mary McAleese, who was in the post when the queen visited Ireland in 2011 said that the late monarchs visit was "a pilgrimage in reconciliation" and that she was "very knowledgeable about Irish history".
"She wasn't trying to avoid anything," Ms McAleese said.
"She was facing right into everything that had to be faced. This was never going to be an exercise in evasion.
"This was a pilgrimage in reconciliation in which she was going to take on going to Croke Park, standing on the sward where in November 1920 British troops had killed a player and people sitting in the stands.
"She knew all of that," former President McAleese said, adding that the queen also had a very relaxed side to her.
"She was surprisingly easy company," she said.
"In private she was funny; she was a tremendous mimic and very chatty. We chatted about all sorts of things, mostly about family and about faith.
"She never lost that internal radiance that allowed her every day of her life to go out and perform her duty in public and in service."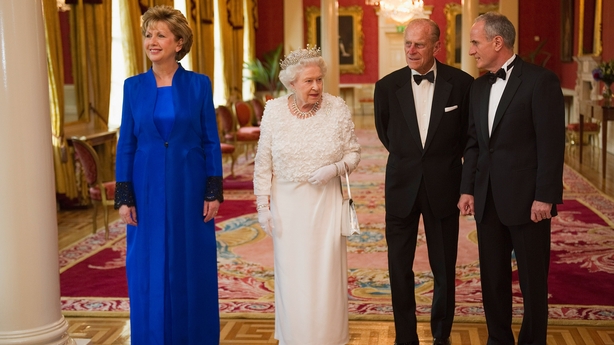 Sinn Féin leader Mary Lou McDonald said Queen Elizabeth proved to be a "powerful ally" in the journey of reconciliation between Ireland and the UK as the relationship changed and continues to change.
"No doubt in her lengthy and full life, a life full of historical moments, the queen saw and was part of very big changes," she said.
Also speaking on Morning Ireland, Ms McDonald said there is now a "much improved and warmer and healthier relationship between our two countries".
"I acknowledge also her loss is a very difficult moment for the people of Britain, in particularly for unionists in Ireland, it is a very big loss," she said.
Ms McDonald said it is important for everyone across political traditions to recognise that.
Ms McDonald said she has met the now King Charles on several occasions, adding that they have been "very positive and warm encounters".
It is important that dialogue and relationship building continues, she said, referring to the political journey and "maturing relationship" between the UK and Ireland.
"It is in all of our interests," she added.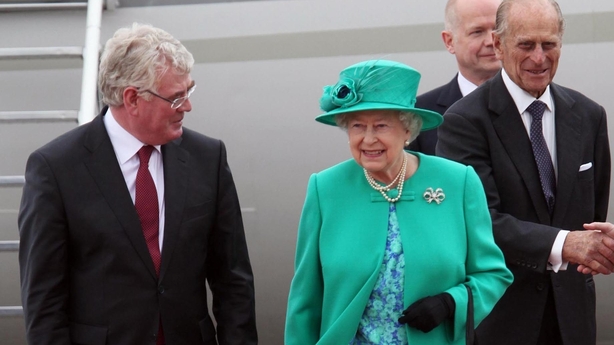 Speaking on the same programme, Eamon Gilmore, EU Special Representative for Human Rights and former leader of the Labour Party, recalled the queen as someone who was "warm and engaging".
He was Tánaiste in the 2011 coalition government during her state visit to Ireland and said he remembers watching her coming down the aircraft's steps at Baldonell.
"When she got to the bottom of the steps, I got this big beaming warm smile," he said.
"I stuck out my hand, and said 'welcome to Ireland your majesty'. She was excited to be in Ireland, really happy.
"My memory of her was someone warm, engaging and very happy to be in Ireland."
Mr Gilmore said it was an important journey for her to visit the Garden of Remembrance, paying respect to the people who had fought against the British and building Irish-British relations.
He said she did a lot for reconciliation, and her use of Irish at Dublin Castle was very good and was a "strong message".
He said he had the opportunity to meet the queen on other occasions, and she spoke constantly about her visit to Ireland, particularly Cork.
---
Read more:
Obituary: Queen Elizabeth's 70-year reign
World leaders pay tribute to the late UK monarch'
London Bridge' plan - how the UK will mark queen's death
---
Jim O'Hara, former Chairman of the Irish Cultural Centre in London, said Queen Elizabeth's relationship with Ireland changed considerably over the years.
"If you look at the Anglo-Irish relationship in the 1950s and 1960s and compare it to the relationship that existed when the queen visited Ireland in 2011, there was a fundamental change in relationships in which she played an important role," he said.
Speaking on the same programme, Mr O'Hara said she is viewed with "great respect" by the Irish community, and the Irish community in Britain accepts the role the monarchy plays in British life.
He said the queen contributed a lot to the peace process and how that gradually evolved and culminated with her visit to Ireland in 2011.
He said he met her in 2014 and was very impressed with how she took the time to speak with everyone personally.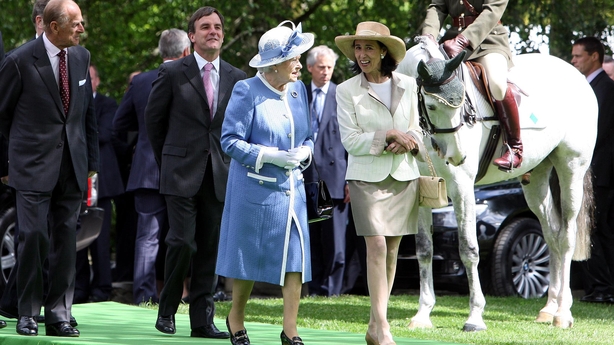 British Ambassador to Ireland Paul Johnston said meeting the queen in 2011 was one of his "most cherished moments".
He said it was a few weeks before her visit to Dublin.
"I'm not someone who gets easily nervous, but I confess as I stood at the doors of the audience room, my principal emotion was that I shouldn't sort of trip over or do something or say something ridiculous," he said.
"It was one of the most cherished moments in my life meeting the queen, and it was a great privilege to be her majesty's ambassador and it will be a great privilege to be his majesty's ambassador as well."
The new king has a deep personal commitment to "the profoundly important relationship between Britain and Ireland", Mr Johnston added.