Jesslyn Henry is a special needs assistant - among the lowest paid public sector workers - at a Dublin secondary school and says that the soaring cost of living dominates conversations with colleagues in the staffroom.
"The talk during the lunchbreak is how strapped everyone is," Ms Henry said.
"One teacher said she can't buy certain things for her classroom because she just doesn't have the money anymore. Another colleague has been issued with an eviction notice for this Christmas. He's an older man and it's heart-breaking because he doesn't know where he's going to go and if he can afford something else.
"Everything is increasing. The grocery bills, the heating, the electricity, childcare - everything is going up at the moment and it's a real strain on the pocket," she added.
Ms Henry and her colleagues are keeping a close eye on the public sector pay talks, which have resumed today at the Workplace Relations Commission.
We need your consent to load this rte-player contentWe use rte-player to manage extra content that can set cookies on your device and collect data about your activity. Please review their details and accept them to load the content.Manage Preferences
Talks ended without agreement in June after unions and staff associations rejected a 5% pay increase over two years, saying it fell far short of inflation.
Arriving for today's talks, unions said that since the sides last engaged more than two months ago, inflation has continued to rise and the Government will have to make a credible pay offer if a deal is to be agreed.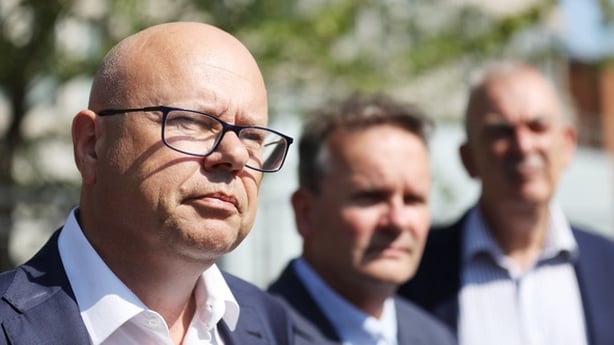 "In terms of the pay talks, I would be hopeful something can be done," Ms Henry said.
"Starting off, SNAs don't earn much more than the minimum wage. Most of us are women and a lot of us have children with special needs, which brings additional costs.
"People are having to choose; Do we put petrol in our cars or do we feed our kids? Do we heat the house or just have to put on an extra jumper?"
Ms Henry says that the current public sector pay deal, Building Momentum, delivered a small increase, but that it is not enough.
"We need something more substantial, because people are hitting the poverty line and we just haven't got the money to live anymore," she said.