Principal Pat McKenna is busy overseeing building work at Pobalscoil Neasáin Secondary School in Baldoyle, Dublin.
With just days to go to the start of the new term, the finishing touches are being put to the school building, but far from finished is the process of hiring teachers.
Schools like Pobalscoil Neasáin, which are located in urban areas, are finding it increasingly difficult to recruit staff.
"We've hit a perfect storm," Mr McKenna told RTÉ News.
"We have a bulge population passing through second-level education."
"We have the cost of living, which is impacting on the ability of teachers to work in Dublin and pay for accommodation," Mr McKenna explained.
"There are the challenges of travelling with high energy costs, and you have the fact that many younger teachers are taking the opportunity to travel abroad that had been denied to them over the last few years."
"You have jobs that are advertised," he said, "and I don't know if the people who I have called to interview today will come tomorrow, because they may have been offered something else in the meantime."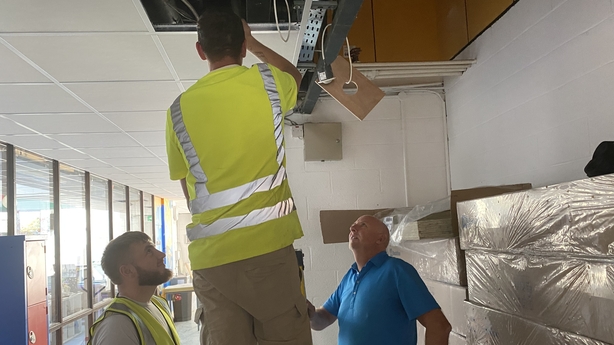 Mr McKenna said that while attracting new teachers is one challenge, existing staff are also leaving Dublin and moving back home where their salaries go a lot further.
"Last Friday, I received a call saying one of my staff was leaving because they'd gotten a job elsewhere, so that position is now open," he said.
"There's a cascade effect from all schools where people are moving around, and we are scrambling for a diminishing pool of teachers."
"We may be down teachers but we will manage - we are hoping, we are optimistic," Mr McKenna insisted.
We need your consent to load this rte-player contentWe use rte-player to manage extra content that can set cookies on your device and collect data about your activity. Please review their details and accept them to load the content.Manage Preferences
The Teachers' Union of Ireland claims that pay discrimination in teaching is having a negative impact on the attractiveness of the profession and on morale within the sector.
When it comes to addressing teacher shortages, the Department of Education says a range of measures have been introduced such as campaigns to encourage more students into the profession, up-skilling programmes and initiatives aimed at those teaching abroad who may wish to return home.
Pat McKenna says long-term measures are welcome, but right now finding teachers is the biggest challenge.
"It is the single most stressful aspect of being a school leader at this time," Mr McKenna said.