The Health Service Executive has announced a pilot programme of anonymous drug testing at Electric Picnic in Stradbally, Co Laois, next month.
It is part of its ongoing 'Safer Nightlight' programme and drug harm reduction campaign.
That campaign has already seen the involvement of HSE-trained volunteers at certain festivals this summer, giving advice on how to reduce the risks associated with drug use and assisting in emergencies.
The HSE said it aims to obtain substances at a designated tent at Electric Picnic from people who choose to anonymously submit substances to a 'surrender bin'.
The HSE can then identify and communicate if extra dangerous substances are in circulation. It will also be in a position to analyse substances of concern identified by medics.
Professor Eamon Keenan, HSE National Clinical Lead, Addiction Services said he believes the measure will have an impact and "save lives".
He said: "We are currently very concerned about the emergence of new psychoactive substances and high potency substances which pose a threat to health.
"This project will provide us with vital information that we otherwise can't access in real time.
"While this is a progression, the HSE messaging will remain clear, it is safer not to use drugs at all.
"For those who choose to, they should still follow the practical steps recommended by the HSE to reduce the harms."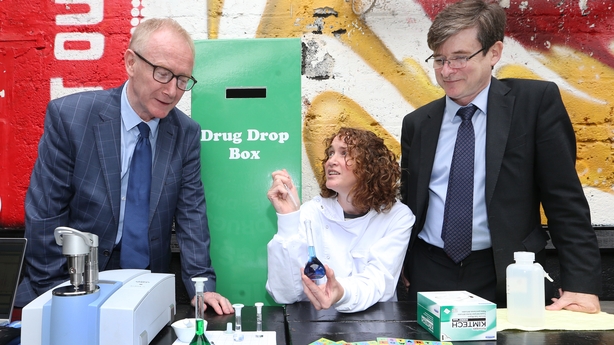 Prof Keenan said this pilot project is being trialled for research and monitoring purposes to inform health-led responses.
It is the HSE's aim that this pilot project will be expanded to other festivals and other nightlife venues, he confirmed.
Prof Keenan said it will allow the identification of anonymous substances that are surrendered either in a designated HSE surrender bin or discarded and brought to the HSE testers by gardaí.
Substances can be analysed in real time to identify if there is a specific harm associated with a substance or one with a high potency.
"We can then get that message out via social media, via festival promoters to everyone at the event and warn them of the harm of these substances," he said.
The drug monitoring festival programme was launched today by the HSE in partnership with the Department of Health and the Department of Tourism, Culture, Arts, Gaeltacht, Sport and Media.
We need your consent to load this rte-player contentWe use rte-player to manage extra content that can set cookies on your device and collect data about your activity. Please review their details and accept them to load the content.Manage Preferences
Sinn Féin spokesperson on Addiction, Recovery and Wellbeing Thomas Gould welcomed the news that a HSE pilot anonymous drug-checking facility will operate at Electric Picnic this year.
He said: "This facility has the potential to save lives and protect young people from potential harm.
"It has been a long time coming, with a commitment first made in 2020 by Minister Frank Feighan, but it is great to see that this will finally happen now."
He added: "I want to again encourage the Government to consider, based on the success of this pilot, inclusion of drug checking as a condition of licensing for similar major events and festivals as we see in other European countries."
Melvin Benn, Managing Director of Festival Republic, also welcomed the new drug programme.
"It is bound to reduce the potential of harm and I am very pleased that Electric Picnic is working alongside the HSE in providing this service," he said.
Mr Benn also said the crucial thing is that "drugs remain illegal". He said drug testing is carried out across festivals in the UK and it is a "big step forward" for the HSE to be doing it in Ireland.