"I really loved my work. It's difficult, I never thought the Taliban would come and I would lose my work, my life."
Latifa was a judge of the criminal court in Afghanistan. She presided over a variety of cases such as murder, kidnapping and violence against women.
She is now in a refugee centre in Co Waterford, where she is living with other refugees from Afghanistan and Syria.
Speaking on RTÉ's Morning Ireland, she said she was in work when news came that the Taliban had seized power. Latifa went to get her son from his crèche and went straight home to hide.
"I didn't believe this situation when the Taliban took over Kabul, and on the next day, 16 August 2021, I feel I am dead," she said.
She added that she was especially afraid as the Taliban had released all prisoners from jail and she would have sentenced many of those criminals.
She came to Ireland in December with her husband, brother and her son and shortly after she arrived, she gave birth to her daughter.
Latifa will start a master's degree in Criminal Law at the University of Limerick in September.
"Now I'm happy, because my son can go to school and we are happy here, but our mind is with all of the Afghan people as they are in a difficult situation," she said.
"We are in touch with the other judges still in Afghanistan and they say we are lucky we got out."
As she wiped away some tears, Latifa said she wants the world to reject the rule of the Taliban, and to stand up to be the voice for the Afghan people.
Mahanz was a judge for 14 years in Afghanistan, presiding over various cases in the criminal and civil courts.
She thought back to this time last year when the Taliban took control of her home country.
Mahanz was working in her job as a judge at a courthouse, when someone told them that the hand of power would be with the Taliban soon. She said they all left the office in a hurry and went home, but she added that she never believed that this could be the reality.
Mahanz said when the Taliban came to power, all the judges and lawyers were targeted, as they prosecuted members of the Taliban in their work.
She had to move house several times to hide from the Taliban. As a woman and a judge, the Taliban were searching for people like her.
She came to Ireland with her two children in October. They are also living in the Waterford centre.
She will also start a master's degree soon. This time in human rights.
When asked to reflect on how much her life has changed in the past year, her eyes fill with tears.
"I was born Afghanistan. I grew up there. Everything is there. My life is completely changed now and when I am talking about all these changes, my heart is in pain," she said.
"This last year was a very difficult year."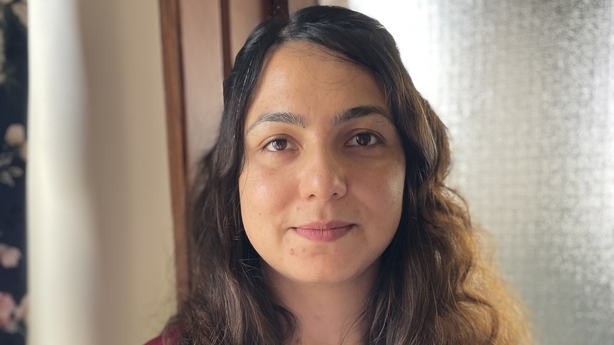 Meena Asckry, who provided Dari Persian translation for the interview, arrived in Ireland in October last year, with her husband and two children and are also living at the centre.
"When the Taliban took control of Afghanistan, Kabul was like a city of the walking dead," she said.
"Everyone was like a ghost. Nobody believed that Afghanistan would come under the hand of the Taliban, the dangerous people, the fundamentalist people."
She said it was a difficult decision to leave, as she was leaving behind her family.
"It was a difficult time for us, as everybody was saying to us - especially my father was saying - that Afghanistan needs the younger generation," she said.
"'You should be here and fight the darkness,' he said."
She said she was thinking about her children, who she wanted an education for.
"My daughter was seven years old and her school stopped for one-year, because there was conflict in my province," she said.
"I grew up in a country with war and I don't want that for my children, I want a better future for my children."
Ms Asckry was working with Irish aid agency Concern Worldwide when the Taliban took over. Before that, she had her own foundation which worked on improving education for women and girls in Afghanistan.
"The Taliban is always against women, because they know how powerful women are," Ms Asckry said.
"If women are educated, they will be against them and their rules.
"These are really dangerous people. They just know the gun and the shooting."
Ms Asckry and her family will be resettled in the west of Ireland soon and while she says she feels relieved to be here, she says her heart is back in Afghanistan.
"Afghanistan now is a jail for women," she added.
"I feel very sad for the young girls they are messaging me, that they are sitting in the house with nothing to do."
She said that young girls are saying even their fathers or brothers cannot find work, as the government is shut down.
She adds that she does not know what to say to them, but she tells them not to be hopeless.