The all-time highest temperature for Ireland in August has been surpassed today as Met Éireann provisionally recorded 31.7C at Oak Park in Carlow.
This is 0.2°C above the previous August maximum temperature recorded for Ireland of 31.5°C, also in Oak Park, in 1995 with 31.5C also recorded in Ballybrittas, Co Laois in 1975.
The next hottest spot is Moore Park, Co Cork with 30.3°C recorded at 3pm.
Earlier, a Senior Forecaster with Met Éireann warned there is "a very hot weekend in store" right across the country.
Speaking on RTÉ's News at One, Gerry Murphy said: "All the indications are that, for most of the country, temperatures are going to continue to reach between about 27C to 30C with the highest in mainly Leinster and Munster,"
It is the first time since 1995 Ireland has seen over 30C during two summer months, and the first time since 1976 it has been over 30C during two consecutive summer months.
Temperatures also soared to 30C yesterday and the forecaster said there will be similar highs over the coming days.
The high temperature warning follows an alert for Leinster and Munster which has been in place since yesterday.
With increasing demand on water supplies during this hot spell, Irish Water is appealing to people to conserve water as much as possible.
It said there are 24 areas affected by water shortages and has implemented a range of measures, such as night-time restrictions to protect supplies.
The organisation said average water usage in Dublin has increased by millions of litres per day.
The utility's National Incident Management Team met this morning and warned that 32 supplies nation-wide are now in drought, with dozens more in potential drought.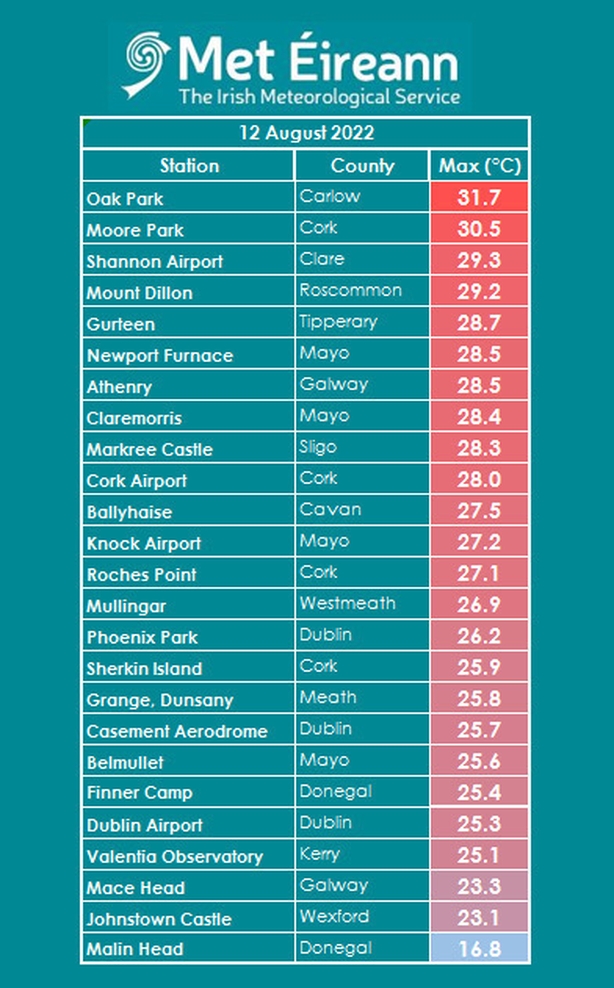 "Demand is extremely high. In the greater Dublin area, usage is over 40 million litres greater per day than this day last week", Tom Cuddy, Irish Water's Head of Asset Operations told RTÉ's News at One.
"In holiday resorts and agricultural areas, it's much higher," he said, adding that the number of supplies in drought has risen from 13 at the start of this week, although people have yet to see the impact when they turn on their taps.
"We're taking quite a number of interventions and up to now we have been able to ensure that the interventions have little or no impact on the customers," Mr Cuddy said.
"For example, we are tankering water from supplies that have sufficient (water) into supplies that are in deficit.
"We can reduce the pressure on the overall network so that there is less water every time that somebody turns on the tap but nobody really feels the difference. We're doing quite a bit at this first stage which is having little impact on people.
"In four or five schemes we have introduced partial night-time restrictions but of course it is an escalating situation and it is likely that this will extend further into more areas," he explained.
Mr Cuddy said that the number of supplies in drought is very likely to escalate.
"It's going to be ongoing for a few weeks and also, we have a rainfall deficit. The ground is very dry, the rivers are low and the bore holes are low.
"We can undertake short-term interventions to make up the difference but really that's not sustainable over an extended period".
Tallaght's Firefighters have dealt with a section of a field on fire in Kingswood Heights

The fire was extinguished before it could take hold.

If you notice smoke or fire please ring 999/112 as soon as safely possible. The quicker we know, the quicker we can get there. pic.twitter.com/h9jvrlXgXk

— Dublin Fire Brigade (@DubFireBrigade) August 11, 2022
Dublin Fire Brigade has responded to several blazes during this week's hot spell.
Last night, firefighters in Tallaght dealt with a section of a field on fire in Kingswood Heights. The fire was extinguished "before it could take hold".
It followed a grass wildfire earlier in Kiltipper, which firefighters said was extinguished before spreading to another property.
Dublin Fire Brigade is asking people to call emergency services as soon as safely possible if they notice a fire.
"The quicker we know, the quicker we can get there," DFP posted on Twitter.
Dublin Fire Brigade is also warning people that grass, trees and bushes are at extreme risk of fire during the hot and dry weather.
"Be fire aware while out and about and report suspicious activity to the gardaí," it said.
Meanwhile, hundreds of firefighters from several EU countries are joining efforts to combat a large wildfire in southwest France.
Italy, Greece and Sweden have sent water bombing planes.
More than 1,000 French firefighters have been trying to control the inferno in the Gironde region in Bordeaux.
A drought has been declared for parts of England following the driest summer for 50 years.