A Status Yellow high temperature warning is set to come into effect across Ireland tomorrow afternoon, as Met Éireann confirmed that temperatures in Carlow hit 30.5C today.
A Status Yellow heat alert is in place for Leinster and Munster from 12pm today to 12 noon tomorrow.
It then extends to the whole country from 12 noon tomorrow until 6am on Sunday.
Met Éireann said the mercury could climb into the low 30s tomorrow in some inland spots of Leinster and Munster.
Friday will be a hot & sunny day with highs generally between 25 to 30°C, possibly reaching the low 30s in a few inland spots of Leinster or Munster ☀️🥵

Not as warm near coasts, with sea breezes developing in the afternoon. A chance of fog lingering in some coastal areas also🌫️ pic.twitter.com/dBtcTS7Ak1

— Met Éireann (@MetEireann) August 11, 2022
The highest temperature recorded so far today was 30.5C in Oak Park, Co Carlow.
Met Éireann warned that it would be "very warm or hot on Thursday, Friday and Saturday with maximum temperatures generally of 27-29C".
It added that it will be warm at night with temperatures generally staying above 15C, while outside of Leinster and Munster, night-time temperatures will generally not fall below 10-15C.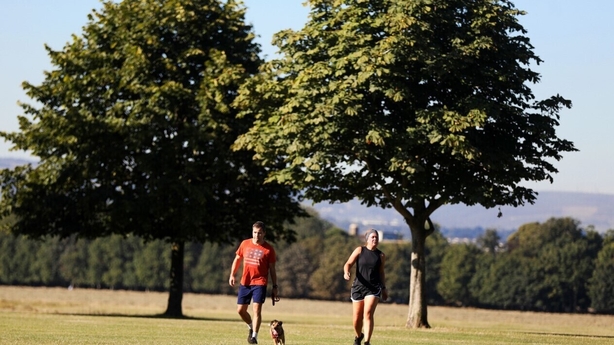 It is expected to be a little cooler towards the coastline, particularly in Connacht and west Ulster.
Senior Forecaster with Met Éireann Gerry Murphy says that while the country will experience consistently warm weather in the coming days, temperature records may not be broken.
"The record-breaking temperature for August is 31.5C. We may not reach that level, although there is the possibility that we could," Mr Murphy told RTÉ's News at One.
"Temperatures will be in the high 20s virtually everywhere.
"It's also worth noting that Sunday will also be a hot day, but possibly not as widespread. We may be updating our warnings for Sunday as we go through the next couple of days," he added.
UV levels are also forecast to be "high" for much of the country, due to widespread sunny spells with little cloud, the meteorological service said.
Tomorrow is expected to also be a hot and sunny day, with highest temperatures generally between 25C to 30C, possibly reaching the low 30s in a few inland spots in Leinster or Munster.
It will not be as warm near coasts, with sea breezes developing in the afternoon.
Yesterday marked the highest August temperature in Ireland since 2003, and 9.3C above its 1981-2010 long-term average.
Oak Park in Carlow recorded the highest temperature yesterday at 29.2C, while Casement Aerodrome in Dublin hit 27.6C and Gurteen in Tipperary marked 27.6C.
⚠️A status yellow high temperature warning for Leinster & Munster today⚠️
That will extend countrywide tomorrow as temps will range from 25 to 30 degrees. So, hot & sunny weather for the next few days - stay safe & remember to keep animals out of the heat! ☀️🐾 #RTEWeather pic.twitter.com/oRBH5CKpEB

— RTE Weather (@WeatherRTE) August 11, 2022
Acting Chief Medical Officer Professor Breda Smyth yesterday warned that those who are vulnerable to the effects of heat need to be extra careful during the coming hot spell.
These include "older people, young children and babies".
"Signs of heat exhaustion include headache, dizziness and confusion, loss of appetite and feeling sick, fast breathing or pulse, high temperature of 38C or above and being very thirsty," she said.
Prof Smyth advised: "Regularly and liberally apply sunscreen that has a sun protection factor of at least 30+ for adults and 50+ for children.
"Stay out of direct sunlight for prolonged periods as much as possible during the day, especially between the hours of 11am to 3pm when UV is strongest."
In a joint statement, the RNLI, Irish Coast Guard and Water Safety Ireland are urging people to plan for their personal safety, when visiting the coast or near the water.
Know the signs of heat exhaustion..

😵‍💫 Dizziness or feeling faint

😓 Excessive sweating

🤢 Nausea, muscle cramps

🚑 Call 999/112 in an emergency

😎 Seek shade

💧 Drink water, stay hydrated

🏠 Create a cool space, pull curtains, ventilation is key #heatwave pic.twitter.com/g0saTFFw4I

— Dublin Fire Brigade (@DubFireBrigade) August 11, 2022
The Minister of State for Heritage and Electoral Reform has appealed to people not to light barbecues in woodland areas in the coming days due to the threat of fire.
Malcolm Noonan told Drivetime that high temperatures are a fire hazard and pointed to extensive wild fires in France.
Earlier, the National Parks & Wildlife Service appealed to members of the public to be aware of the risk of fires in the hot weather.
We need your consent to load this rte-player contentWe use rte-player to manage extra content that can set cookies on your device and collect data about your activity. Please review their details and accept them to load the content.Manage Preferences

Recent similar conditions have led to an increase in fires, the NPWS said, related to recreation activities.
Members of the public are being reminded to adhere to rules around the lighting of fires.
"It is an offence under the Wildlife Act 1976 to light of any fire which causes or is likely to cause the burning of any vegetation within 1 mile (1.6km) of a woodland or Nature Reserve, and those doing so may face prosecution," it said.
"The use of barbeques or open fires is strictly prohibited. Vehicles must not be parked at site entrances or impede emergency vehicle access and may be towed away if causing an obstruction."