The highest temperature in Ireland today was reached in Co Carlow, where the mercury hit 29.2C.
This is the highest August temperature in Ireland since 2003, and 9.3C above its 1981-2010 long-term average, according to Met Éireann.
Acting Chief Medical Officer Professor Breda Smyth has warned that those who are vulnerable to the effects of heat need to be extra careful during the coming hot spell.
These include "older people, young children and babies".
"Signs of heat exhaustion include headache, dizziness and confusion, loss of appetite and feeling sick, fast breathing or pulse, high temperature of 38C or above and being very thirsty," she said.
Prof Smyth advised: "Regularly and liberally apply sunscreen that has a sun protection factor of at least 30+ for adults and 50+ for children.
"Stay out of direct sunlight for prolonged periods as much as possible during the day, especially between the hours of 11am to 3pm when UV is strongest."
In a joint statement, the RNLI, Irish Coast Guard and Water Safety Ireland are urging people to plan for their personal safety, when visiting the coast or near the water.
All three organisations are reminding people about the dangers of cold water shock, which can "seriously affect breathing and movement, and can occur in any water temperature below 15C".
The statement warned: "Just because an area looks safe for swimming it doesn't mean that it is safe. Only swim in areas that are protected by lifeguards or in areas with which you are familiar.
"In the case of lifeguard protected beaches only swim between the red and yellow flags."
It comes as Met Éireann said this week's hot spell is expected to satisfy the criteria to be categorised as a heatwave, according to a senior forecaster at Met Éireann.
We need your consent to load this rte-player contentWe use rte-player to manage extra content that can set cookies on your device and collect data about your activity. Please review their details and accept them to load the content.Manage Preferences
Senior forecaster Gerry Murphy said temperatures this week are not expected to go higher than were recorded last month, but this period of hot weather is expected to last longer.
Speaking to RTÉ's Today with Philip Boucher Hayes, Mr Murphy said that the definition for a heatwave in Ireland is temperatures in excess of 25C for a period of five days in succession.
"In this case, while we don't expect the temperature to reach quite as high as it did recently, we do expect the temperatures will be in the high 20s in a good part of the country for five days in succession, which should categorise it as a heatwave," he said.
He added that it is not unusual to have two hot spells in a summer.
His comments come after Met Éireann issued a Status Yellow weather warning for Leinster and Munster, which will come into place at 12pm tomorrow.
It also said it will be warm at night with temperatures generally staying above 15C.
Meanwhile, the ESB has warned the public of "the dangers and potentially serious consequences" of swimming in any of the company's reservoirs.
"These areas are not appropriate for swimming because of the risk of deep and fast-flowing waters, changing water levels and uneven ground," according to a statement from the company.
'Lifeguards aren't babysitters'
Water Safety Ireland is urging parents to closely supervise their children at all times. It follows reports by lifeguards of over 500 children left unattended on beaches last year.
The beaches at the pier in An Spidéal and at Silver Strand in Bearna were packed with holidaymakers and day trippers from early morning today.
They came from Dublin, the Midlands, Mayo, Kerry and beyond.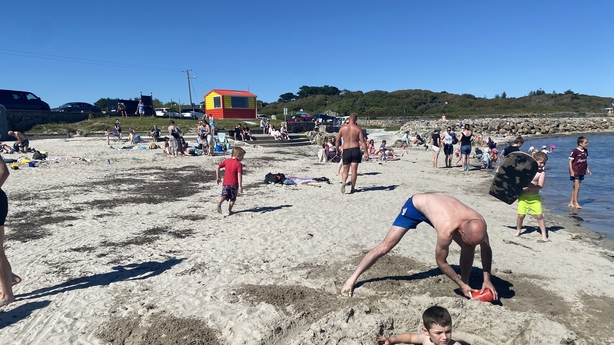 Amidst all the fun and sunshine, there are some key pieces of advice from Water Safety Ireland.
The WSI's Roger Sweeney is urging the public not to take inflatables on the water citing recent cases of people getting into difficulty at short notice.
"Lifeguards are spending too much time intervening in situations where children are taking these toys out of their depth and running into difficulty. Sometimes they're with older siblings but this is still irresponsible. Please leave these inflatables at home."
He also urged parents and guardians to closely supervise their children at all times.
He said last year there were 516 reports from lifeguards around the country who reported children left unattended at lifeguard huts or wandering lost on beaches.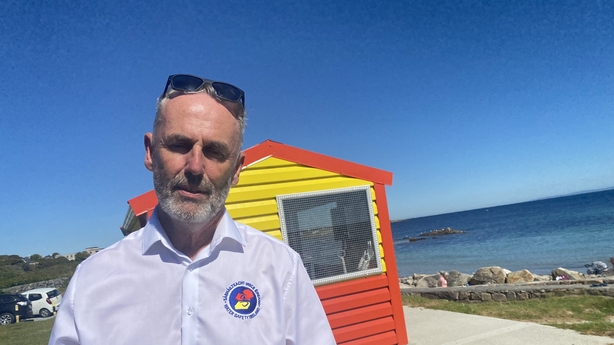 "Adults cannot afford to take their eyes off their children. These kids were wandering close to water unaccompanied. Then we see adults leave kids beside life huts while they go off to buy ice cream or fetch other items. It's simply outrageous. Lifeguards aren't babysitters. Their job is to prevent serious accidents from happening."
As the heatwave conditions are here into the weekend and beyond, people are once again reminded to slap on the sunscreen, stay hydrated and be responsible around water.
Additional reporting: Teresa Mannion