Met Éireann has said heatwave conditions can be expected in Ireland from Thursday onwards as it issued a Status Yellow weather warning.
The forecaster has warned of "very warm or hot on Thursday, Friday and Saturday with maximum temperatures generally of 27-29C".
It also said it will be warm at night with temperatures generally staying above 15C.
The Status Yellow warning comes into place at noon on Thursday and ends at 6am on Sunday.
Status Yellow - High Temperature warning for Leinster & Munster ⚠️

Heat stress, especially for the more vulnerable of the population
High Solar UV index
Risk of water related incidents

Valid: 12:00 Thursday 11/08/2022 to 06:00 Sunday 14/08/2022https://t.co/7aDQTqTyEp pic.twitter.com/jW5rrSw6Ck

— Met Éireann (@MetEireann) August 9, 2022
ALONE, the organisation that supports older people, is advising them to keep cool and hydrated in the coming week, and to take regular breaks from the sun.
Meanwhile, the Head of Asset Operations with Irish Water has said that "modest interventions" are being taken to conserve the water supply.
Tom Cuddy said that demand for water is increasing, but the situation remains "relatively stable".
In Europe, many countries are counting the cost of prolonged heatwaves this summer, with droughts and some areas left without safe drinking water.
Speaking on RTÉ's Morning Ireland, Mr Cuddy said: "Across Europe and the UK, as we're aware, there are significant water shortages. In Ireland, it's relatively stable at this stage.
"At 13 of our 750 water supplies we have modest interventions ongoing, but it's been a dry year so far, particularly in the south and the midlands.
"Our sources are dropping and demand is increasing.
"It's increasing in general and in particular in holiday resort type areas and agricultural areas and so, we are taking some modest interventions."
We need your consent to load this rte-player contentWe use rte-player to manage extra content that can set cookies on your device and collect data about your activity. Please review their details and accept them to load the content.Manage Preferences
Mr Cuddy said that measures like these have "little or no impact on customers".
"For example, we are tanking water to reservoirs. We are managing the pressure on the networks. We are bringing into supply back-up sources. We are cross connecting between adjacent water supply schemes."
He added: "We're able to manage with the assets we have at the moment for where we've come to at this stage."
When asked if there is a danger that further measures will have to be introduced over the coming weeks, Mr Cuddy said: "At this stage, as I said, things are relatively stable and we have quite a number of measures in place.
"We have a significant watch list and we are monitoring all of our supplies, so we don't anticipate in the near future having to take any drastic measures.
"But of course the more people help themselves, the more they will sustain the situation that's there at the moment."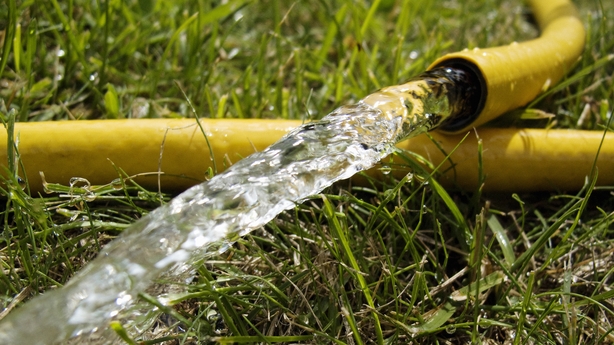 Mr Cuddy said that there is an annual seasonal trend of water supplies diminishing during the summer months.
"Every area is really under pressure because at this time of year," he said.
"There's an annual trend, a seasonal trend, where the supplies diminish right through until September, October, and really it's only when the winter rains come that all of our supplies recover."
Mr Cuddy said that Irish Water continues to encourage people to continue to use water responsibly.
"There's a lot of measures that people can undertake. We have a lot of information on our website.
"In the house, they can minimise the running of taps and the duration of showers and flushing of toilets and it's very important to use full loads in washing machines and dishwashers that will save water and save electricity and save money.
"In the garden, in particular, that's where we would see big jumps when the weather improves, and really people can minimise the watering of plants.
"They can reuse water from the kitchen for example."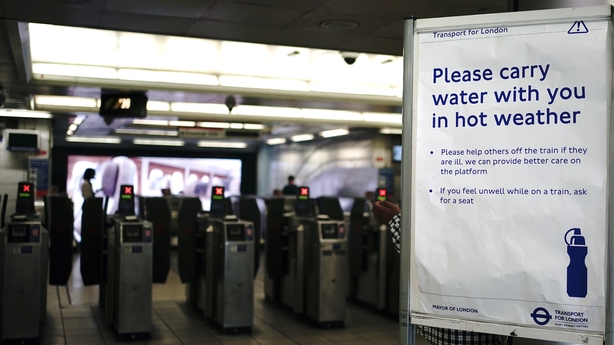 Elsewhere, the UK Met Office has issued a four-day amber warning for extreme temperatures in parts of England and Wales as a new heatwave looms.
The warning, for Thursday to Sunday, comes as the forecaster predicted 35C in places, below last month's record temperatures, which peaked above 40C in some spots.
The vulnerable are likely to experience adverse health effects, while the wider population could also be affected, the alert said.
Delays to travel are possible and there is an increased risk of water accidents and fires as more people visit coasts and beauty spots, the Met Office also warned.
The UK Health Security Agency has already issued an amber alert covering southern and central England from noon until 6pm on Saturday, with experts advising people to look out for those who are older or with existing health conditions, as well as young children.