The Minister for the Environment has said that "there is a lot more work to be done" on the Government's emissions cuts plan.
Yesterday, the Government agreed to set ceilings for maximum limits on greenhouse gas emissions for each sector of the Irish economy to the end of the decade, which includes a 25% cut for agriculture.
Eamon Ryan said he agreed with the Chair of the Climate Advisory Council, Marie Donnelly, that this work needs to be done in the next 18 months.
Minister Ryan said the Government will heed and follow the advisory council's advice - but he believed the Government is on the right path.
Mr Ryan has said the Government's emission cut plan will be reassessed every year, but the key focus now is on its delivery.
Speaking on RTÉ's Today with Philip Boucher-Hayes, the minister said there is justice in the targets proposed "because everyone is involved", adding, "we need to pick up our speed, pick up our steps, start to jog, start to run, start to sprint".
Mr Ryan said the first step is about protecting and restoring nature as well as addressing climate, but acknowledged that it will not work without a strong economy.
"It has to be good for our people. It has to give us protection against the faster high fossil fuel prices and the insecurity of relying on imported energy."
Minister Ryan said the Government is prepared and is able and has the backing of the people to make the changes, but warned that it takes time to change farming and to change land use.
"It takes time to plant a forest. It takes time to change a farm... It will take us time in my mind to bring in a whole new generation of young people which we want to go into farming as well as those within it at the moment.
"But we want to create a system where we have a whole new generation of people who are the frontline defenders of nature as well as producers of high-quality food."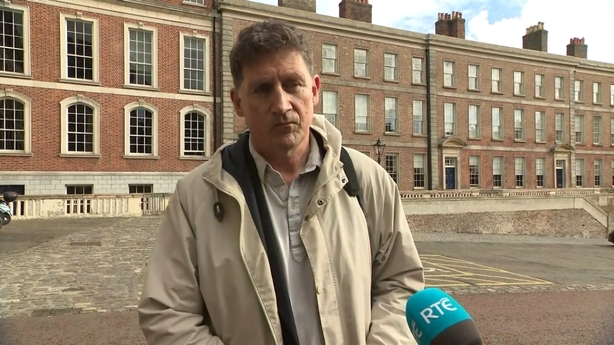 He also said that the emission targets will have to be revised upwards in the future, particularly in relation to land use.
Mr Ryan said he is confident that Green Party members would support the plan.
---
Read More:
Govt reveals emissions cut targets across all sectors
Emissions targets a milestone - but no clear roadmap to achieve them
---
Meanwhile, the Green Party chair has welcomed yesterday's deal on emissions targets but described the delay in reaching agreement as "incredibly frustrating".
Senator Pauline O'Reilly said that everyone in the party would have liked to see a higher target set for the agriculture sector, above 25%, however she expressed relief that a deal was eventually done.
Earlier, Ms Donnelly said that while the plan is an important milestone, the sectoral targets are problematic and not consistent with the Climate Action and Low Carbon Development Act.
Ms Donnelly said the agreed targets will need to be revised upward and monitored closely in the light of experience.
She said the emissions cuts amount to a reduction of just 43% and so are not consistent with the Climate Act.
Speaking on RTÉ's Morning Ireland, she said there is not a clear pathway as to how the sectors will achieve "what are in fact quite ambitious targets for each of the sectors".
The council is calling on the Government to be very specific in the new Climate Action Plan about what those measures, timelines and actions are, and when they will be delivered, she said.
The land use sector which consists primarily of bogs and forests and is a very important sector was not included yesterday in the numbers outlined by Government, she added.
"Unfortunately, at the moment our trend is that rather than being a sink, they will be a source of emissions going forward and in part, this is because our planting rate for forests, for trees, has been so low over the last number of years."
There is a "serious gap", she said, in the number of trees that need to be planted and the number that are actually being planted.
Ms Donnelly said that up to now the focus has been on the agriculture sector but she pointed to the fact that "two thirds of our emissions come from fossil fuels" which she said are "costing us a lot of money as individuals and consumers".
She said "the target here for our own pockets and for the climate is to get the reduction in fossil fuel usage as much as possible and as fast as possible".
Speaking on the same programme, Minister of State at the Department of Agriculture Pippa Hackett described the agreement as a "very significant decision made by the Government".
She said it was always going to be difficult to get agreement across the economy, but the agreement reached is "as far as we can go".
She added: "Now the focus must shift to delivering the solutions needed to transform our economy into that clean green one."
Ms Hackett said the 25% target for agriculture is lower than many would have liked but it "strikes a fair balance", and will help the overall economy reach the 51% target by 2030.
"The deal we've got here strikes a fair balance and it's now about working with farmers, working with organisations and across the economy. I know the focus has been on agriculture, but the challenge is massive and I think working collectively together is the way to get there," she said.
Irish Farmers' Association President Tim Cullinan has warned farmers will vigorously oppose attempts to undermine farm livelihoods to achieve 25% emissions reductions in the agriculture sector before 2030.
Minister for Agriculture Charlie McConalogue has said that no farmer will be forced to cut their herd as a result of the plan.
Speaking last night, he denied a report that the cut would entail a reduction of 13% in the beef herd and 11% in dairy cattle.
The minister said he had worked with farm organisations on a "detailed plan" for a 22% reduction in emissions and vowed to continue to work with farm representatives to figure out how to "stretch" that plan to a 25% reduction.
He said he would work to put measures in place to improve farm family incomes and support work to reduce emissions.
Additional reporting: Aisling Kenny