Approximately 100 Ukrainians fleeing war have been accommodated in the Aviva Stadium since Friday 22 July, the Department of Children has confirmed.
Following a request from the Department for Children to the Department of Tourism, Culture, Arts, Gaeltacht, Sport and Media, facilities within the Aviva were offered as short-term emergency accommodation for Beneficiaries of Temporary Protection fleeing the war in Ukraine.
The accommodation is said to consist of camp beds. Catering, security and medical support, funded by the department, has been provided on site.
According to a spokesperson from the department, those staying in the Aviva are expected to be moved to alternative accommodation today.
The department said it is contracting accommodation across the country in order to accommodate people fleeing Ukraine as the need arises.
More than 43,081 people from Ukraine have now arrived in Ireland.
It is anticipated that figure could rise to 45,000 by the end of this month, and possibly up to 50,000 by the end of August.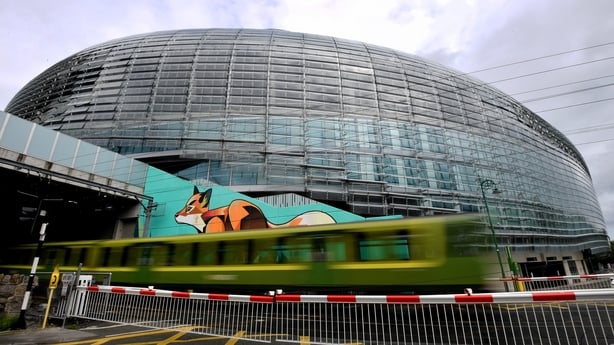 Nick Henderson Chief Executive of the Irish Refugee Council told RTÉ's Morning Ireland that there is a significant absence in medium to long-term accommodation for refugees coming from Ukraine.
"I think what we've seen at the Aviva is a very visual reminder of the situation we're in. In many ways, we commend the Aviva Stadium and other accommodation providers for coming forward, but it's pretty plain and a real reminder that there is a very significant absence of medium to long-term accommodation for refugees from Ukraine."
He said that if the rate of arrivals of refugees from Ukraine continues to the end of the year, there will be around 65,000 people here and if 75% roughly need accommodation, there will be a demand for around 50,000 places of accommodation.
He said 9,000 places may be provided in pledged accommodation, "so there's a very clear and really a very significant gap between the accommodation needed and the amount of accommodation that we are likely to have on stream. And that's in a best-case scenario."
Mr Henderson said that the Government aims to have 500 modular homes built that will each accommodate four people, and 200 of these are expected to be ready by Christmas, but those numbers are "simply insufficient to the challenge".
The State is currently providing accommodation to more than 75% of the new arrivals.
Last week the Government began housing Ukrainian refugees in tented accommodation in Gormanston, Co Meath.
Minister for Children Roderic O'Gorman said the people housed there will stay for "a maximum of a week".
Mr O'Gorman said 150 people would move in initially, with capacity for 350 people in total.
The use of the Aviva for refugees is not as a result of Gormanston being full. A spokesperson for the Department of Children said Gormanston is not operating at full capacity.
The camp is still operating on a three day-a-week basis. Fifty-one people stayed there overnight on a number of nights this week.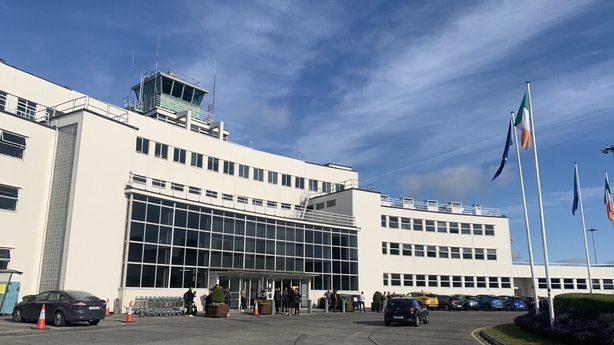 Earlier this month over 300 people were forced to stay at the old terminal building at Dublin Airport due to a lack of accommodation elsewhere.
The old terminal building is no longer being used as a welcome hub for Ukrainian refugees.
The Government said the Citywest transit hub in Dublin was overcrowded for a time and opened the old terminal as stop gap accommodation.
People were forced to sleep on the floor in the airport building and in Citywest.
The transit hub at Citywest remains operational, handling around 1,500 people a week.
It is understood a total of around 17,000 people have so far passed through its doors.
Earlier this month the Department of Children said there are no spaces available in State-provided accommodation for people fleeing the war in Ukraine and other asylum seekers.
Plans to house refugees in modular homes
Longer term solutions to the accommodation shortage for refugees include the use of modular homes.
It is understood there are plans for 500 modular units to accommodate up to 2,000 Ukrainian people. These homes are being provided by the OPW and the first sites have been identified.
Work is expected to start on these modular homes next month and the first units are expected to be in place by November, with the remainder due to be ready early next year.
Additional reporting Laura Hogan