In rural Wexford, public transport is not an option for Sarah when she is getting her children from A to B.
Like others, the mother of four has been impacted by the rising costs of fuel and food.
She has been budgeting for the return to school as four-year-old Penny prepares to join her two older siblings in primary school.
Sarah believes the Government is totally out of touch with the challenges facing families, particularly in rural Ireland.
"Obviously, there are the uniforms, the book rental, the voluntary contributions - which are not really voluntary at all but obviously the schools need them to pay for their bills - but there is constant payment throughout the year and what the Government is failing to see, especially in rural areas is the cost of transport at the moment," she said.
We need your consent to load this rte-player contentWe use rte-player to manage extra content that can set cookies on your device and collect data about your activity. Please review their details and accept them to load the content.Manage Preferences
There are no school buses, so Sarah brings the children over six kilometres to school each day.
"They can't cycle or walk to school, I have to keep a car on the road and it's the same for an awful lot of people," she said.
"Even in this area, I see people transporting kids to secondary schools which could be 20 miles away or 25 miles away, and that's a huge cost for people throughout the year."
Sarah is also expecting the rising price of food to impact on school lunches this year. She predicts that they will rise from between €20 and €30 to €50.
Her concerns are echoed in a survey of over 1,000 parents published by the children's charity Barnardos.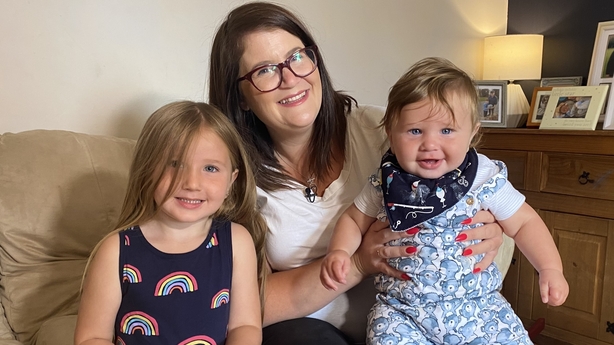 It shows the average cost of the basics needed to send a fourth class pupil back to school is €424; a first year pupil is €814 and a fifth year pupil is €722.
Over two thirds of primary (69%) and three-quarters of secondary school parents (75%) said they were worried about meeting costs this year.
Some 25% of primary parents and 32% of secondary parents said they were "very concerned".
Almost half of parents (46% of primary and 48% of secondary) said recent cost of living increases had made it much more difficult to meet costs with a further one third of parents (36%) saying it had made it slightly more difficult.
Schools continued to ask parents to buy crested or branded uniforms with 75% of primary and 95% of secondary school parents reporting they are required to do so.
Many parents are worried about not being able to afford back-to-school costs this year, according to a survey by children's charity Barnardos | Read more: https://t.co/vzmLeoXX67 pic.twitter.com/pOV56YwDu6

— RTÉ News (@rtenews) July 26, 2022
Sarah is thankful her children are not in secondary school, yet.
"I can't fathom the thoughts of secondary school at the moment," she said.
"The cost of books is incredible according to friends of mine who have secondary school students.
"And you can't have a child missing out on something, because obviously they're going to stick out like a sore thumb and no one wants that for their kids."
The Government has provided an extra €100 in the Back to School Allowance this year, but Barnardos says it needs to go further.
It said no parent should face financial pressure in trying to meet what are essential costs for their children's education and no child should feel any anxiety about their parents' ability to meet school costs.
The Department of Social Protection said it provided targeted supports to families with school-going children, namely the Back to School Clothing and Footwear Allowance and the School Meals scheme, both of which had been increased for the upcoming school year.
It added that the Government was continuing to "monitor the situation carefully" in preparation for the Budget later this year.