At his home on the outskirts of Tralee, Mick Laide's grandchildren are learning how a Kerry man lined out for Galway in the 1959 All-Ireland final between the two counties.
They gather around a laptop which is showing grainy, unfamiliar footage of a final 63 years ago.
None of the three were born when Kerry and Galway last met in a final in 2000. Tom Devereaux is just six, his sister Anna is eight and their cousin Barry Laide is 12.
The 1959 final therefore holds a curiosity value for them.
Mick laughs to himself as they strain to get a glimpse of him on the laptop screen, or hear a mention of his name in the commentary.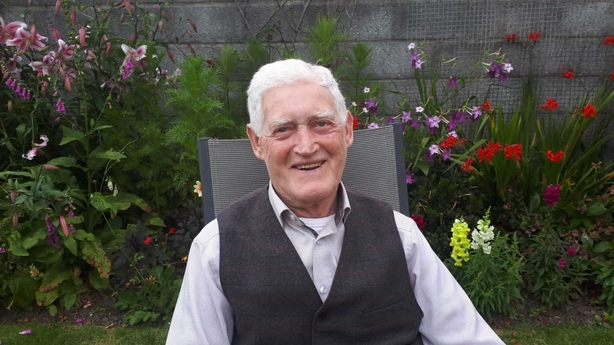 "I think they find it hard to imagine that somebody was actually alive in 1959," Mick says. "Sometimes, I think the same myself!"
Mick Laide grew up in Ballymacelliggott, outside Tralee. He was already a talented footballer by the time he left home to study to become a teacher at University College Galway.
He had played minor football for Kerry in 1956.
In Galway, as well as studying, Mick got himself a job and transferred clubs temporarily from Kerry to Galway to keep up the football.
He obviously caught someone's eye and was picked to play on the Galway senior football team, lining out in the forward line.
Mick hasn't seen the footage of the 1959 final for some years. Galway lost out on the day to Kerry by a nine-point margin.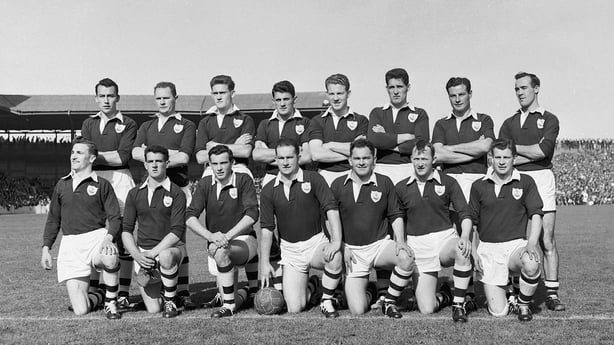 The footage gets him thinking: They were definitely different, simpler times.
"Good days," he says. "We didn't win but, at the time, football was the game: not everything to win; just to play the game. We had fantastic times."
Mick contrasts the almost full-time commitment of inter-county GAA players today with the more relaxed atmosphere which prevailed at the time.
"Training at that time wasn't like it is today," he says. "There were many evenings I didn't show up for training - it made no difference. You turned up the next night and nobody commented. Nobody said a thing!
"I would think now that, if you did that, that would be the end of it: you would be told to go, forget about it, you're not interested.
"In those days, it was football for the football. That's it."
Templenoe GAA members show their support for the Kerry team ahead of the All-Ireland SFC final. The Kingdom is set to meet Galway at Croke Park this Sunday | Read: https://t.co/oNDKYy3trB pic.twitter.com/yfCJSb4Te2

— RTÉ News (@rtenews) July 22, 2022
Mick admits to having slightly divided loyalties in relation to Sunday's meeting between Kerry and Galway. But, then, the cold football brain kicks in and, analytically and emotionally, he tends towards a Kerry win.
"With a leg in both camps, I'm not going to be all that upset no matter who loses," he admits. "The heart says Kerry, but I still have a little bit of a grá for Galway, even though it's 63 years now.
"So I think Kerry, but I could be wrong - it's going to be tight."
Incidentally, Mick's son Patrick had a decade-long career with the Kerry senior football team, from the late 1980s to the late 1990s, winning an all-Ireland title along the way.
In Kerry, talent is minded, and there's a lot of emphasis placed on passing tradition from generation to generation.
In communities like those along the rugged West Kerry coastline of Corca Dhuibhne, the business of passing that football tradition to the next generation is ongoing too.
Aodán Mac Gearailt played at wing forward the last time Kerry faced Galway in an All-Ireland final in 2000. He picked up an All-Ireland winner's medal when Kerry beat Galway in a replay that year.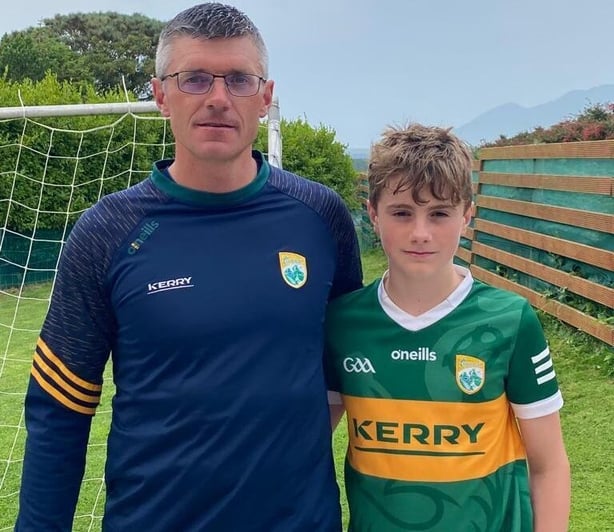 On Sunday, Aodán's 12-year old son Lúc will be playing in Croke Park as part of the Primary Games half-time entertainment.
Aodán's Croke Park journey as a player is at an end; Lúc's journey is beginning.
"It's hard to look around and enjoy it when you're in the bubble," Aodán says of inter-county football.
"Definitely, the pressure on those guys is far more intense now than when we were playing but, I suppose, that's where a good, strong management team comes in."
Lúc is looking forward to his own playing role in Croke Park on Sunday, and he's looking forward to watching the Kerry/Galway match up close too.
"I think Kerry have better forwards," Lúc says, displaying a handle on the game beyond his years. "David Clifford and Sean Ó Sé: Kerry just have better forwards. I don't think Galway's backs will be able to stop them."
"Big players perform on the big day," his dad Aodán chips in, "and there's no bigger day than All-Ireland final day.
"You have to stand up and be counted. You have to keep your focus. You have to do your job like the Limerick hurlers did - they never panicked.
"I suppose both teams will have a few tricks up their sleeves that we haven't seen so far."
Templenoe is one of those GAA clubs that has picturesque written all over it like an oil painting.
The club pitch is on the northern shore of Kenmare Bay.
The community here is tiny. Population: 700+ adults, according to the last census.
They are dispersed in family homes that hug both sides of the road between Kenmare and Sneem.
This feisty GAA club tasted All-Ireland success with a junior championship title in 2016.
Incredibly, Templenoe will provide four of the 26 players on the Kerry panel in Sunday's All-Ireland football final.
The club is proud of that achievement, according to Templenoe Field Chairman, Timmy Clifford.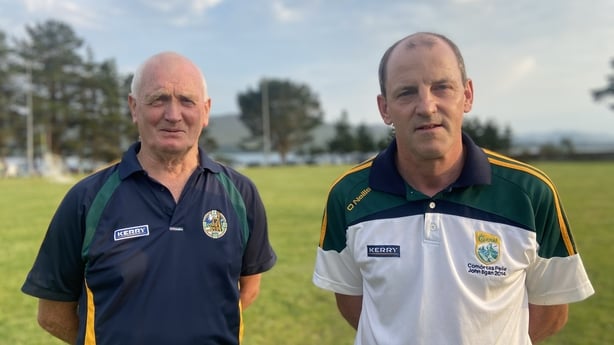 "We have Tadhg Morley, Gavin Crowley, Adrian and Cillian Spillane," Timmy name checks.
"The four boys are very dedicated footballers. They put a lot of hard work in and they have dedicated a lot of their lives to playing football. They deserve to be there and they're great ambassadors for the area as well as with the county.
"Let's hope on Sunday they will be able to do the business for us in Croke Park."
Club member Mary Foley Crowley is an example of how the GAA naturally threads its way through the life of communities like Templenoe.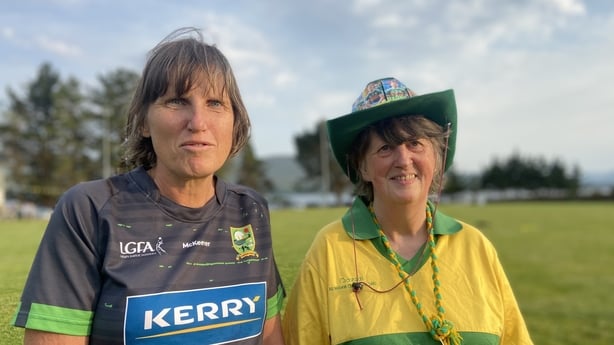 Gavin Crowley, one of the club's four players who will wear the county jersey on Sunday, is Mary's nephew and godson.
Gavin's father, Mike - Mary's brother - is one of the selectors on the club's senior team, having managed it for a number of years before this. His job as manager is now done by another brother, Paul.
The GAA isn't just part of life here; it is life.
The Kerry team will take to the pitch in Croke Park on Sunday for another test of the county's credentials as the most successful in the country.
The team's success will be judged on just one measure: the margin of victory.