Buses carrying Ukrainian refugees have arrived at the Gormanston army camp in Co Meath, where tented accommodation is being provided.
The first bus arrived at the camp at around 4pm after the people were processed at the Citywest transit hub.
A second bus arrived at the camp this evening and RTÉ News understands that there were around 20 people on board.
The Government has said people will stay in the tented accommodation, which has capacity for around 320, for a maximum of a week.
The accommodation at the army base consists of military style marquee tents, which will provide sleeping quarters, and larger marquees for recreation areas and a cafeteria. There are also shower and toilet facilities on site.
Since the end of February, around 43,000 Ukrainian refugees have arrived in Ireland.
The opening of Gormanston to Ukrainians follows difficulties in sourcing State-provided accommodation for new arrivals.
This led to more than 300 people staying at the old terminal building at Dublin Airport last week.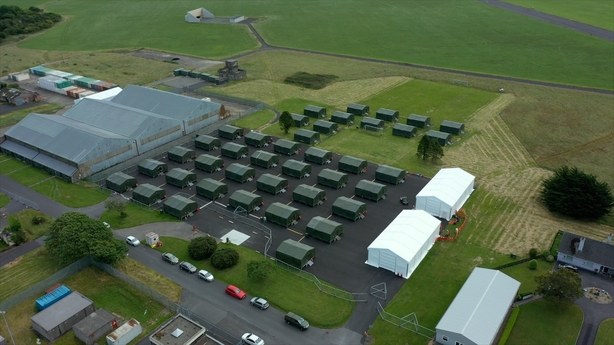 It is understood that the people who arrived at Gormanston today will be gone by Friday, as the camp is only available to the department three days this week.
However, it is understood that this could increase to seven days in the coming weeks.
Older people or those with mobility problems will not be accommodated in the tents at Gormanston.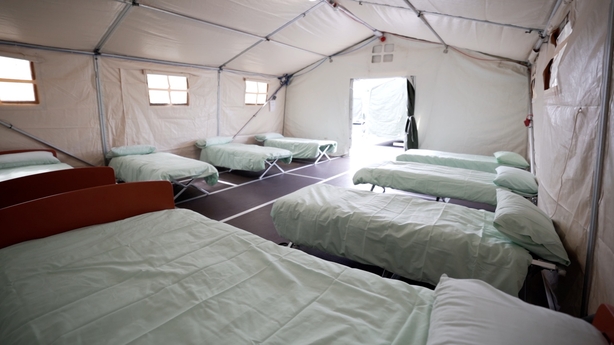 Minister for Integration Roderic O'Gorman said that Ukrainian refugees housed there will stay for a maximum of a week, and that it is not envisaged to be a long-term facility.
The Gormanston army camp is ordinarily used for training purposes, but the Defence Forces said that training has been suspended there while the camp is being used for the purpose of providing this emergency accommodation.
An additional transit hub for new arrivals - similar to the existing facility at Citywest - is expected to open in the coming weeks.
The Government said the first refurbished buildings from the Department of Housing will be ready this week to accommodate an additional 500 people.