Minister for Foreign Affairs Simon Coveney has said the Government is "very much aware" of the pressure families are under due to the cost of living crisis.
Since the last Budget in October, the Government has committed about €2.5bn in taxpayers' money to try to manage dramatic inflation, he said.
Mr Coveney added that the coalition would now design a Budget to respond to this crisis with a particular focus on low and middle-income earners.
"We've seen because of the war in Ukraine dramatic increases in prices for often everyday goods," he said.
"So we are going to design and shape a budget that will come through in a few months time that is specifically designed to respond to that cost of living crisis, particularly for low and middle-income earners."
This will place an emphasis on those on fixed incomes and people who need a tax break, he said.
This discussion is now under way within Government and the aim is to respond in a comprehensive way rather than in a piecemeal manner, which he said Sinn Féin was advocating.
Sinn Féin is looking for "well over a billion euro" to be put aside for an emergency Budget to address the cost of living crisis.
"We want to see a range of packages right here, right now. The Government talking about what they're going to do in October is cold comfort for people who are suffering a hard summer," the party's finance spokesperson Pearse Doherty said.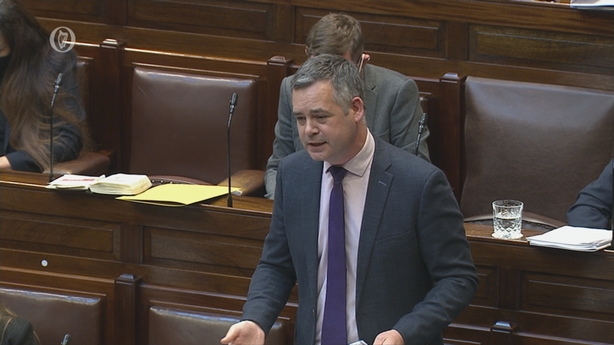 "People who are wondering how they will make ends meet at the end of the week, never mind at the end of the month or having to wait for Micheál Martin and Leo Varadkar and Eamon Ryan to get their act together in four months' time."
Speaking on RTÉ's Morning Ireland, Mr Doherty added that there needs to be action on social welfare rates, to bring them in line with inflation, as well as cost of living cash payments targeted at low - and middle-income earners.
He also mentioned the cost of childcare, which he said the country "can't wait any further" for, along with "rip off rents, right across the State".
"The only people who have their heads in the sand is Government ministers," he said.
The Donegal TD added that that warnings from the ESRI have fallen on deaf ears in Government.
Mr Doherty said that what is driving inflation at this point in time is supply chain disruption, but added that what could fuel further inflation is "cutting taxes for those at the top".
The party will next week force a Dáil vote on the issue on an emergency Budget.