Members of SIPTU employed in several care and community organisations, including the Irish Wheelchair Association, have begun a ballot for strike action in a long running pay dispute.
Workers are also being balloted at Galway Rural Development, Galway Rape Crisis, Galway Employability and in several Community Employment Schemes across Co Waterford.
Workers in a number of other schemes in Co Limerick and Co Mayo are also being balloted.
"If our members in these selected workplaces vote in favour of industrial action this will initially involve work stoppages on Tuesday, 5 July and Wednesday, 6 July," said Adrian Kane, SIPTU Public Administration and Community Division Organiser.
"This situation is due to the failure of successive Governments to adequately fund the community sector and Section 39 organisations," he added.
SIPTU says its members have not had a pay rise in more than a decade and have been left way behind in terms of pay and conditions because of a break down in a previous link between their terms of employment with those of workers in the public sector.
"These workers provide vital services for their clients and communities. The last thing they want is to be forced into taking strike action however, they have been left with no option," Mr Kane said.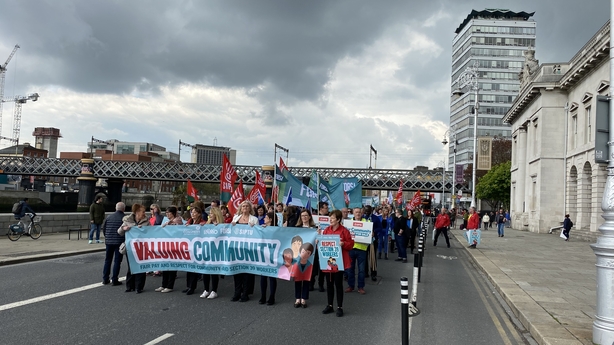 As part of their campaign for better pay and conditions, community workers held a protest in Dublin last month.
The Department of Health has previously said that because Section 39 organisations are privately owned, setting pay rates for their staff is not a matter for the Government.
In a statement, the Irish Wheelchair Association said it is aware of the ballot on industrial action.
"We are awaiting the outcome of the ballot count, which we understand will take place on 24 June 2022. SIPTU will advise us of the outcome in due course," according to the statement.