The Government is allowing ships to bring products directly from Russia.
Six Russian-flagged vessels have made deliveries to Irish ports, in some cases carrying animal feed.
There is an EU ban on Russian-flagged cargo carriers docking in EU ports, but governments are allowed to claim derogations or exceptional circumstances to permit certain cargo to be landed.
Two of those ships came directly from Russia's Kaliningrad Baltic Sea enclave in May and at the start of this month. They were granted special permission to dock in Ireland by the Government.
The ships delivered agri-food products, which were confirmed by a source as animal feeds, including barley, soya hulls and wheat for ration mix for dairy herds, pigs and poultry.
The Department of Enterprise Trade and Employment gave the exemption for the Russian ships to dock in Ireland.
This was cleared between Government departments following a recommendation from the Department of Agriculture that the imports were exempt under EU rules.
The EU sanction prohibiting Russian-flagged vessels accessing EU ports has an explicit derogation, or exemption, to allow for the import of agricultural and food products.
These exemptions are included to ensure security of supply of food and other essential products on the European market.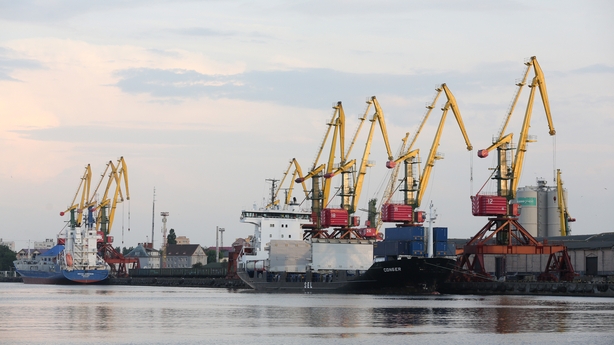 Minister for Agriculture Charlie McConalogue said the Government is taking the matter "absolutely seriously" and that while some derogations were issued in relation to food, none have been given recently.
Speaking on RTÉ's Morning Ireland, Minister McConalogue said the objective is to "work together" to ensure sanctions against Russia are applied "heavily and fully".
He said the capacity is there for any member state to seek a derogation, "but certainly that's something that the Government would only ever do in very exceptional circumstances, and we haven't been doing. And certainly we'll be working to minimise and to avoid any such situations".
We need your consent to load this rte-player contentWe use rte-player to manage extra content that can set cookies on your device and collect data about your activity. Please review their details and accept them to load the content.Manage Preferences
He said the steps the Government has taken "are designed to ensure that we're self-reliant in this regard and there will be no requirement for such derogations."
The minister said he is working with farming families across the country to ensure Ireland grows as much tillage as possible domestically.
Ireland uses as much as 5.5 million tonnes of animal feed each year, of which almost 3.5 tonnes is imported.
With Ukraine and Russia accounting for 30% of globally traded grain annually, the dilemma facing Irish agriculture is that it could have less animal feed heading towards winter.
Irish Creamery Milk Suppliers Association President Pat McCormack said the importation of feed is important to Irish agriculture if its output is to be maintained.
He said: "As we approach the winter there is concern to have feed available. There was a bit of an uptake in the tillage scheme but it didn't go the necessary journey.
"Hopefully we will see other sources, as well as the traditional sources, for grain and wheat in the months ahead because it is very necessary if we are to maintain our output.
"Albeit, there is concern out there about the origins of some of those products but that is the Government's job to pass those shipments coming in."
Asked whether there is an ethical dilemma for Irish farmers especially if feed is coming from Russia when it is at war with Ukraine, Mr McCormack said: "It is well beyond the farmer's pay scale. That's an ethical issue for the Government."
He added if the Government says the imports "pass the various protocols of trade, at this given time, then Irish farmers will use that feed. It is up to the Government to make the legislation and to make the decisions".
In a statement, the Department of Transport - whose role it is to inform ports whether they can accept Russian flagged vessels - confirmed the Russian flagged ships docked following agreement between it and the departments of Agriculture and Enterprise Trade and Employment.
It said: "The Department of Enterprise, Trade and Employment (DETE), through its Trade Licensing and Control Unit, is responsible for the implementation of trade sanctions in accordance with Ireland's international commitments and obligations as a member of the EU.

"Almost all EU sanctions regimes provide for situations where, for various reasons, the sanctions do not apply. These may take the form of exemptions, which apply automatically, or derogations, for which an authorisation issued by a Competent Authority is required.
"Sanctions targeting Russia and Belarus in response to the invasion of Ukraine are no different. They contain numerous exceptions to ensure that sanctions are effective, implementable, and impact Russia more than they impact the EU. Exemptions and derogations are included for very good reasons, including to ensure security of supply of food and other essential products on the European market.
"DETE is also a Competent Authority in Ireland for the purposes of Council Regulation (EU) No 833/2014 concerning restrictive measures in view of Russia's actions destabilising the situation in Ukraine, as amended by Council Regulation (EU) 2022 /576. This Regulation makes provision for a national Competent Authority (DETE) to authorise a derogation from the prohibition of Russian Vessels entering Irish Ports on limited and very specific grounds. The EU sanction prohibiting Russian-flagged vessels accessing EU ports has an explicit derogation to allow for the import of agricultural and food products.
"In this role, DETE informed the Department of Transport that following a recommendation received from the Department of Agriculture, Food and the Marine, it had authorised derogations for both of these vessels to enter Irish ports. The Department of Transport subsequently informed the relevant ports of these authorisations."
Similar statements to the that from the Department of Transport were issued by the Department of Foreign Affairs and the Department of Agriculture, Food and the Marine.
The tonnage of the Russian flagged ships that arrived to Ireland in recent weeks, and the origin of the exact origin of the grains, could not be confirmed.