"We have had families here for a year, and it's just too long, and it's just not right for the families."
Wexford Women's Refuge support worker Veronica Malone said that they have four family units at the refuge, all are full, and one has been occupied since February.
The usual stay is ten weeks.
"They are afraid of coming forward. They know there is a housing crisis, and they are afraid to leave their homes, which leaves them in a volatile situation.
"It's very hard for residents to move on because there is nothing out there," she said.
Veronica, and Acting Senior Support worker at the refuge Lucinda Kelly are in their family room, where they say they have had people sleeping on the couch when there has been no other option.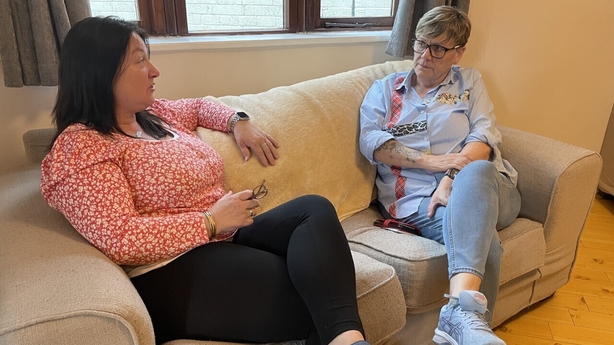 The refuge is an emergency accommodation for someone fleeing a home where they are victims of domestic violence or abuse.
Like many refuges across the country the facilities are communal, like the bathroom, kitchen and sitting room, besides their private unit.
Women's Aid published its 2021 report this week and said the housing crisis and dearth of appropriate accommodation for survivors of abuse, limits options for a safe home for many.
Last year, 62% of the time the Women's Aid helpline team made calls to refuges on behalf of women, they were full.
Lucinda lists off some properties that went up for rent in Gorey, Wexford town and Enniscorthy, some for €1,800 to €2,000 a month.
"One woman and one child would only get €530 from HAP [Housing Assistance Payment], so it's placing huge pressure on women and children that are leaving abusive relationships.
"Some women are actually going back to their partners because it seems like the easier option."
Lucinda said when they haven't had beds in the refuge, they turned to B&Bs for crisis accommodation.
"People have ended up in these B&Bs for a year, with children. It's actually barbaric that women and children are left in a room for that length of time.
"It is systemic. It needs to come from the top down that these women are looked after by our Government and that we can secure housing for these women and children," she said.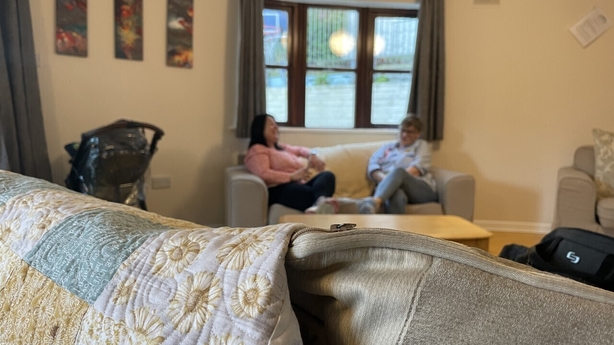 Minister for Justice Helen McEntee has said that she wants to see the delivery of potentially more than 400 refuge beds over the next few years.
Currently Ireland has 141 family refuge units, according to a recent review by the Child and Family Agency, Tusla.
Wexford is one county that has refuge units, but there are nine counties in Ireland without any refuge accommodation. Cavan and Monaghan are two of those.
Siobhan McKenna manages Tearmann Domestic Abuse Service, which supports women in Monaghan.
She said when they are looking for refuge accommodation they have to ring around to more than 12 different refuges around the country to find a free space.
We didn't have a cup. We didn't have a plate. We didn't have a spoon. The refuge were giving us food every single week. I couldn't survive. Rent was €900
Siobhan said when they cannot obtain a refuge space, they have to look at the private rented market.
"Again, it's very difficult because of the shortage of accommodation, but we also look at other options, like for instance if it was possible a B&B would do for a few nights or if there some arrangement could be made with family," she said.
At the outset of the pandemic, the Department of Social Protection launched a rent supplement for victims of domestic violence, open to both men and women.
Since the launch in August 2020, 223 victims of domestic violence, have been supported with this rent supplement, and the scheme has been made permanent.
"This was really useful because it meant women didn't have to be assessed, where they could be offered a domestic violence rent supplement which in most cases covered a deposit of the full rent for three to six months," Siobhan said.
We need your consent to load this rte-player contentWe use rte-player to manage extra content that can set cookies on your device and collect data about your activity. Please review their details and accept them to load the content.Manage Preferences
She said that six families already this year in the area have needed refuge accommodation, and it is most often the case that when they are looking in different counties for a refuge space, there are none available.
"To be honest, we don't have a huge demand for it on a constant basis but on the day we need it, we really need it," she added.
One woman who relied on the services of her local refuge spoke on condition of anonymity.
She spoke of going through a trial after she was assaulted by her ex-partner and of how there were times she thought about taking her own life.
"I ended up on Xanax. I couldn't cope ... I was terrified.
"He had never struck me up to that, before that it was all mental abuse.
"It was threats like 'If you don't get up the stairs I'm going to kill you and wreck this place'."
Shortly after the assault she had to move out.
"It was really, really difficult for me, when I moved from the rental property there to another rental property. We didn't have a cup. We didn't have a plate. We didn't have a spoon. The refuge were giving us food every single week. I couldn't survive. Rent was €900.
"We had nothing. But for the refuge we would have been hungry a couple of days. It was beans on toast. It was crackers and jam. For the 11 days I was out of work - I couldn't work obviously because my face was black and blue. And I got €79 from social welfare.
"I've had to move again. The rent went up here from €900 to €1,200, which I couldn't afford. I've moved again and again."
---
Helplines
Women's Aid
Web: www.womensaid.ie
Helpline: 1800 341 900
Phone: 01 678 8858
Email: info@womensaid.ie
Safe Ireland
Web: www.safeireland.ie
Helpline: 1800 341 900