The chief executive of Dublin Airport operator daa has said he is confident the new procedures that have been put in place at the airport will help to avoid a repeat of the chaotic scenes last Sunday.
New measures came into effect at the airport this morning, aimed at avoiding a repeat of the chaotic scenes last Sunday.
As of 5pm, it was taking 35 minutes to pass through security in Terminal 1 and 15 minutes in Terminal 2.
Dalton Philips said today has been "a solid day" but added that the airport is facing into a very busy summer with 100,000 passengers each day through June, July and August.
He has urged people to follow the advice on what time to arrive at the airport for departing flights.
Passengers are advised to arrive 2.5 hours before a short-haul flight and 3.5 hours before a long-haul flight. Those checking a bag are advised to allow for up to an additional hour.
"Passengers are very anxious and so we still have people self-presenting very early and what we're saying to passengers is heed the advice on the website in terms of presentation time," Mr Philips said.
The Group Head of Communications at daa said the aim of new measures is to "ensure no passenger misses a flight this weekend".
Kevin Cullinane said the mitigation measures have worked well today and he said other elements of the contingency plan may be trialled this weekend, such as the triaging of passengers as they arrive at departures to determine their flight time.
Work has also begun on erecting marquees on the top floor of the Terminal 1 car park, which will be used as holding areas for passengers who arrive too early for their flights.
As part of the new system, the access ramp to departures in Terminal 1 has been closed, with a new drop-off zone.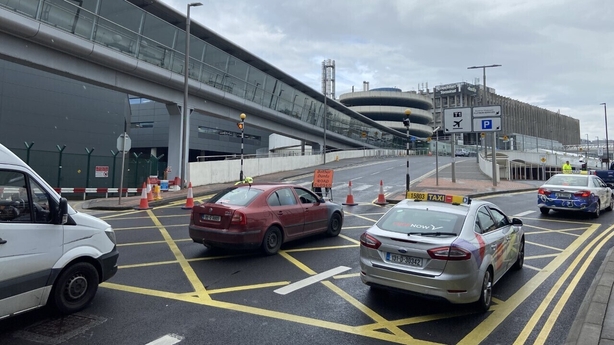 Passengers at the airport today told RTÉ News there is a notable difference, with a more relaxed atmosphere.
Up to 49,000 passengers were due to depart today, the busiest day of the June Bank Holiday weekend at Dublin Airport.
Dalton Philips confirmed that not all security lanes are yet open on a daily basis.
"To have all the security lanes open, at this stage, is still not possible because we're rebounding from this pandemic.
"So, whilst we have recruited 200 extra security officers to date, we actually still need to continue to hire another 100 and we're still not at a level we need to be to consistently offer the service that we would have offered in the pre-pandemic period.
"This is a European and world-wide problem. We're doing everything we can to get back to where we were but we certainly let a lot of people down last Sunday," Mr Philips acknowledged.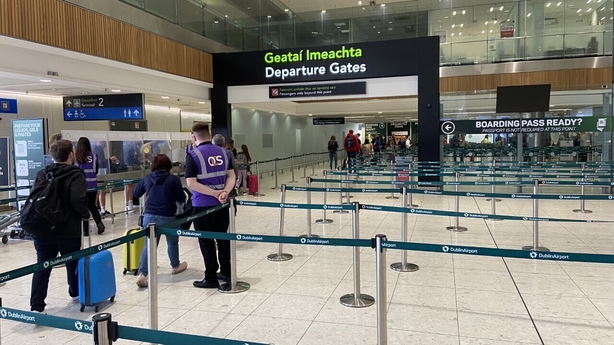 He said that some European airports are cancelling flights but maintains that the daa is not considering that option.
"We've got a class of 35 [security officers] next week so we'll continue to hire. By the end of June, we will be at the full complement of officers that we need," Mr Philips said.
"But between now and the end of June it's delicate. At some stages there will be long periods of queuing, up to an hour.
"That's not something passengers would have experienced pre-pandemic and it's not something that we are proud of. We want to get back to how it used to be, but it's taking time as we ramp back up," Mr Philips concluded.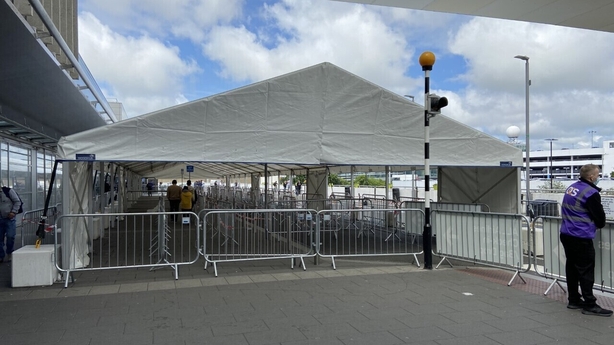 There are now two channels outside the main entrance of Terminal 1 for passengers who can go directly to security screening and a second for check-in and bag drop desks.
Forty extra security screening staff will be available across the weekend including six redeployed from Cork Airport, allowing for extra screening lanes to be opened.
The daa says the system of triaging passengers as they arrive at departures has not yet been deployed, but it may be trialed over the weekend.
No external queues this morning at Dublin airport. People currently moving quickly from the new set down area on atrium road over to departures where passengers enter through queues marked security only or bag drop off pic.twitter.com/OcjfjgLVuQ


— Joan O'Sullivan (@JoanStories) June 3, 2022
The daa said that for any passengers who require special assistance ground staff will be visible and ready to assist in both terminals.
It said that while Friday mornings are always busy for air travel, this one is particularly so with many flights departing on the start of the bank holiday.
---
What's in Dublin Airport's plan for the Bank Holiday weekend?
---
Separately, the daa is advising passengers due to take flights later this evening to use alternative routes to the airport if possible.
The advice follows a fatal road traffic collision on the M50 this afternoon which resulted in the closure of the motorway between Junctions 7 and 9.
The M50 is one of the main routes to Dublin Airport and daa says it is aware of this afternoon's incident on the motorway and that it is impacting some people travelling to the airport.