Dozens of foreign English language students in Dublin have been left at risk of homelessness after being caught up in an illicit accommodation scheme, the details of which have been uncovered by RTÉ News.
The students were living in substandard accommodation in where they were paying up to €600 each per month to rent a bunk bed space in crowded rooms.
Their landlord has been using properties across the capital, some of which are for sale or recently sold, to house large numbers of students on a short-term basis. In some cases, students living in buildings that were for sale were not aware that the properties they were renting were on the market and their stay only temporary.
RTÉ News has spoken to Brazilian students who were housed in a disused bar and nightclub building in Dublin's Leeson Street for several weeks during March and April. Many of the students were sleeping on beds jammed into the bar area of the venue which was home to Buck Whaley's nightclub until 2015.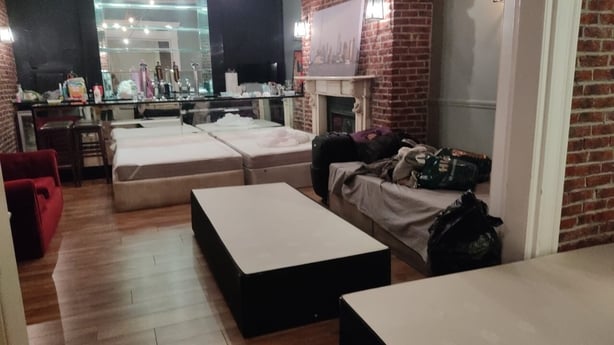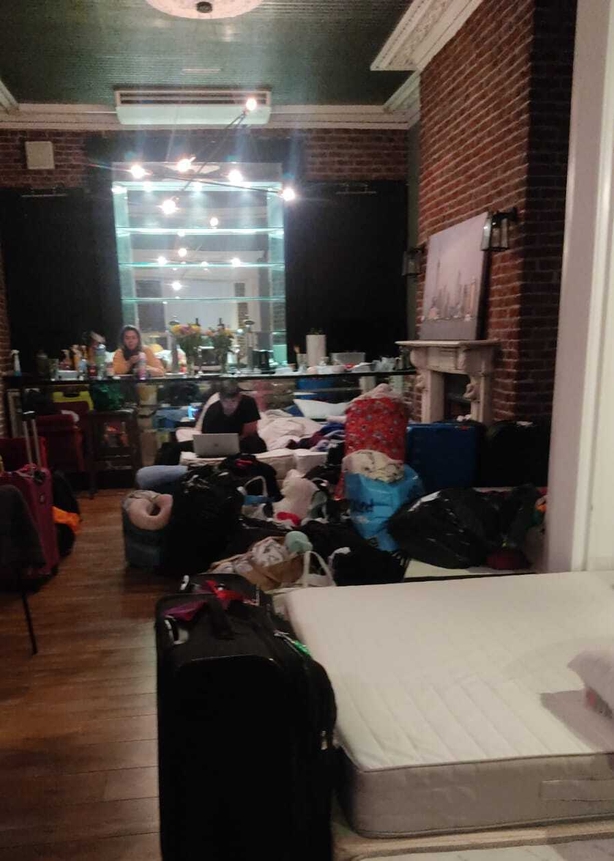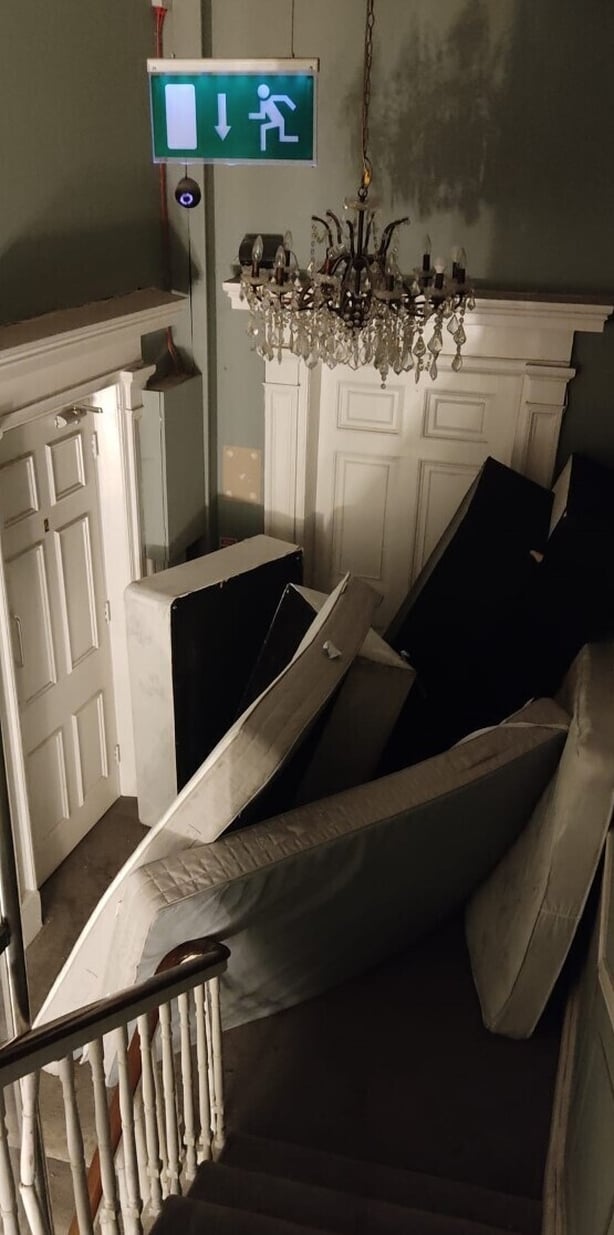 The property was for sale and the students were moved out just before it was sold to new owners in early May. There were no students in the building post the sale.
The students first paid an agent to secure accommodation for them, and subsequently they were offered places to stay by a company called Sweet Home Accommodation, which is listed as their landlord in contracts given to some students.
Just prior to the sale of the Leeson St building, the company moved the students from there to a crowded and substandard apartment across the river Liffey, but the students were told they could only stay there for a month. This northside city building was sold recently after the company that owned it went into receivership.
Neither of the premises are registered as rental properties with the Residential Tenancies Board. It is a criminal offence for a landlord to not register a rental property with the board.
These Brazilian students are among a larger number affected.
RTÉ News spoke to foreign students living in two other buildings along the same busy North Dublin street.
Flats in these buildings were rented out to students by the same company Sweet Home Accommodation, run by Renato Passos, and in these buildings too, students were expected to vacate the properties by the end of May. Earlier this week a number of students told RTÉ News that they could not find anywhere else to go.
This includes a student from Mexico who said he paid €300 per fortnight in cash to share a crowded room with seven others. RTÉ News has seen footage of the room, with six bunks and two single beds.
We need your consent to load this rte-player contentWe use rte-player to manage extra content that can set cookies on your device and collect data about your activity. Please review their details and accept them to load the content.Manage Preferences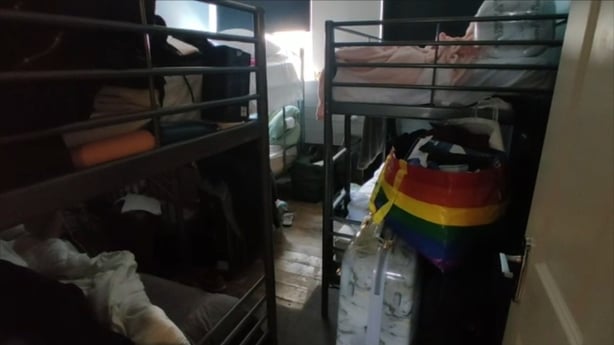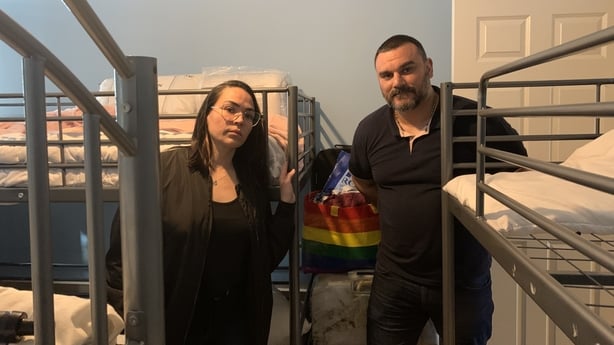 Amanda Nogueira and Romão Junios are among 30 Brazilian students who lived for two months in the Leeson St nightclub premises before being moved to a crowded and mouldy flat across the Liffey. They paid Sweet Home Accommodation rent of €450 per month.
RTÉ News has seen contracts issued to some students by Sweet Home Accommodation, but we have spoken to other students who were given no contracts. Students who spoke to RTÉ News said they mostly paid their rent in cash.
Sweet Home Accommodation
The owner of Sweet Home Accommodation, Renato Passos, told RTÉ News that he was subletting the buildings from their original owners and that he has been renting out the accommodation in order to help people who have no other place to go.
Renato Passos said he had not been aware that students were sleeping on beds in the bar area of the Leeson St nightclub. "We found that out after. One of my staff did that without my consent," he said.
He added that the students had been sleeping in the bar area "temporarily" while waiting for beds to be vacated in an apartment in the upper floors of the same building. The students in question have told RTÉ News that they slept in the bar area of the building for several weeks during which they were paying rent of €450 per month to Mr Passos' company Sweet Home Accommodation.
Mr Passos said he was also not aware that six people were sharing one very small bedroom in the northside flat these students moved to subsequently. He said only four people should be sleeping in the room.
Asked why there were six bunk beds in the bedroom, Mr Passos said one of his staff may have done this.
"I knew people were moving there from Leeson St but I didn't know exactly how many people. He was doing these things without my permission. I will have to check the situation," he said.
RTÉ News has seen this small two bedroom flat where ten people were paying €450 each.
Mr Passos said that the Brazilian community in Dublin looked to him for accommodation and that he was doing his best.
"There are many students, many situations, many things happen," he said. "It is not my fault. People don't have a place to go."
Asked why none of the properties in question were registered with the Residential Tenancies Board, which is a legal requirement, Mr Passos said that he had "maybe made a mistake".
"We are in the process of registering. I think it is registered. I don't know. I will have to check," he said.
The students
Amanda Nogueira is a qualified engineer. At home in Brazil she was working with car manufacturer Toyota, but here she is working as a cleaner in a Dublin hotel.
Amanda came here to study English because she felt that by improving her English she would enhance her career prospects. Students who come here to study are allowed to also work. In the main they find low paid jobs in service industries.
Prior to moving out of the northside city centre flat she moved to after leaving the Leeson St premises, Amanda showed RTÉ News conditions in the two-bedroom flat she was sharing with nine others. Amanda was sleeping on one of six bunk beds in one room, which she shared with five flatmates, male and female. There is virtually no space in the room for wardrobes or storage of any kind. Amanda also showed us stress rashes that have erupted across her face, neck, back and hands as a result of the pressure she is under.
"We don't have space. We don't have privacy," she said.
Amanda is shocked by what has happened to her. She describes the incredible difficulty of trying to cook, and wash clothes, and sleep, in such crowded conditions. There is just one shower for ten people, one tiny kitchen/living area, one washing machine. There is black mould growing in the bathroom. A patio area at the back of the flat is heaped with broken timber.
"I'm from Brazil. It's a third world country. So I never expected to meet this here. I never expected to be exploited in this way. For me it's a bad surprise," she says.
"They want students to come here to work and to turn the money. But we don't have any space to live."
Her flatmates and compatriots Aline Oliveira and Romão Junios agree, as does another student, who does not want to give her name. "We are very sad about how students are treated here, since it is immigrants who sustain this country's economy," she says.
According to the Irish Council for Overseas Students (ICOS), there are almost 150,000 international students attending English language programmes here. An additional 32,000 are pursuing higher education courses. The students are worth €2.4 billion to the Irish economy.
The ICOS says the conditions many are living in are "absolutely appalling". Its Executive Director, Laura Harmon, says this is damaging Ireland's reputation abroad.
Amanda cries as she tells us that she cannot bring herself to tell her parents about the conditions she is living in here. She says they would be too upset if they knew and they would beg her to come home.
"I would say to all of my friends in Brazil. Please don't come to Ireland. Never. We are living here trying to follow a dream but it's a nightmare."
"It's my first time coming abroad and living by myself so it's very difficult," Aline says.