Discussions have taken place on the possibility of an overarching agreement between the Government, unions and employers that would cover areas beyond pay including taxation, help with childcare costs and improvements in public services.
The coalition is supportive of such a concept, according to senior government sources, who stressed that talks are at a very early stage and are not guaranteed to lead to any final deal.
The arrangement, which has been likened to social partnership deals in the past, was first discussed in mid-April when the unions, government and employers met.
Discussions on the idea are running paralell to talks on a wage deal, which is expected to be agreed in the coming weeks.
But the two are linked because a broader agreement would likely depend on a degree of pay moderation.
It's likely that any agreement that would include measures around taxation, welfare and public services, would feed into the overall budgetary process.
"It would crystalise around the Budget," said a Government source, adding that it could not undermine the budgetary or estimates process.
Earlier this week, the Minister for Public Expenditure, Michael McGrath, said the Government is willing to go beyond the terms contained within the current public sector pay agreement.
He was speaking after the General Secretary of the Forsa Trade Union, Kevin Callinan, told the union's annual conference in Killarney that the Government should do something about the "social wage" - a concept that measures how much better off workers are from social spending by government on support and services.
"The absence of an adequate social wage in Ireland is placing all the emphasis on pay negotiations," Mr Callinan said.
Employers group IBEC has said it supports proposals for a new version of social partnership to address concern over the rising cost of living.
Chief Executive Danny McCoy confirmed that the group has taken part in discussions with Government and trade unions around a new income policy to help with the current inflationary cycle.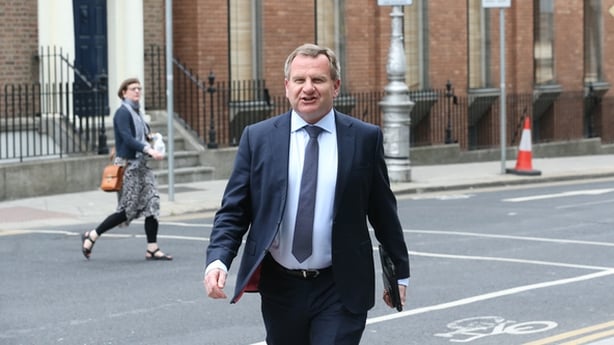 He said this would be different to previous versions of social partnership, which broadly exchanged industrial peace for modest wage increases and tax cutting.
"I don't believe the time is right now for tax cutting, the economy has quite a lot of money and part of the problem with inflation is that there is too much money chasing too few goods. So we have to ensure we have those modest wage increases, but also that the Government delivers social services in terms of housing, eucation, care and defence that we all need," Mr McCoy told RTÉ News.
"We need to try to find a mechanism to anchor wage expectations in the economy, because otherwise they will spiral to a point where we lose competitiveness and people may lose their jobs, so I think it is a discussion that requires greater intensity now to explore the options that might be able to help," he added.
"We may not be able to find an agreement, but such an agreement will need to have moderate wage increases, industrial peace but also the element of the social wage that is also coming in, in terms of auto-enrolment, pensions, statutory sick pay. These are all costs on business and that will be part of the solution to find a way out of this impasse to ensure that we have a competitive economy and that people are rewarded."
Social Justice Ireland said it welcomes comments by both trade unions and employers' groups that they are in favour of a wider discussion on a new version of social partnership.
Its Director, Sean Healy, said the organisation is in favour of such an approach. But he said any discussions must involve the community and voluntary pillar.
"One in three of all those working in services in Ireland today are in the community and voluntary sector, they are groups that deal with people who are the most vulnerable and marginalised in society," he told RTÉ News.
"It is not acceptable that there would be negotiations going on involving employers and trade unions about how to divide up resources, without also including the community and voluntary sector," he said.