A charity supporting older people has said the number of people contacting them in relation to financial concerns has doubled compared to the same time last year.
Alone says 5,500 people have called the charity since January and 10% of those related to the cost of living and financial issues.
Going to bed in the afternoon to save on heating bills is a regular occurrence for 68-year-old pensioner John Hannon.
"If it is quite cold just to cut back on the calicos and gas, and the electric and cut down on the telly. About 3 o'clock in the afternoon I go for a nap until about 5 or 6pm.
"And I fall asleep, I'm a great sleeper too you know, and it's a way of cutting down on things like all that electric and all that."
John also has to be more careful these days about what he buys in his weekly shop.
"I would cut down on milk, meat, I used to get a large slice pan and now it's gone down to a half slice pan.
"I just cut down on little things here and and there instead of overloading my trolley because I'm a good grubber.
"I just have to cut the trolley down to three quarters. It should be up that extra quarter to get me through the week.
"I wouldn't be buying quality foods like I used to. I try to buy the cheapest thing that I can," he said.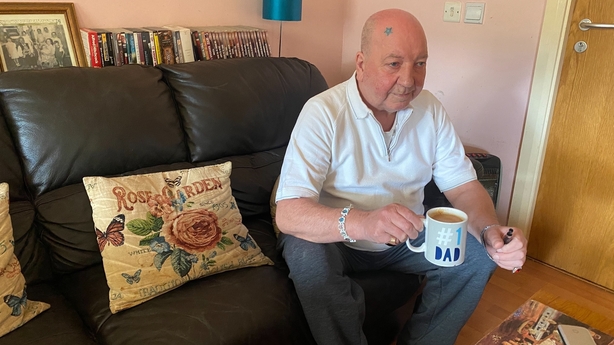 He is among thousands of older people across the country bearing the brunt of the cost of living crisis.
The charity Alone said there has been a marked increase in the number of people contacting them this year in relation to the cost of living.
It said it has received 5,500 calls since January and 10% of those were from people looking for financial advice.
The charity said some people have been forced to sell items to support themselves.
Chief Executive Sean Moynihan said: "Some people are changing what they eat, how they eat, some people are changing whether they use cars, transport, public transport, others have coping mechanisms around energy.
"We even have stories around people selling off items so that ultimately they have money to pay bills and deal with the everyday things they need to cope with life."
Meanwhile, John Hannon said the rising cost of living does take its toll but he likes to look on the bright side.
"Depression, you know, it can creep in but when depression creeps in my head I'm able to get it out the other side.
"Thank God, you know, I'm able to handle the depression otherwise I'd be no use to anybody and most of all myself. I always live in hope."