The mother of two-year-old Santina Cawley O'Donoghue has said she was "loved and adored" by her family from the moment they saw her.
Bridget O'Donoghue said her daughter was the baby of the family and was "cherished and spoiled by us all", especially her grandmother.
Earlier today, 38-year-old Karen Harrington, with an address at Lakelands Crescent, Mahon, in Co Cork, was found guilty of the toddler's murder.
In her victim impact statement, Ms O'Donoghue described Santina as a happy child who "loved her rhymes, her cartoons and Barney".
"She loved her trips to town with me and her Nana on a Wednesday," she said. "She would hop into the buggy and knew the routine.
"She was very cute for her age. She was clever and very bright. She knew all the names of the Teletubbies and was a happy child.
"She was an old soul, she seemed to be here before. She brought so much joy to our family, and her brothers and sister adored her."
Ms O'Donoghue said Santina had been a premature baby, but was "hardy, determined and a little fighter".
She said that on the morning of 5 July 2019, there was a knock on the door and a garda told her Santina had been in an accident.
"I got a taxi to the hospital, never imagining what I was going to face when I arrived," she said.
"There seemed to be so many doctors and nurses around. I did not understand what was after happening.
"Eventually I was told that Santina had passed away from her injuries and I went into a state of shock, I could not believe what I was been told."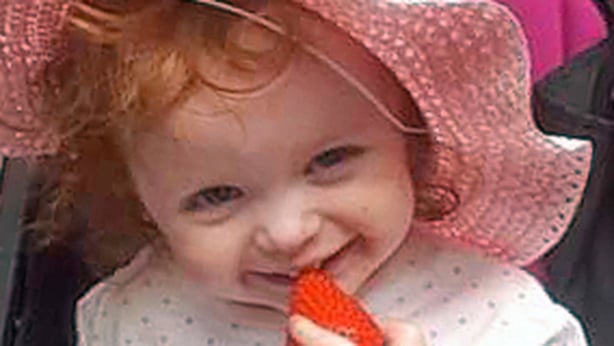 Ms O'Donoghue said that when she asked to see her daughter, she "could not believe the condition" Santina was in.
She was "covered in bruises", she said, and her hands were cold and she was pale.
"The day Santina passed away she took part of me with her. I am devastated, my heart is in pieces and that hurt continues every day.
"So many times I have wished I could turn the clock back, the disbelief that this could have happened haunts me every day."
Describing her last memory of Santina, Ms O'Donoghue said her child was "hugging and squeezing me" and she wishes she could go back in time.
She said she hopes that in Santina's last moments, she remembered and felt the love of her mother, her Nana and her family.
"I want to get justice for my daughter, it will be the last thing I can do for her," Ms O'Donoghue said.
"I hope in her short life she will remember how much she was loved and adored by me and her brothers and sister, and the bond she shared with her Nana.
"When I handed Santina over, I thought she would be safe, I never thought this would be the last time I would see her alive.
"I feel angry at the accused, Karen Harrington, who murdered my baby. I continuously ask myself how could someone be so cruel to a two-year-old, a soft and gentle soul? How can you hurt a baby like this?
"I wonder was she looking for me in those last moments, what was Santina thinking and feeling during her terrible death?"
Ms O'Donoghue thanked gardaí and her liaison officer for their help and support, as well as medical staff and her mother, Eileen.
"The happiness we have shared is what will stay with us and help us to keep going, but it isn't easy."
Detective Inspector Danny Coholan, Senior Investigating Officer, has said that the murder of two-year-old Santina Cawley has had a "profound impact" on her extended family and across the community | https://t.co/MRfpDaBk1v pic.twitter.com/EM6RffFz8b

— RTÉ News (@rtenews) May 16, 2022
In a statement, Detective Inspector Danny Coholan, Senior Investigating Officer, said the murder of Santina Cawley has had a "profound impact" on her extended family and across the community.
He thanked the local community for their assistance and cooperation, and said the early provision of statements and video footage "greatly aided" the investigation.
"I would like to particularly thank the dedicated investigation team who have worked on this case for almost three years," he said.
"Justice for Santina was always the ultimate goal for the team ... This was a particularly emotive case for the members that attended the scene and the investigation team, many having children of a similar age.
"Santina was always in our thoughts. We would like to again publicly express our sympathies to Santina's family and An Garda Síochána will continue to support them as they continue to grieve for Santina."