A young Irish man with Down syndrome has played a key role in securing a new law in England for people with the condition.
Fionn Crombie-Angus was asked to champion the Down Syndrome Bill after his campaigning videos came to the attention of a national policy group in the UK.
The 26-year-old says the new legislation gives a voice to people like him and has inspired him to continue his advocacy work in Ireland.
Mr Crombie-Angus is a familiar face on the streets of Galway. He moved there from Clare a number of years ago and busking is a favourite past time of his.
Sometimes his father, Jonathan, plays alongside him.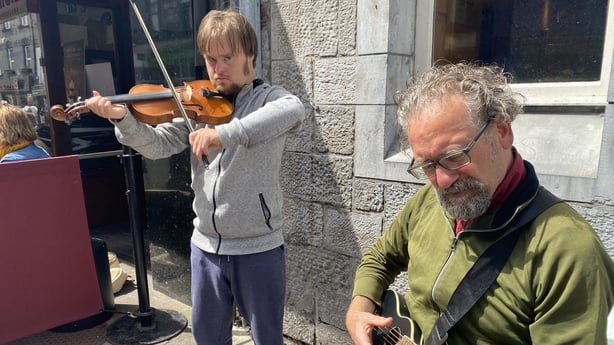 Mr Crombie-Angus is winding down after being in London recently to see a Private Members' Bill pass through the House of Commons and the House of Lords without objection, and signed into law by UK's Queen Elizabeth shortly after her 96th birthday.
"It was great to be part of such a big occasion and seeing a new law passed for people with Down syndrome, people like me," Mr Crombie-Angus said.
"By giving them a voice in politics, they get to speak up for themselves and look for what they want in their lives.
"I'm happy to be a trailblazer for people with Down syndrome."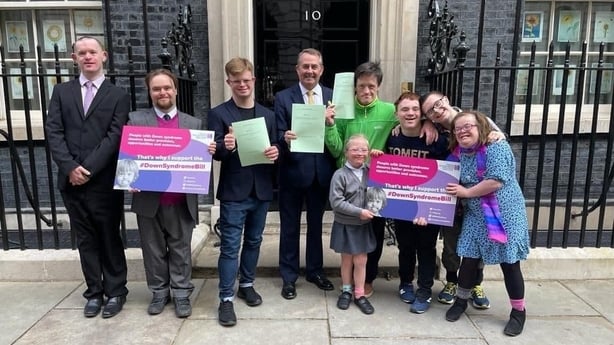 Mr Crombie-Angus gained the attention of organisers through his advocacy work in Ireland and the Happiness Project, which has over 3 million views on YouTube.
He has conducted dozens of interviews with high profile personalities including Brendan Gleeson, Cillian Murphy, Kenneth Branagh, Sebastian Barry, Imelda May, Neil Jordan, and his favourite, Damien Dempsey.
The new law requires the British government to publish guidance on the specific needs of people with Down syndrome. It gives people more rights in areas like housing, social care, education and health. Then services are more tailored to meet their needs.
Mr Crombie-Angus is a member of Down syndrome Ireland's Advisory Council and he wants to see more inclusion at policy-making level in this country.
"Fionn and I want to see more inclusion at policy-making level here in Ireland," his father said.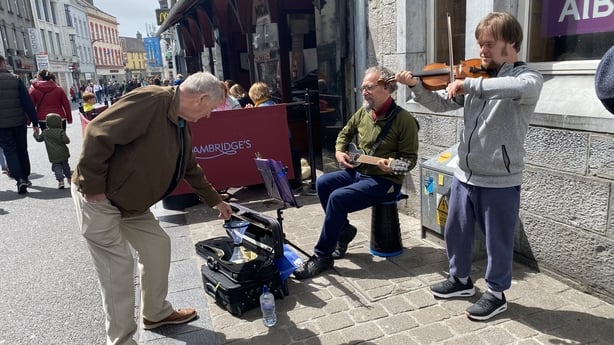 "Perhaps our good fortune is because one third of our group have Down syndrome. People with disabilities call for 'nothing about us without us' but few leadership positions are held by people like Fionn, even when the issue is Down syndrome.
"We're not UK citizens and everyone else on the National Down Syndrome Policy Group live in the UK. But we realised they were interested in Fionn's lived and living experiences. and really it matters what you think and what you do with your life and how important that can be to help.
"So we were more than happy to help with this law but we want to bring something like it here to Ireland."