Families of children with additional needs have held protests in Dublin, Wexford and Cork to highlight the failed rollout of Progressive Disability Services.
Organisers say lack of services has had a catastrophic impact on their children.
Families Unite for Services and Support (FUSS) say they are watching their children disappear from communities as their families wait for a lifeline that they are consistently told is coming.
The group which is being supported by the National Autism Charity AsIAm, Inclusion Ireland and Family Carers Ireland says Progressive Disability Services received 6% of the €2.2bn allocated to Disability in the Health Service Executive Service Plan last year.
This is despite the Ombudsman for Children's Office highlighting the unmet needs of these children in a 2020 report.
FUSS has called for urgent action on a number of issues, including an immediate outsourcing of assessments to tackle Assessment of Need (AON) waitlists.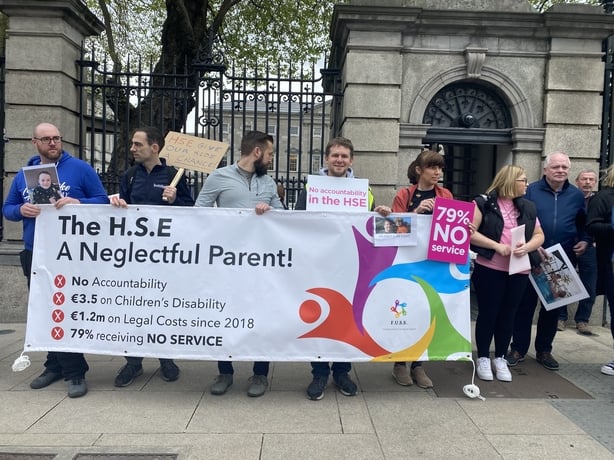 It has also called for the issue of access to Personalised Budgets for Respite Care to be addressed; a timeframe for the return of all therapists to Special Schools; a commitment to end the practice of families requiring personal loans for equipment that they are entitled to under the General Medical Services scheme; an actionable and fully costed Workforce Planning Strategy to tackle difficulties across the sector in recruitment and retention of staff and a timeline for the implementation of Parent Forums promised under the 2011 plan for PDS.
FUSS has also highlighted a High Court Ruling in March, which deemed the Standard Operating Practice applied to Assessment of Need beginning January 2020 as non-compliant with The Disability Act 2005.
Ms Justice Phelan stated the consequence of the failure to properly define the statutory parameters of the extensive, gold standard, assessment required under the 2005 Act undermined the ability of the respondent to itself plan for service provision.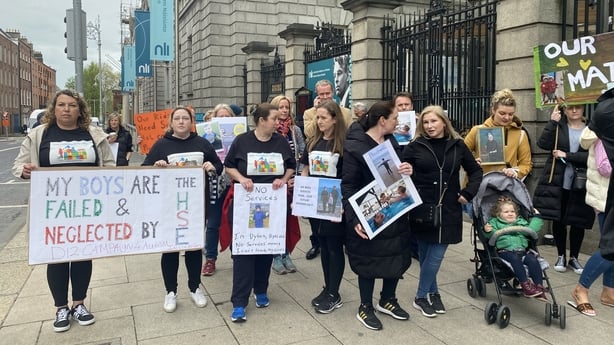 FUSS has pointed out that this has led to a backlog of 10,000 children, within a system which had already seen families filling legal complaints across the country on a weekly basis.
FUSS says it is clear that services have been in crisis for a very long time, but without the urgent implementation of Parent Forums outlined in key documents as far back as 2011 things will only continue to decline.
"The HSE patchwork the system and scratch their head in confusion while we sit here with the experience that only comes from attempting to navigate this system from start to finish, ready and begging for change.
"We will not allow our children to disappear from their communities, we will not allow our children to become invisible, it is time to make a fuss," they said.