Community and voluntary sector workers are threatening to go on strike in the coming weeks unless there is engagement from the Government on the issue of funding for the sector.
The workers held a protest in Dublin calling for better pay and conditions.
They are employed by a variety of charities, healthcare providers and employment services and say it is an area that has been neglected and underfunded for years.
Members of SIPTU, Forsa and the INMO staged the protest calling on the Government to engage with them on the issue of funding.
If there are no meaningful talks, unions are warning that community sector workers will take strike action in the coming weeks.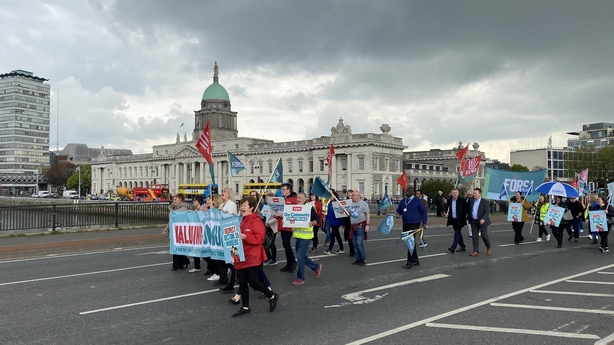 "In many cases community sector and Section 39 organisation workers are poorly paid, have poor or no pension provision and lack security of employment," said SIPTU Public Administration and Community Division Organiser Adrian Kane.
"This is despite these workers providing important health and social services to the most disadvantaged and vulnerable members of our society," he added.
Protesters gathered outside the Customs House in Dublin this morning ahead of a march to Leinster House.