Minister for Education Norma Foley has told primary school teachers in Killarney that she agrees with calls by their union for a sustained and increased investment in education.
Ms Foley addressed delegates at the INTO Congress in Co Kerry this morning in her first in-person address to a teacher trade union conference.
The teachers' Easter conferences have been held online for the past two years, but this year they return to their traditional in-person format.
During the conference, INTO members overwhelmingly backed a motion calling for action to address cost of living increases.
INTO wants talks to begin next month to address how the current pay agreement – 'Building Momentum' – can be adjusted to address the concerns of workers.
Ms Foley told delegates that it had been increasingly recognised that education should take a greater share of public expenditure overall and that this was a cause that was dear to her heart.
However, she said that a recently published Chief Inspector's report showed that Ireland by 2018 had well exceeded the OECD average in terms of the share of public expenditure spent on education.
The minister was greeted with applause from delegates as she arrived in the hall.
Later, teachers will debate resolutions calling for action to address the impact of inflation and the rising cost of living through pay increases.
Ms Foley told delegates that the Government was strongly aware of the cost of living pressures being felt across society and had already delivered a substantial package to help families.
We need your consent to load this rte-player contentWe use rte-player to manage extra content that can set cookies on your device and collect data about your activity. Please review their details and accept them to load the content.Manage Preferences
On teacher shortages, Ms Foley said there was a recognised need to increase the attractiveness and value of the teaching profession.
She said she would continue to work with the INTO and other unions to implement pragmatic ways of addressing what she called this challenging issue.
Ms Foley said her priorities for education included; creating and resourcing more digitally aware schools; promoting and supporting the Irish language and other modern languages in schools; celebrating teaching and learning for creativity and innovation; strengthening and supporting leadership; and building inclusive school communities.
On the Irish language, the minister said her department was working to develop a new policy on Irish medium education in areas outside the Gaeltacht.
This will build on a programme that focused on teaching of the language in Gaeltacht schools, she said.
The minister paid tribute to teachers and other school staff who had stepped up in the most difficult of circumstances over the past two years.
She said they were doing it again in rising to the challenge of the arrival of large numbers of school children from Ukraine.
Support for Ukrainian children
Primary school teachers meeting in Killarney have called for a range of additional resources to be made available to schools to enable them to support Ukrainian school children arriving here.
At their annual congress delegates appealed for additional English language teachers for schools, the fast-tracking of approval for Ukrainian teachers seeking to register as teachers here, access to translation services for schools, and additional psychological and counselling services for school children and their families.
They also backed the provision of free school transport for children fleeing the war in Ukraine, as well as additional funding for textbooks and materials.
A motion unanimously supported by teachers also called for additional training for teachers to enable them to properly support the inclusion of Ukrainian children.
One speaker told the conference that psychological supports were needed urgently.
Teacher Carmel Brown said research had shown that children with emotional needs would have great difficulty engaging with teaching and learning, and so their emotional needs had to be addressed as a priority.
Proposing the motion, teacher Gregor Kerr said the response to Ukrainian refugees should become the model for the treatment of all refugees into the future.
The union strongly condemned the Russian attack on the sovereign nation of Ukraine, and supported calls for the immediate cessation of military operations and for meaningful dialogue to bring about an end to the war and expressed solidarity with all people, workers, and trade unions in Ukraine.
It has also encouraged members to support the ICTU/ IBEC initiative to donate one hour's wages to provide humanitarian aid for the Ukrainian population, and has demanded that the Department of Education matches these donations.
Earlier Minister for Education Norma Foley told delegates she was determined that appropriate supports would be made available to schools to enable them to support children from the war torn country.
'Every household feeling the pinch'
INTO General Secretary John Boyle told the minister that delegates at the conference would be moved more by action than oratory.
Responding to Ms Foley, he said inflation had now spiraled out of control, with projections from the ESRI and the Central Bank that it would exceed 6% this year and that significant inflation will be a feature of life for the next two years.
He said those bodies also expected that the economy will have grown by 20% between 2021 and 2022.
Mr Boyle said that every teacher's household was feeling the pinch and that purchasing power had shrunk by at least 7% due to surging prices.
He said the promise of a "measly" 1% uplift next October for teachers would not suffice. He said the current national pay agreement was no longer fit for purpose and if it was not improved upon quickly, "it will collapse very soon".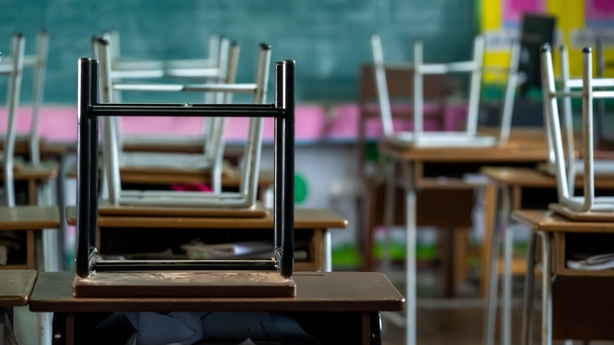 He said the INTO would emphasise the need to agree measures that will stabilise the agreement. He said it would demand a fair pay uplift to give members respite from runaway prices and to protect their living standards.
Mr Boyle said: "Praise, acknowledgement, and gratitude no longer have currency minister - we're in a cost-of-living crisis, our members must be able to live, they're struggling to afford to commute to work, pay for childcare or college fees, they cannot afford a home, many live with their parents well into their 30s and these same thirty-somethings have friends whose private sector employers offer meaningful pay rises."
Resources
On school resourcing, Mr Boyle said it should not have taken a public health crisis to bring some measures about, measures such as teacher substitute supply panels and increased funding for school cleaning.
He said that over the past two years teachers had stood up for their pupils – challenging massive class sizes, calling out the unsatisfactory system of splitting classes, and demanding that every teacher absence was filled by a qualified teacher.
Mr Boyle said the union welcomed the commitments made by the Taoiseach last month on redirecting Covid reserves towards increased education funding.
On class size, Mr Boyle said the country could and must do more.
'Our members should be entitled to fair and safe working conditions, proper remuneration, promotional opportunities, leave after miscarriage, bereavement leave, reproductive health leave, an occupational injury scheme, gender equality and an inclusive school community charter.' pic.twitter.com/yTpOx36nXL

— INTO (Irish National Teachers' Organisation) (@INTOnews) April 19, 2022
Acknowledging that the minister had reduced class size in the last two Budgets, he said Irish class sizes were still three pupils above the European average.
He said the minister had a rare opportunity to make a lasting impact and called on her to personally end the "scourge of supersized classes". He said our children deserved nothing less.
Mr Boyle also called on the minister to address the issue of children on waiting lists for therapeutic supports; traumatised children who have arrived from conflict zones, including Ukraine; and children who are homeless and those who live in direct provision.
Children with additional needs were depending on the minister who had a pivotal role around the Cabinet table where she could advocate for them.
Mr Boyle said the continuing lack of access for primary school children to mental health services at community and school level was deplorable.