Minister for Foreign Affairs Simon Coveney has said that Ireland would support a complete ban on Russian coal, oil and gas.
Speaking about Ukraine's President Volodymyr Zelensky's address to the Dáil chamber, Mr Coveney said it was the first time in Irish history that a president spoke to the Irish parliament while their country was at war.
He said: "We've all seen the images. Technology today prevents Russia from hiding the horrors that are being inflicted on Ukrainian people.
"And so, it was an emotional day today listening to President Zelensky - somebody who has shown remarkable courage and resilience in terms of leading his people in the face of an illegal and brutal war and aggression coming from Russia.
"Undoubtedly his (Mr Zelensky's) biggest ask today was for sanctions to be tougher, to act as a strong deterrent to Russia in terms of the continuation of this war," he added.
Speaking on RTÉ's Six One News, Mr Coveney said: "I think the EU has signed off, or at least the EU Commission has signed off on a strong fifth package of sanctions and we will hopefully confirm that politically in the next few days."
He said that while there is a proposed ban on the purchase of coal from Russia into the EU, he would like to see oil added to this.
"I can accept that there are complications in relation to gas, although Ireland would certainly support a complete ban on Russian coal, oil and gas," he said.
The minister added that he recognises that some countries in the European Union, particularly on its eastern borders, are highly reliant on Russian gas in particular.
"This is very difficult for them, because there is no alternative power source in the immediate term and so what we're trying to do is to go as far as we can, but certainly from from an Irish perspective, the idea that European money or EU money purchasing oil, gas and up until now coal, would be funding Russia's war efforts in Ukraine, particularly, the brutality that we've seen is something that I think the European Union is responding to now, politically."
TDs, Senators and 45 foreign diplomats gathered in the Dáil chamber to hear the historic address by President Zelensky, whose country has been repelling a Russian invasion for the past six weeks.
Mr Zelensky said Ireland has not remained neutral on the disaster that Russia has inflicted on his country.
"From the very first days, you are supporting Ukraine and this is a fact," he said.
"You did not doubt starting helping us, you began doing this right away and although you are a neutral country, you have not remained neutral to the disaster and to the mishaps that Russia has brought to Ukraine."
He said he was grateful to every citizen of Ireland and for the country's support of sanctions against Russia.
"Thank you for the humanitarian and financial support extended to our country and thank you for your caring about Ukrainian people who found shelter on your land," he said.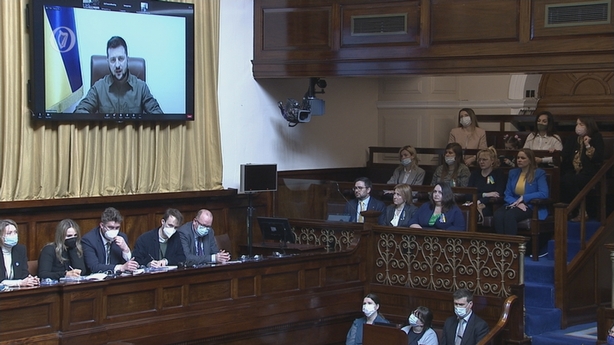 However, Mr Zelensky called for more leadership from Ireland.
"Just think about it - 10 million Ukrainians have been left without shelter as of today by Russia, who had to leave their native cities because of this war. This is something we cannot come to grips with.
"They are looking to occupy and subdue all of the Ukrainian people. We want to do our best to make sure that Russia starts looking for peace and leave us alone.
"Please, I would like you to show more leadership in our anti-war coalition. I would like to ask you to convince EU partners to introduce more rigid sanctions against Russia to make sure the Russian war machine will stop.
"We have to put an end to trading with Russia. We have to cut ties of the Russian banks to the global system and cut the sources of their income from oil that they use for their weapons and killing," he said.
Russia is targeting sea ports and food storage depots to "use hunger as a weapon" against the people of Ukraine, Mr Zelensky said.
A new storage depot in Ukraine was hit "cunningly" by Russian missiles, who are hitting places where food, fuel and agricultural equipment is stored, Mr Zelensky said.
President Zelensky said that food shortages will affect many countries as Ukraine is a significant food producer. Russia is deliberately provoking a food crisis, which will cause political turbulence and increasing refugees, he said.
"They are blocking humanitarian access to the half million people in Mariupol who can no longer melt snow for water.
"They are bombing 24/7. There is no single house left intact."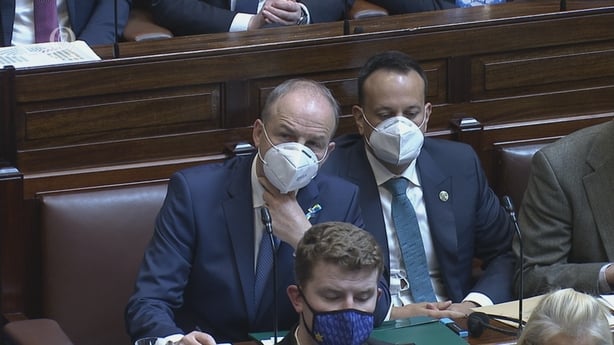 President Zelensky said that in Mariupol bodies are left in the street and they do not know how many have been killed, but this is the Russian tactic in many cities.
He said: "Maybe you have not heard the names of these cities yet. It may seem impossible when you do hear these names, but these are real facts.
"Bodies are buried in the yards in Mariupol, and people were killed on the roads fleeing."
Mr Zelensky said that Russian forces in Bucha left dead bodies "in the streets, in the yards". In the 42 days since the war began, at least 167 children have been killed, he said.
"927 educational institutions were damaged. 258 hospitals. They shot at 78 ambulances.
"I am sure your leadership can make a difference and change this. I'm sure that the whole of Europe can stop this war and bring peace and stability to east of Europe. We can not delay any longer," he said.
Mr Zelensky said a new relationship between Ireland and Ukraine had been forged.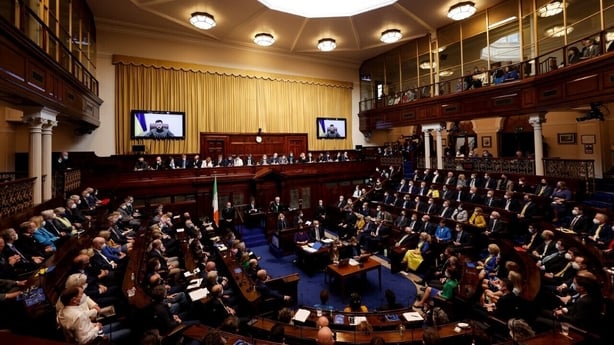 He said: "The longer this aggression from Russia continues, the worse will be the consequences, not only for our continent, but neighbouring regions.
"Our courage has already turned the new age of relationship between Ukraine and Ireland.
"Our mutual understanding and mutual respect is already at a level where it becomes only the question of time for us to start living in our common European house.
"Thank you for the support of the accelerated procedure to provide membership in the EU to Ukraine. With your support, it will be even faster and beneficial to both nations.
"So, let's bring our efforts together. And let's show that Ukraine and Ireland jointly can do much more than what the biggest country of the world was trying to destroy."
"I am grateful to Ireland. Slava Ukraini," he concluded.
Mr Zelensky received a standing ovation from the joint sitting of the Oireachtas.
---
Read more
Zelensky latest world leader to address Oireachtas
Latest Ukraine stories
---
Responding to Mr Zelensky, Taoiseach Micheál Martin said that Ireland is resolute in our solidarity and support for Ukraine.
He thanked the president for his heartfelt, honest, clear and historic address to the Irish parliament, and said he was certain that Ukraine would prevail in its war with Russia.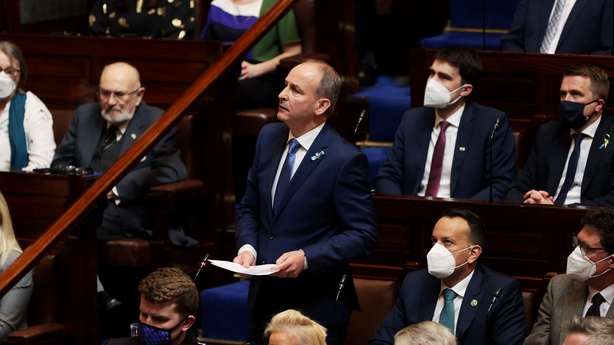 He told the Dáil: "Russia will have to live with the shame of what they have done in Ukraine for generations. Those responsible will be held to account.
"We are with Ukraine and I am certain that, in the end, Ukraine will prevail.
"We are a militarily neutral country. However, we are not politically neutral in the face of war crimes. Quite the opposite.
"Our position is informed by the principles that drive our foreign policy - support for international human rights, for humanitarian law and for a rules-based international order. We are not neutral when Russia disregards all of these principles. We are with Ukraine.
Mr Martin said Ireland supports Ukraine's application for European Union membership.
He said in Ireland has committed €20m in direct humanitarian funding, delivered through proven international agencies active on the ground, and will "do more".
"As well as financial support, through a collaborative effort we are in the process of delivering medical equipment including ambulances, ultrasound machines, mobile x-ray machines, ventilators and incubators," he said.
"Ireland has contributed our full share to the European Peace Facility's €1bn assist package to Ukraine," he added.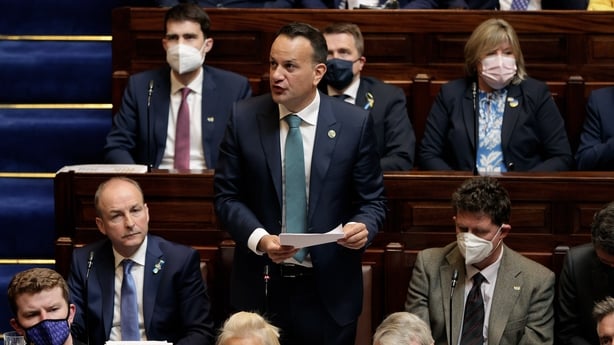 Tánaiste Leo Varadkar thanked Mr Zelensky, saying his words have "moved us, inspired us and shamed us, and the rest of the world for not doing more sooner".
Mr Varadkar also spoke directly to Russian President Vladimir Putin.
"We also have a message for Putin and his apologists.
"You have raped and defiled the very principles of humanity and betrayed your own people and own resistance to oppression over many centuries.
"We have no quarrel with Russians, and admire those opposing the war.
"For the aggressors: your actions will never be forgotten - they will never be forgiven.
"You have united the West and made our values shine brighter. Ireland is small but we stand with Ukraine."
Minister for the Environment, Climate and Communications Eamon Ryan said Ireland must be willing to "stay the course"
"Opening our homes, ending the use of fossil fuels, but I expect that our people and this House are up for that challenge - one of the greatest of our time."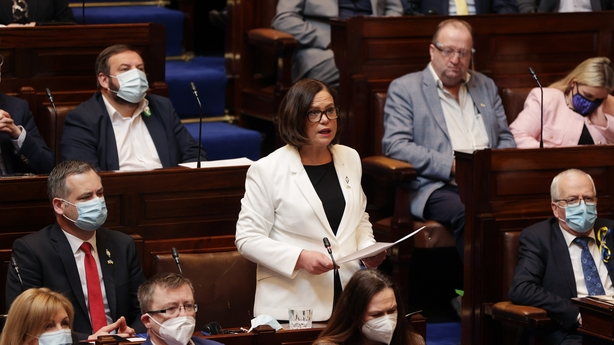 Sinn Féin leader Mary Lou McDonald said Russia should be prosecuted for human-rights violations against Ukrainian civilians.
She said: "We have heard directly from President Zelensky in the most harrowing, most heartbreaking of terms.
"These are crimes against the Ukrainian people and these are crimes against humanity, and Russia must be held accountable for its barbarism and justice must be done.
"These human-rights violations and grave breaches of the Geneva Convention demand investigation by the International Criminal Court and prosecutions to follow."
Ceann Comhairle Seán Ó Fearghaíl said Ireland "must act" as Ukrainian people continue to die.
"We need international courts to give a transparent and fair reckoning in these heinous crimes.
"We salute your personal bravery, and the outstanding bravery and resilience of the Ukrainian people in the face of unprovoked aggressions."
Russian Ambassador Yury Filatov was invited to attend today's event by Ceann Comhairle Seán Ó Fearghaíl, but he had not replied by Monday's deadline.
Some early arrivals at Leinster House for the video address by the Ukrainian President @rtenews pic.twitter.com/ngdv9CdSb6

— Paul Cunningham (@RTENewsPaulC) April 6, 2022
Yesterday, Mr Zelensky challenged the United Nations to "act immediately" or "dissolve yourself altogether" during a blistering address in which he showed a harrowing video of dead bodies - including children - he said were victims of Russian atrocities.
Russia invaded Ukraine on 24 February, sparking outrage across the world and displacing millions of Ukrainians.
Additional reporting PA