Taoiseach Micheál Martin has said India's position on Russia's invasion of Ukraine is "unacceptable".
India has failed to condemn Russia and has not participated in sanctions.
Arriving at the summit of EU leaders in Brussels, Mr Martin said he found India's stance "very disappointing", adding that "the position that India has taken is unacceptable, quite frankly".
"There can be no moral equivalence around this war. This is a war on people and it's a war on the Ukrainian people, unprovoked, unjustifiable," he said.
We need your consent to load this rte-player contentWe use rte-player to manage extra content that can set cookies on your device and collect data about your activity. Please review their details and accept them to load the content.Manage Preferences
"Certain countries need to get off the fence in relation to that," Mr Martin said.
He told reporters that he would be communicating his views to representatives of the Indian government.
"People cannot stand on the sidelines here in terms of this barbaric war on people," he said.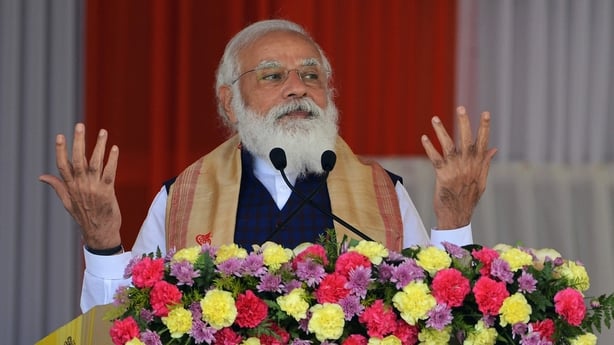 Mr Martin would not be drawn on whether Russian oil and gas should form part of a fifth round of sanctions, which the EU is understood to be preparing.
"We need the widest and strongest set of sanctions we possibly can provide to keep the pressure on Putin's regime. But obviously, there are implications for other member states in respect of energy," he said.
"And the objective of the exercise fundamentally is to keep the pressure on Russia, and to punish Russia severely for its actions, not EU member states.
"So, it has to be a balanced stroke in relation to that. But Ireland is open to more sanctions, but also to make sure that we enforce the sanctions that we have now put in place, which are the most severe sanctions ever deployed by the European Union against an aggressive state like this and an invasion of this kind," he added.