An Irish man living in Kyiv has said he has managed to get out of the Ukranian capital in a packed car with his family, but despite travelling for hours, he has yet to make it to the border.
Brendan Murphy from Omeath in Co Louth, is travelling with his wife Marina, her 18-year-old daughter and three-year-old granddaughter and his mother-in-law.
"We're outside of Kyiv now," he told RTÉ News. "We were in a hot zone with cruise missiles and bombs and paratroopers."
"They're killing ordinary people," he said, saying he had heard reports of civilians being killed.
He said there were also reports of Russians calling door to door "to steal and to kill."
In an emotional plea, he called for businesses and corporations based in Ireland and around the world to cut Russia off.
"They need to cut Russia off, today, now. This minute. It doesn't matter the consequences for them because we can fix that after this. But you can't bring a child back, you can't bring a grandfather back."
He said their journey away from the capital has been a long and arduous one and the family will need to rest before crossing the border.
"As we made our way, we went through some areas that were attack zones and we were made wait as the Ukrainian army fought and we were sent on many different small roads, sometimes four hours for 10km, 14 solid hours driving and hardly a distance travelled."
He said his family were all upset and scared.
"My mother-in-law is very confused and very upset, my wife is upset."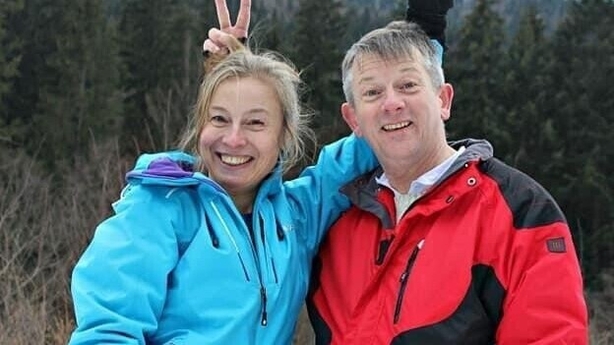 He said their friends and neighbours from the town of Irpin outside Kyiv were suffering greatly.
He said Irpin has many links to Ireland and he urged people here to post Irish tricolours on the town's Facebook page to show support.
"Just send them a small message with a flag and 'I support you'. It will raise their morale. Many, many people have been killed in Irpin," he said.
"It's bad enough that we know our neighbourhood has been bombed, houses where people live. People are underneath in the car parks and in the small service areas hiding as missiles hit buildings. They're not military buildings," he said.
But he said many people from the town were fighting back, by signing up to volunteer.
"You get your ribbon, your gun and your ammunition and your orders to defend a certain place."
"They fight very hard," he said, but he added: "There's many tanks, many troops convoys."
He said his responsibilty for now was to take his family to a "reasonably safe place."
"It will take time, a long time to get there. But they need to rest. I fear for their health so they need some days to rest, to recover, to go to the border to sit for some time. To go through the trauma of having refugee status will be far too hard, and I'm not going to do that to them," he said.
Talking about Russia's intentions, he said: "They want to destroy and make Ukraine look like Syria or Iraq - a shell and dust and that's not going to happen."
He said the international community and the Irish Government no longer mattered in this conflict, and he called on ordinary people to use their voices to tackle Russian business interests.