Taoiseach Micheál Martin has said Ireland will provide "an initial €10 million fund towards humanitarian purposes" in Ukraine, but added that the Government would "stand ready to do whatever else it can".
Speaking in Brussels tonight, Mr Martin said EU leaders were gathering to "collectively condemn the outrageous and immoral attack" on Ukraine.
"Ireland stands in solidarity with the people of Ukraine in their darkest hour", he said, adding he will support the imposition of comprehensive and severe sanctions on Russia.
The Taoiseach said Ireland would be striving to secure the "strongest possible" measures against Moscow.
Asked if Ireland would support excluding Russia from the SWIFT banking system, the Taoiseach said: "We will support the strongest possible sanctions and will work collectively with our colleagues this evening.
"We believe in unity of purpose. It's extremely important we work collectively - and in a unified way - and pursue the strongest measures possible."
Asked if Ireland would recognise any government installed by Russian in Ukraine, the Taoiseach Mr Martin replied: "No. No way."
"We support the democratically elected government in Ukraine and will continue to do so."
Earlier today during a televised address, Mr Martin said Russia's attack on Ukraine was "an outrageous and moral breach of the most fundamental principles of international law", and that Russian President Vladimir Putin's actions on Ukraine were "immoral and totally beyond comprehension".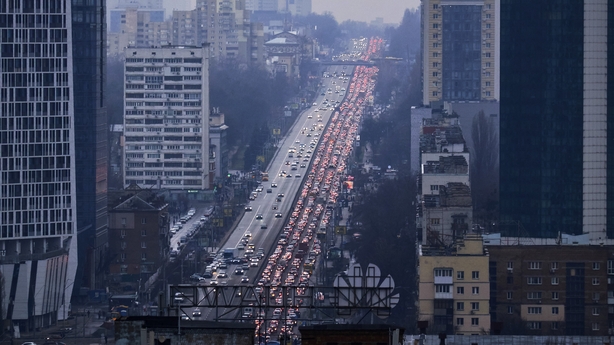 He warned that sanctions on Russia "will hit hard and will be far reaching" and said Ireland stands with the people of Ukraine.
"Our thoughts are with the innocent people of Ukraine in this their most difficult hour," he said.
"The use of brute force in a pursuit of a warped goal is an affront.
"There are repercussions for global security and the economy."
Mr Martin said Mr Putin "must be held accountable", as he warned that the EU is to adopt tougher sanctions "than ever before to hit Putin and his henchmen where it hurts".
"This Russian attack will cause untold hardship for Ukraine and Ireland will support them with humanitarian support," he added.
"We are in touch with Irish people in Ukraine, and our embassy staff are in a safe place.
"These sanctions have to be comprehensive and the most severe we have ever introduced and cannot be incremental."
Mr Martin was speaking ahead of his attendance at an emergency EU council meeting later today, where he said he anticipates "very strong unity".
Government economics departments have been "planning to assess the likely impact of sanctions" Mr Martin said, adding that the Ministers for Foreign Affairs and Justice will meet today to waive visas for Ukrainian family members to come here.
"The financial sector will be a key sector for sanctions, and trade and transport, but this will be discussed in greater detail this evening.
"No one country will be taking unilateral steps to deal with this issue.
"The US and EU response is a rational response to protect lives."
⚠️ Urgent consular advice regarding Ukraine.

All Irish citizens in Ukraine should shelter in a secure place. Do not move around the country in the coming hours. Please follow the advice of local authorities.

We will post regular updates on @dfatirl as the situation develops.

— Irish Foreign Ministry (@dfatirl) February 24, 2022
All Irish citizens in Ukraine are being advised to shelter in a secure place amid Russia's military operation in the country, with the Department of Foreign Affairs also warning citizens against moving around the country in the coming hours.
It is understood there are now 64 Irish citizens in Ukraine, down from 145 last week. Most of those remaining are said to have families and are settled in the country.