The woman who brought the story of the Tuam babies to the world's attention said she finally got closure today.
Local historian Catherine Corless thanked the Government and Minister for Children Roderic O'Gorman for bringing what she called the campaign for truth and justice to a final conclusion.
She smiled broadly as she watched over her seven grandchildren on a visit for midterm break.
Aoife, Beinean and Saoirse Moriarty were visiting from Wexford. Cormac, twins Ethan and Sofia, and Ciaran Dilleen came from Westmeath to see their grandmother.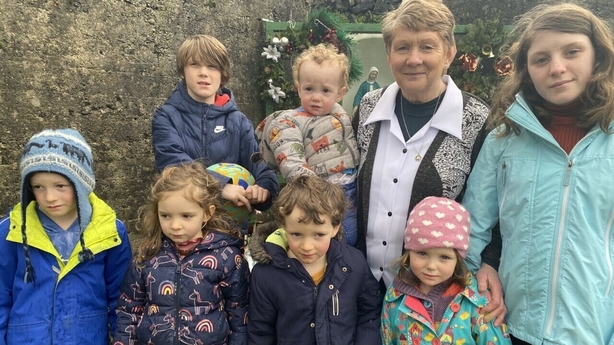 "I feel like I can now let go. I was expecting excuses again today, like we had gotten used to over the years ... that it can't be done yet and that the excavation was a complex issue.
"But today the minister was quite clear when he said that these were distasteful burials, what happened in Tuam was wrong and that it had left a stain on the nation.
"I was very happy to hear those words because that's how I felt all along. How can people not share my horror?"
"This was all we were asking, to take those babies out of the chambers of the sewage tank because that is what is there underneath us," she said.
Catherine Corless said she had asked Minister O'Gorman to excavate the whole site including the playground and green area where there are more burials.
"Those children fared a little better because they got boxes to be buried in," she said.
She welcomed the minister's announcement that he expected the Institutional Burials Bill for excavation, recovery and analysis of remains at the site of the former Bon Secours Mother and Baby Home to be passed by June.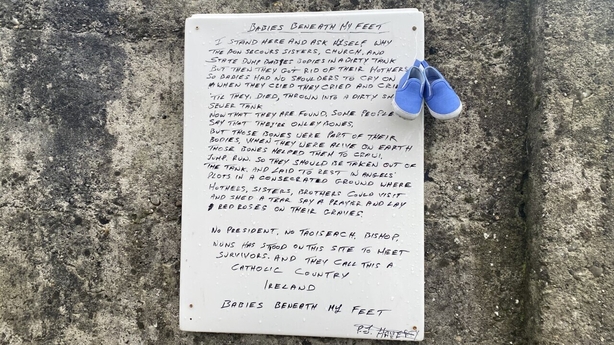 "It's great news for all the families who have babies here. Hopefully the archaeological team will be on site by the end of the year and will begin to excavate and exhume the remains of the babies."
The minister has also allowed for inquests and investigations into the deaths at Tuam which was a key demand of campaigners and survivors.
The work will take place in phases and Catherine Corless said there will be minimal disruption for local residents and they will be afforded the utmost respect.
"Today was a very positive day. We were very happy with how we were treated overall and that we were informed first ahead of today's announcement."
Catherine Corless is aware that it is unlikely all of the remains will be claimed and she envisages an angels plot being created in the nearby Tuam graveyard in memory of all 796 babies.
On the question of funding the project, she said €2.5 million was secured by the Bon Secours order when Katherine Zappone was minister for children.
That money will go towards the overall cost which is estimated to be €4 million in the first year of excavation.