People impacted by rising costs have welcomed the Government's cost of living package but have concerns about whether it can tackle long-term "modern day poverty" and future price increases.
Lone parent Jennifer Nally, who lives in Co Wicklow, welcomed the additional once-off payment of an extra €125 for people in receipt of the fuel allowance and the €200 energy rebate.
Speaking to RTÉ's Morning Ireland, she said it will free up money in her home.
"I would be frugal with electricity - purely out of need. That is so welcome because that is around what our bill would be," said Ms Nally.
"The fuel allowance payment will be very welcome. Buying fuel every week - coal, the price of coal has gone up - and that will really help the fuel stretch a little bit longer," she said.
However, Ms Nally stressed she is concerned about whether the measures can address the cost of living if it continues to rise in the future.
"I am finding that all that I can afford at the moment, unfortunately, is about €200 to put in to my fuel tank and that will only last a month … that is only sporadically using the heating oil because it is just too expensive to use properly.
"We can only use it for one hour in the morning and one hour in the evening - the rest of the time the house is cold. It is modern day poverty really."
She added the extra money spent on rising home heating cost is taken from "other outlets".
We need your consent to load this rte-player contentWe use rte-player to manage extra content that can set cookies on your device and collect data about your activity. Please review their details and accept them to load the content.Manage Preferences
"There are things that we just have to skimp on. There is no other expenditure - at all, whatsoever - other than food and bills," Ms Nally said.
She added the impact of rising costs means she held back on her son joining her local GAA club as there is a joining fee.
She said the €200 energy rebate is welcome "because our bills are really increasing".
"It will free us up a little bit more to do other things - maybe to join that GAA club or have those little normal activities that we would like to have," she added.
'Running on empty'
Another woman from Dublin welcomed the Government package but said she will still face hardship in the future.
The woman, who did not wish to be named, said she borrowed €2,000 to get private psychological and occupational therapy for her child who is on a public waiting list.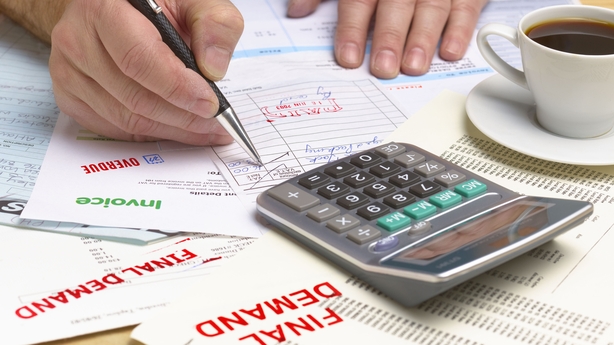 She said she should have used the €2,000 to pay bills that are still owed. She ignores bills when she receives them.
"I don't look at it. I just don't open it. I know I am in debt. I just don't need to know the figure," said the woman who estimates she owes €1,000 for gas and electricity.
"I am afraid to look. I am running on empty because I don't know … it's hard to see a light at the end of this. It is hard to see a way out. It's just hard.
"The system was broken before the pandemic and now it has just crashed. There is no papering over the cracks. I think a lot of work needs to be done.
"As a mother you'll do anything. I would fight and gladly end up in prison for being in debt than let my child suffer anymore," she said.
This week, St Vincent de Paul highlighted that prior to the pandemic - and the current cost of living crisis - people were already struggling financially.
It published research with polling company Red C showing almost half (47%) of lone parents have cut back on essential heating and electricity, and 37% have cut back on other essentials such as food.
The same research showed 17% of those surveyed have cut back on essentials like food due to energy prices.
Some 37% have cut back on essential heating and electricity use, 40% are worried about being able to meet their household energy costs and 25% worry about paying rents and mortgages.