People on the streets of Cork have said they are seeing first hand the impact of rising living costs.
Young couple Nina Duggan and James Kells told RTÉ News they are struggling to cope with rising prices and they are not alone.
"We are struggling but it's not just us, it is everybody. Unless you have a career I think you can't really survive off minimum wage jobs anymore," said Nina.
James agreed. He said they have seen prices go up a lot in recent months.
"Rent, food, heating, electricity is crazy at the moment especially trying to keep warm with the weather at the moment," he said.
Miriam Searles and Rosario Ray are volunteers with St Vincent De Paul. As pensioners with grown families and no mortgages to pay, they said they are coping with the rising costs of food and fuel.
But both wonder how families with young children are managing to survive.
"The butter and the cereals, I can't believe how expensive they have become. Five euros for a box of cereal, they were always €3.50. It's ridiculous. If you had three children, you would go through a box of them in three days," said Rosario.
"We are pensioners and we don't have children at home, but I have said it more than once since Christmas - I would hate to be young and have small children now. Everything is so expensive," she added.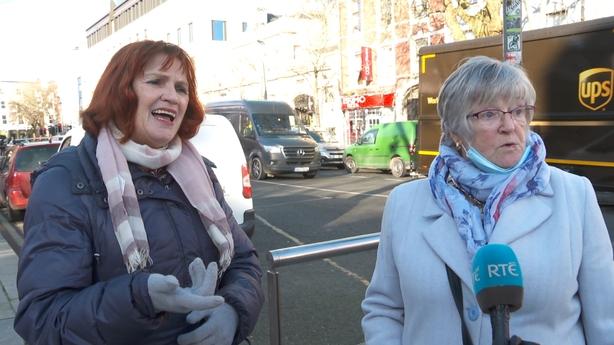 Her friend Miriam agrees. She said they see the pressures on families first hand.
"The people rearing families that have to go out and do a shop every week, there are children hungry and it is a disgrace in this day and age."
However, some older people are feeling the pinch when it comes to inflation.
"The cost of living is gone beyond what a pensioner can afford now," said retiree Hugh Feely from Co Leitrim.
Earlier today, he told RTÉ's Morning Ireland that the €5 increase in the State pension in the last budget is not covering the rising cost of living.
"I used to have lunch out maybe once a fortnight. I'd have something like lamb chops or pork chops or I'd have a minute steak once a week. I don't get that anymore because I can't afford it," said Mr Feely.
He said the cost of streaky rashers - a treat he likes to buy regularly - has risen by 20 cents in his local shop.
I drink hot tea or coffee to keep myself warm
Increased meat prices is also noted by May Curtis from Co Wexford, as an indication of the rising cost of living. She wears a dressing gown over her clothes and drinks hot tea to stay warm when her house is cold.
"It's tough. The price of petrol and everything has gone up - even the ESB and all. Everything is tough. By the time you get everything and you pay for things there is not much left," said Ms Curtis.
"Sometimes I decide will I just pay my bills and then I'll have to cut back on what I'm going to be getting.
"This week I had to cut back on a lot of stuff. Food wise ... I wouldn't buy a lot of meat because it is so expensive. So you have to go for the cheaper cuts - if you can get them, if you are lucky.
"Everyday when you go to the supermarket the price of things is going up," she added.
Ms Curtis said central heating use in her home is a challenge because of increased fuel costs.
"I have oil central heating. I am afraid to use my oil. I put it on for an hour or two and then I knock it off. I won't leave it on all the time. I have to just put warm clothes on me," she said.
"Sometimes I sit with my dressing gown or my jacket on me just to keep warm. My house is cold. You have to have the heating on. We are down near the sea and you can feel the breeze - the cold and all like.
"Well wrapped up I have to be so I don't get cold. I am 79 years of age. I drink hot tea or coffee to keep myself warm as well," Ms Curtis added.
We need your consent to load this rte-player contentWe use rte-player to manage extra content that can set cookies on your device and collect data about your activity. Please review their details and accept them to load the content.Manage Preferences
Other women at Gorey Active Retirement Association said they are comfortable on the State Pension.
Ann Slator, 81, said: "I do notice that things are going up in the groceries but so far so good, I can manage. I am able to manage on my pension."
Eileen Cody, 82, said she and her husband find home heating oil more expensive. "You are conscious of using it. You would be turning it on a bit less," she said.
Ms Cody said people need to reduce spending.
"We just need to pull in our horns for a while. I think everybody has to do that at some stage of their life. We need to tighten the belt because people are spending too much really."
A new Red C poll conducted for St Vincent de Paul says that 17% of those surveyed have cut back on essentials like food due to energy prices.
According to the poll, 37% have cut back on essential heating and electricity use and 40% are worried about being able to meet their household energy costs. 25% of those surveyed worry about paying rents and mortgages.
Additional reporting Cian McCormack
---
Read more:
Measures to tackle cost of living to be announced
People cutting back on food, heat as costs rise - poll
---