The Government's decision to drop the requirement for the Digital Covid Certificate for hospitality was a mistake that they may regret, according to an expert in immunology.
Professor of Experimental Immunology at Trinity College Dublin Kingston Mills said that he is delighted with the easing of restrictions announced yesterday evening, but added that he is "surprised" at the pace at which they have been relaxed, in particular the certificates.
Speaking on RTÉ's Saturday with Katie Hannon, he said one reason for this is that there has been a poor uptake of the booster vaccine among younger people.
He also referred to "the other cloud on the horizon" with a new variant emerging in Denmark, saying Ireland has to be prepared for it.
"If we ease all restrictions now and don't get prepared for something further, we are going to be in trouble," he said.
Prof Mills said this variant is looking like it is more transmissible than Omicron and he imagines it will become a significant variant in the future.
We need your consent to load this rte-player contentWe use rte-player to manage extra content that can set cookies on your device and collect data about your activity. Please review their details and accept them to load the content.Manage Preferences
Regarding the vaccination of young children, Prof Mills said there is a "natural reluctance" from parents and guardians
He added that on balance "the risks of the infection are much worse than the risks of the vaccine."
Meanwhile, a consultant in Infectious Diseases at St James's Hospital has said there is still a lot of the Omicron variant circulating, so she would largely recommend outdoor spaces for socialising still.
---
---
However speaking on the Brendan O'Connor show, Dr Cliona Ní Cheallaigh added that it made sense to drop the restrictions quickly, as hospitals are not overwhelmed with Covid-19 patients in this wave of the virus.
Dr Ní Cheallaigh said she hopes people use this time wisely to get ready for the next wave if and when it comes.
"I think for young people getting out there it is really important," she said.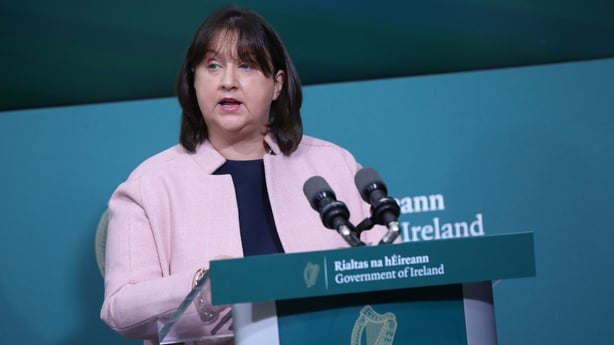 The Minister of State for Disability said a lot of people are going to be anxious about participating in society again.
Anne Rabbitte said these people need to be supported in the return to a "normal way of life".
Ms Rabbitte added that the conversation regarding the gradual return to the workplace needs to happen between the employer and employee.
"We see the value of remote working and the work life balance it has created," she said.
Sinn Féin's spokesperson on Health has said he is cautiously optimistic about the restrictions being eased
David Cullinane said this change comes after a "difficult two years" and lessons have to be learned from the pandemic, adding hopes that the sense of solidarity is followed through in areas like housing and health services.
"It is a good day, people need to get their lives back but we also need to be cautious and ensure we keep the public health infrastructure in place in terms of testing, tracing, vaccines," he said.
The Labour Party Spokesperson on Health, Duncan Smith, said many households are talking about plans they can make now, which he said is encouraging.
"There is no doubt there is a sense of positivity," he said.
"I would like to see the State supporting people with antigen tests at home, as a key part in monitoring how the virus is spreading and if we have future spikes, getting FFP2 masks out to people."