Almost all public health restrictions to prevent the spread of Covid-19 in Ireland have been lifted, following the latest advice from the National Public Health Emergency Team.
The removal of restrictions comes as the Department of Health reports 6,689 new cases of Covid-19, while 3,911 people registered a positive antigen test through the HSE portal.
There are 836 people with Covid-19 in hospitals around this country as of 8am this morning. This is down 56 from the same time yesterday. A total of 78 of these patients are being treated in intensive care units - a decline of ten.
It is the lowest number of Covid-19 patients in ICU since 8 November 2021.
Social distancing measures have been scrapped, but masks are still required in certain settings.
Limits on household gatherings, crowds at indoor and outdoor events have come to an end, while restrictions on the hospitality industry have also been lifted.
This means bars, restaurants and other venues can stay open after 8pm and nightclubs can also reopen.
The digital Covid pass is no longer needed for entry into hospitality settings, but the wearing of face masks is still required in certain settings, such as public transport, in retail services, and cinemas and theatres.
We need your consent to load this rte-player contentWe use rte-player to manage extra content that can set cookies on your device and collect data about your activity. Please review their details and accept them to load the content.Manage Preferences
People will continue to be required to isolate if they are symptomatic for Covid-19.
In a social media post, HSE chief Paul Reid said it had been a tough two years, adding "especially having lost so many loved ones."
"But for now, it's time to let optimism, hope and positive plans become dominant once again in society and in all of our lives," he said.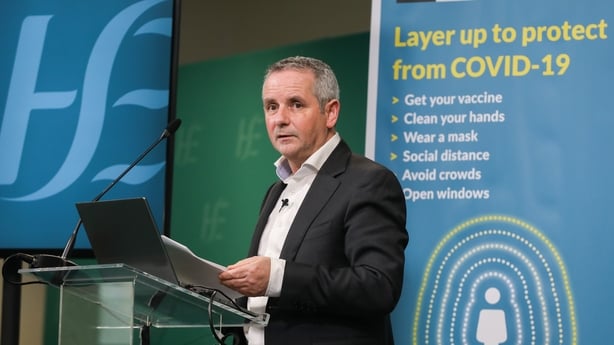 ---
Read more: At a glance: What's changing and what stays the same
---
While announcing the lifting of measures yesterday evening, Taoiseach Micheál Martin warned that the pandemic is not over, and that vaccination programmes must be embedded into the public health system, to be switched on when needed.
"I have stood here on many dark days but today is a good day," he said in a televised address.
Mr Martin described trust as a fragile thing for the public. "People know that Government will not impose restrictions on personal freedoms for any longer than is necessary," he said.
Ireland has weathered the Omicron storm, he added.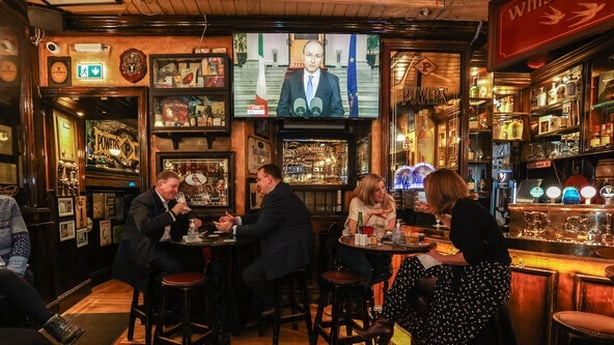 Small firms and businesses welcomed plans for a gradual return to the workplace from Monday.
Ibec described the move as an "important next step" towards a recovery in many industries.
Adrian Cummins, the CEO of the Restaurants Association of Ireland, said it is a "great day for hospitality" but they are now looking into the future and the recovery of the sector.
He said nearly 20,000 businesses have been economically flattened and nearly 60,000 jobs have been lost.
Mr Cummins said it is about making sure these businesses are viable and he said they need the Employment Wage Subsidy Scheme extended by two months.
---
Read more: Latest coronavirus stories
---
Steady rise in proportion planning to get booster
Meanwhile the proportion of people who intend to get the Covid-19 booster vaccine has risen steadily in the last month while parents remain divided on their children getting the vaccine.
That is according to the findings from the latest behavioural study by the ESRI and the Department of An Taoiseach, which records the public response to the risks of Covid-19 infection and guidelines.
There was no major change in parent's willingness to vaccinate their children since the last survey in December.
39% of parents said they would be in favour of their child having the vaccine while more than 35% would not. 25% said they remain unsure.
Overall, the percentage of people unwilling to be vaccinated has decreased from 10% in December to 5%, while the number intending to take a booster vaccine has risen steadily to over 86%.
The ESRI states that data was collected during a period of high Covid case numbers, but with some signs that the Omicron variant, alongside high levels of vaccination, leads to less severe infection than previous variants.
It found that that there was a significant change in people's social interactions between mid-December and early January with the largest decline in social activity since early 2021.
The only recorded rise was in visits to outdoor amenities such as parks while inter-county travel declined to one of its lowest levels.
Additional reporting: Laura Hogan, Mícheál Lehane, Karen Creed