The family of a man shot dead by an armed garda last year has repeated their calls for a public inquiry into the death.
George Nkencho was shot by a member of the Garda Armed Support Unit on 30 December 2020, outside his home in Manorsfield Drive in Clonee in Dublin.
This evening, more than 100 people attended a vigil in Blanchardstown in Dublin to mark the anniversary.
Among those who gathered were members of his family, as well as People Before Profit TD Bríd Smith, and former Dublin West TD Ruth Coppinger.
As they made the short way from St Brigid's Church in the village to Blanchardstown Garda Station, they chanted "'justice for George".
In a statement, the family said the past year had been a catastrophic one since losing the 27-year-old.
It also said they were disappointed that one year on, the Garda Síochána Ombudsman Commission investigation has not been completed.
It said from the outset, the family has been calling for a public inquiry.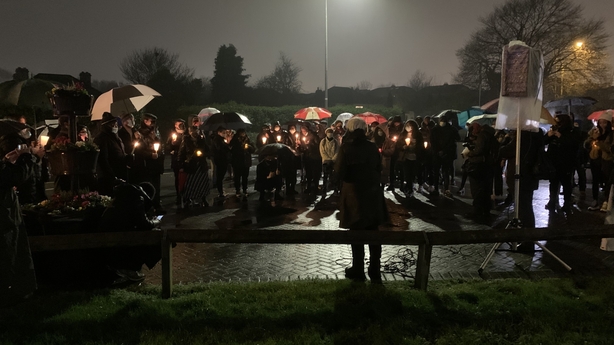 Today, GSOC said "significant progress has been made in the investigation", but further work is required.
In a statement, it said while it had been hoped to conclude its work by the anniversary of Mr Nkencho's death, it had informed the family that the demands of the investigation preclude this.
It said it had met with members of the Nkencho family earlier this month update them on the progress of the investigation.
It said it is its intention to conclude the investigation as soon as possible.
GSOC also said it is very grateful to the Nkencho family for its engagement during what continues to be a very difficult time for them.