A number of charity dinners and fundraising events have taken place across the country on Christmas Day.
Those organising Christmas dinners for people in need have said that this year has been busier than ever for them.
Today marked the 35th anniversary of the Dún Laoghaire Christmas Day Lunch for people living alone in Dublin.
Margaret Brown, the organiser of the event, said that even though it has moved to a 'Dine at home' model for a second straight year due to Covid-19, Christmas 2021 was busier than ever.
With the help of sponsors and its 70 volunteers, the event prepared and delivered more than 200 dinners.
Meanwhile, the Knights of Columbanus had a pop-up mobile kitchen outside the Mansion House in Dublin city centre.
In Cork, organisers of the Penny Dinners have said that demand for meals from people in need was extremely high.
Volunteers in Cork started at 6am and were expected to serve dinners to people in need well into evening.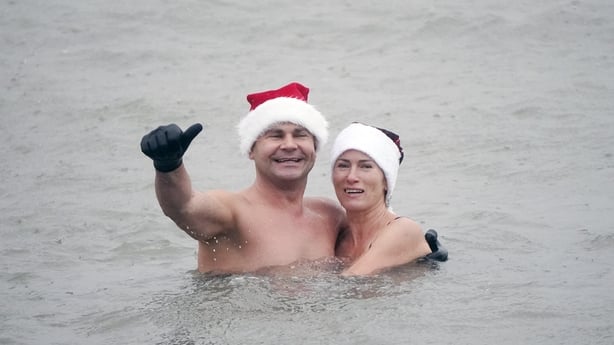 Christmas Day events have also being held today to raise funds for charitable causes, despite the inclement weather in much of the country.
In Galway, the COPE Galway Christmas swim went ahead this morning while online and in-person runs and events took place as part of this years Goal mile.
The water temperature in Belfast Lough was estimated to be around seven degrees and choppy waves greeted the Brompton Belles and Beaux as they braved the dip in Bangor, Co Down.
However, there was hot chocolate and mulled wine along with mince pies and shortbread to warm up afterwards.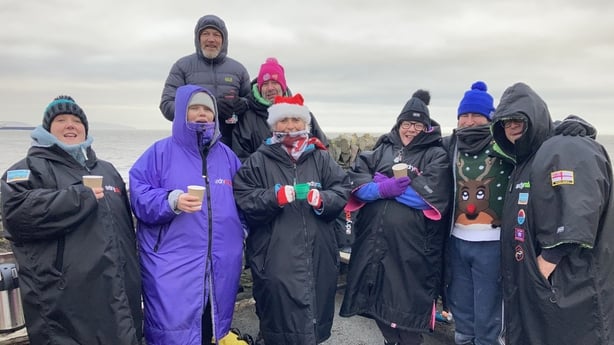 Marie-Therese Davis-Hanson was among the swimmers who started their day with a sea dip all year round.
"It was about 7.2 degrees in there this morning," she said.
Nicola Woods added: "The temperature will go down to at least four degrees in the months ahead, last March we got to about three degrees where there was frost on the sea weed and it was properly cold, painful."
Ms Davis-Hanson said the Christmas swim was a little more special as a chance to catch up with friends over a mulled wine before Christmas dinner.
Additional reporting Press Association