"The leaf; it's about the four seasons, the cycle of life."
This is how glass artist Michelle O'Donnell describes the inspiration behind a community project she is running from her studio in Rhode, Co Offaly.
She has invited local people who have lost loved ones during the pandemic to come together to Glasshammer studios and make glass leaves in their memory.
Ms O'Donnell says that she came up with the idea because she felt people were going through loss on their own.
"I felt there was quite a lot of people suffering in the community and suffering in their homes and on their own, quietly," she said.
A group of 15 people from the area took part in the workshop today, where they designed their own enamel and glass leaves, inspired by their loss.
Among the group was Margaret Burke, who came to remember his sister-in-law and "great friend", Sylvia Burke.
"She died during the Covid and it was very difficult. She was in hospital for three weeks and we weren't allowed to visit her. It has had a terrible effect on all of us," she said.
For many people like Ms Burke, the pandemic and the restrictions that were introduced have changed the process of loss and grief.
"It has been a very tough time. I don't know how you come to terms with things like this, when you can't see somebody. If you could only see them for 5 minutes a day it would've made all the difference," she said.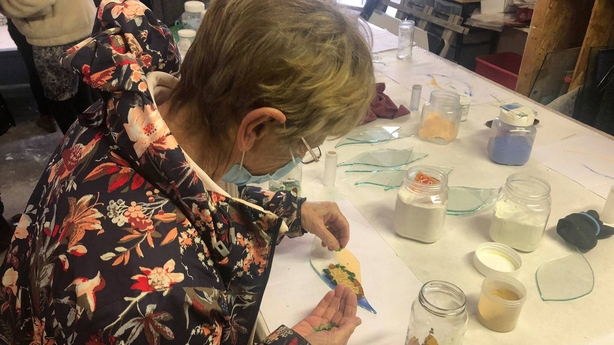 Caroline Kelly said the toughest thing about loss in the pandemic was the isolation.
She was making a leaf for her father-in-law, Jimmy Kelly, who died in February this year.
"It's going to be our first Christmas without him," she said.
She said sharing the experience today with people in a similar situation was very comforting.
"The biggest thing about Covid deaths and Covid funerals has been isolation," Ms Kelly said.
"Not being able to have a proper funeral, not being able to have the kind of swelling of love and warmth around you that you need when somebody passes away, and I think we are all getting a bit of that here today, and that has actually been really, really comforting".
The enamel designs on the leaves will be fused in a gas-fired kiln, and will later be curved into a shape by Ms O'Donnell.
The community will then come together to hang them on a remembrance tree next Sunday.
But their creators will be able to keep them forever.
In March 2020, Adele Kieran's cousin Lisa died after contracting Covid-19 while she was recovering from a stroke in a rehabilitation centre in the UK.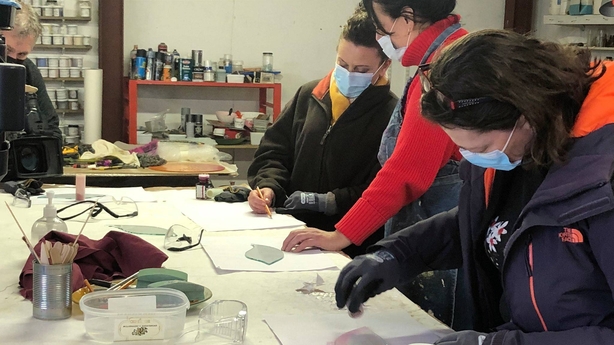 She drew inspiration from Lisa's favourite song for her design.
"She was a massive Prince fan. Raspberry Beret was played at her funeral that only three people were allowed to go to," she said.
This is one of 27 creative projects exploring death and loss through art that has received support from the Irish Hospice Foundation and Creative Ireland.
Dominic Campbell, artistic officer with the IHF said that making things can help people make sense of difficult moments.
"The pandemic was really complicated for everybody. Everybody suffered some kind of loss," he said.
"With the support of the Creative Ireland programme, we can support 27 projects around the country that are helping people make sense of the loss, grief and bereavement over the last two years."
Small 'seed grants' were offered to the groups in a project that has grown from the pandemic.
Mr Campbell said that projects like Ms O'Donnell's are "points of contact and connection" that can help people to "navigate the way forward".